Delays to the supply of the AstraZeneca coronavirus vaccine will "put us in a problem", the Taoiseach has said.
Yesterday the British pharmaceutical company warned that supplies of its coronavirus vaccine to Europe will be "lower than originally anticipated" due to reduced production at a manufacturing site.
Speaking on RTÉ's Brendan O'Connor programme, Micheál Martin said they were waiting on this vaccine and that the delay will "put us in a problem", but added they are going to have to deal with it.
Delays to delivery of the AstraZeneca Covid-19 vaccine have the potential to impact the vaccination programme here, the Taoiseach has said.

However he expects 'robust engagement' between the European Commission and the company in coming days | Read more: https://t.co/swO2TMGAi0 pic.twitter.com/LodyVzpy6P

— RTÉ News (@rtenews) January 23, 2021
"AstraZeneca was going to be the catalyst to be allowed to move from low level to mass vaccination," Mr Martin said.
He said vaccinations for people over the age of 70 may be delayed due to the issues.
The Minister for Health, Stephen Donnelly, has described delays in supply of the AstraZeneca vaccine over the coming months as a "real setback".
The news from AstraZeneca, which has advised the EU of a reduction in vaccine supply in Feb and March, is a real setback. The numbers are still tentative and AstraZeneca is due to provide more exact figures at a meeting early next week. Will provide an update as soon as possible.

— Stephen Donnelly (@DonnellyStephen) January 23, 2021
However Mr Martin said it is still the Government's objective to be at the point of mass vaccination by the end of quarter two.
He said April, May and June are key months in terms of vaccination roll-out.
Pfizer has delivered in accordance with their timelines, the Taoiseach has said, and we will get more from other producers also, including Johnson & Johnson.
He said by this Sunday half of all frontline healthcare workers will be vaccinated.
Expressing his worry with the emergence of the new variants of Covid and if they might undermine the efficacy of vaccines, he said that was focused on at the meeting of EU leaders earlier this week.
Mr Martin said it is a race against time with on the one hand the vaccination roll-out and on the other the variants and if they will "undermine the efficacy of vaccines".
He said research is not comprehensive enough to know just yet.
The Taoiseach also said case numbers have to be in the hundreds for current restrictions to ease, adding that the new variant is his concern.
"It will become the dominant variant. It is at 62% of all cases," he said.
---
---
He said Ireland will have Covid-19 restrictions for the first six months of the year.
"By the summer we will be in a changed environment because of the large scale vaccination that will have been achieved by then."
Defending the relaxing of restrictions at Christmas, Mr Martin said "we didn't see the variant coming" but acknowledged that alarm bells were not rung as quick as they could have been.
He said we have to learn from this and said he would be more cautious going forward.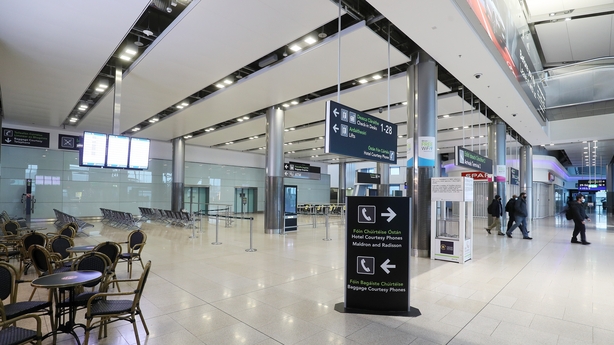 Meanwhile, the Chief Clinical Officer at the HSE said they are hoping to start administering vaccinations to the next cohort of healthcare workers in the first or second week of February.
Speaking to RTÉ's Saturday with Katie Hannon, Dr Colm Henry said it will happen as soon as they get a delivery of Pfizer/BioNtech doses in February and it will be given to healthcare workers.
He said for now they have to complete the two-dose schedule for those who have already received the first vaccine within the required timeframe.
Dr Henry said they are hoping they will reach the figure of 70,000 vaccinations administered to nursing home staff and residents by tomorrow.
He also said there will be " bumps in the road", referring to the delay in the AstraZeneca vaccine to Ireland, adding that there will be "bumps in the road."
People told to 'forget' foreign travel
Mr Martin said in the current climate people thinking of going abroad on holiday can "forget it" and said gardaí would be at the airport checking to see why people are planning to travel.
"No one should be travelling" he said, unless it is necessary for work.
He said the rule that you need a negative PCR test seems to be working to deter people from travelling.
"1,000 came in on Thursday, only one didn't have a PCR negative test," he said.
Mr Martin said he and other politicians are now getting complaints from those who are not allowed on a plane because "someone said I didn't have a PCR test".
"We are getting complaints from Spain and elsewhere. Already that is having impact."
However, he agreed there has to be "better follow through" in terms of people coming in.
He said the majority of people recently, it would appear, were Irish who went abroad for Christmas holidays and were coming back.
He said they will also be looking at other quarantine options for those travelling in from South Africa and Brazil because of the worry over the new variants.
He said the variant "doesn't seem to be such a big issue in the north" and he cannot understand that, adding that he does not want to get political about it.
Taoiseach and British PM discuss new variant
Yesterday, Mr Martin and British Prime Minister Boris Johnson have discussed the latest information to emerge about the more virulent strain of Covid-19 that was first identified in the UK.
Mr Martin has expressed concern following suggestions that the variant may be linked to higher death rates.
The discussion comes as the UK announced that those who contract the more highly transmissible strain have a 30 to 40% greater chance of dying from the disease will strengthen calls for adherence to the public health measures.
The variant already accounts for 62% of Covid-19 cases in Ireland and is becoming even more dominant.
Yesterday, Mr Martin said there would be no easing of Level 5 restrictions at the end of this month.
It is understood the Cabinet sub-committee on Covid-19 will consider further tightening of travel restrictions at its scheduled meeting on Monday.
A full Cabinet meeting on Tuesday will decide on any additional measures.