Fishermen on Donegal's offshore islands say their lives are being put in danger by an unexpected outcome of Brexit.
Six boats operating from Árainn Mhór, Toraigh and Inis Bó Finne, which are legally registered in Northern Ireland, can no longer land catch at their home ports and must give 24-hours notice to land at either Killybegs in Donegal or Castletownbere in Cork.
This is because the UK is now classed as a "third country" and boats that are allowed to fish in Irish waters can only land in the designated ports of which there are only two.
When John O'Brien of Inis Bó Finne bought his crabber in Northern Ireland some years ago it came with a UK licence, to change to a southern licence would cost him tens of thousands of euro.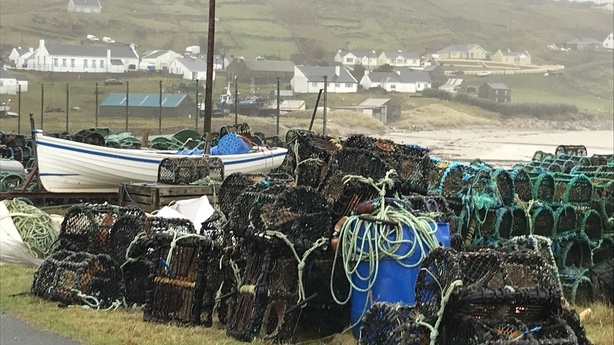 He has been landing his shellfish at Magheroarty Pier but discovered a few days into January that he is no longer allowed to do that.
Last week he had to go to Killybegs with his catch and wait to be allowed land, but, in poor weather and sea conditions, he appealed to authorities to let him into port and for safety reasons was allowed to do so.
John and his fellow island fishermen say their boats are too small to steam for about six hours in good weather, and much more in bad weather, to Killybegs through waters he describes "as a graveyard" for small boats.
They say it is not safe and they should be allowed land where they have always landed, in their home ports.
Seamus Kavanagh from Árainn Mhór whose boat, The Shaunette, lies anchored off the island, says it does not make sense to make him steam for hours in all weathers to Killybegs when the fish factory he supplies, Live Irish Shellfish, is only about ten minutes from him in Burtonport.
He says being forced to travel unnecessarily through dangerous waters is messing with their lives and their livelihoods.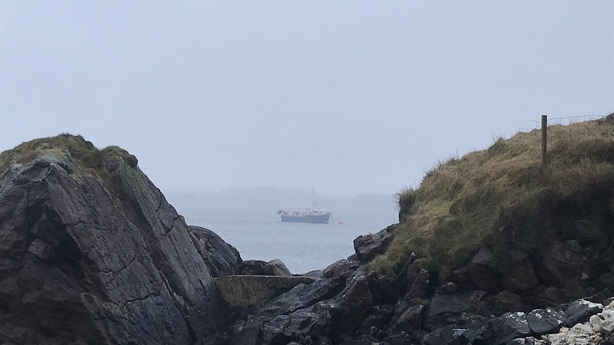 Owner of the factory Patrick Hannigan says all the extra time involved in travelling and waiting to land at an allocated time in the designated port, is also detrimental to the quality of shell fish.
He is concerned that if quality is reduced and there are delays in delivery due to the new rules, then the markets he has built up in China and Europe will be threatened and other suppliers will move in.
Jerry Early of the Irish Islands Marine Resource Organisation (IMRO) says it's all bureaucracy which can "be changed with the stroke of a pen".
He's calling on Minister for Agriculture, Food and the Marine Charlie McConalogue to designate more ports for fishermen to land in apart from Killybegs and Castletownbere.
He says the rule is an outdated one, which was meant for big boats from countries like Norway, not the small ones used by the island fishermen.
"There is a simple solution where the Government can designate additional ports under the EU regulation by January 15th and also exempt certain categories of third country boats from the usual notice period", he said, and he's asking Minister McConalogue to act on this as soon as possible.
The minister said he has been talking to the fishermen and fully understands the implications of the situation for them.
There are in the region of 30 boats affected, he said. However, according to the minister it's not straightforward.
"There are significant matters involved and I am looking at those matters in great detail to see if there is a resolution and accommodation possible here", he said.
---
Irish fishing industry to lose €43m worth of quota share - report
---
'Northern Ireland fishermen now face a deliberate hard border' - Paisley
The DUP MP Ian Paisley has claimed that Ireland has closed off port access to Northern Ireland fishermen.
Speaking in the House of Commons, Mr Paisley said "from Howth to Greencastle, Northern Ireland fishermen now face a deliberate hard border put in place by the Republic of Ireland, and told they cannot land their catch in those traditional ports.
"Yet boats from Skibbereen, in the deep south of the Republic of Ireland, can catch mackerel in British waters and land them in Lisnakully, in Londonderry".
Addressing the Environment, Fisheries and Agriculture Secretary George Eustice, Mr Paisley asked "when will the message go out from this government to the EU that we want a fair share in this process, and if that can't happen, I appeal to the government to invoke article 16".
Article 16 is a reference to a provision in the Northern Ireland Protocol of the UK's Withdrawal Agreement with the EU, which allows either party with a month's notice, to temporarily suspend parts of the operation of the Protocol if there are serious economic, societal or environmental consequences.
Mr Paisley also asked how the UK government will deal with a replacement for the so-called "Hague Preferences", a mechanism in the EU common fisheries policy that allocates extra quota share to certain countries, notably the UK and Ireland.
As the UK is no longer part of the EU, the Hague Preferences no longer apply to it, but the issue of how the UK's additional share of the fish catch agreed under the Christmas Eve trade agreement is divided up among UK fleets is yet to be decided.
Ian Paisley said the government should not replace a system that discriminated against Northern Ireland boats with an internal UK system that would also discriminate against them "in order placate English fishermen".
In reply, George Eustice said the UK government is consulting with the governments in Scotland Wales and Northern Ireland on a new system of allocating the UK's share of the catch. He said Mr Paisley was right that the Hague Preferences were against the interests of the Northern Ireland Fishing fleet.
Mr Eustice, a former member of the UK Independence Party (UKIP), said the Hague Preferences system was devised by the UK in the late 1970s to try and get a better share of the fish "but as is the case with so much in the EU, it ended up being used against us".
He did not address the point raised by Ian Paisley alleging the closure of ports in the Republic to Fishermen from the North.
Additional reporting Sean Whelan