US President Donald Trump has said he will not attend the inauguration of his successor, Democratic president-elect Joe Biden, on 20 January - hours after promising a peaceful transition of power.
There have been discussions at the White House about Mr Trump leaving Washington on 19 January, a source familiar with the matter said.
He is expected to travel to his Florida resort, the source added.
"To all of those who have asked, I will not be going to the inauguration on January 20th," Mr Trump wrote on Twitter.
To all of those who have asked, I will not be going to the Inauguration on January 20th.

— Donald J. Trump (@realDonaldTrump) January 8, 2021
Mr Biden responded by saying the decision was a "good thing".
Speaking to reporters in his hometown of Wilmington in Delaware, Mr Biden said it was "one of the few things he and I have ever agreed on".
"It's a good thing, him not showing up. He's been an embarrassment to the country.
"He's not fit to serve. He exceeded even my worst notions about him. He's one of the most incompetent presidents in the history of the United States of America."
Mr Biden added that Vice President Mike Pence would be "welcome" at his inauguration and said he has confidence the Secret Service will ensure the event "goes off safely".
The president-elect also said that moves to impeach Mr Trump were a matter for the House of Representatives and the Senate.
Mr Biden said his focus is on the "urgency" of the coronavirus situation in the United States as he announced a plan to speed up the rollout of vaccines.
"What the Congress decides to do is for them to decide. We're going to do our job and Congress can decide how to proceed."
Meanwhile, US House Speaker Nancy Pelosi has said she spoke with the nation's top military leader about ensuring that President Trump does not launch a nuclear attack in his final days in office.
Joe Biden said the decision by Donald Trump not to attend the incoming president's inauguration was "one of the few things he and I have ever agreed on" | https://t.co/r4G4JGIw3r pic.twitter.com/TO2KY5iObU

— RTÉ News (@rtenews) January 8, 2021
The top Democrat in Congress said she talked with Joint Chiefs Chairman Mark Milley "to discuss available precautions for preventing an unstable president from initiating military hostilities or accessing the launch codes and ordering a nuclear strike".
In her letter to Democratic colleagues, Ms Pelosi also said she is prepared to launch impeachment proceedings against Mr Trump if he does not voluntarily resign or if Mr Pence does not begin a process that allows him and the cabinet to remove the president.
"If the president does not leave office imminently and willingly, the Congress will proceed with our action," she said.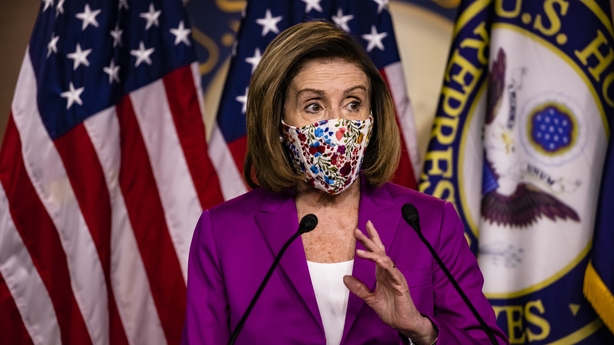 Meanwhile the US Justice Department announced it has charged 15 people allegledy involved in the assault on Congress, including one man accused of possessing bombs made to act like "homemade napalm".
But Ken Kohl, a federal prosecutor with the Washington US attorney's office, said they did not expect to charge anyone with "incitement" or "insurrection" in Wednesday's violence.
Amid mounting calls for his removal from office, President Trump finally denounced Wednesday's violence that left five people dead, including a police officer.
In a video released on Twitter, the Republican president also promised a smooth and orderly transition of power later this month, though he stopped short of abandoning his claims of fraud.
"A new administration will be inaugurated on January 20. My focus now turns to ensuring a smooth, orderly and seamless transition of power. This moment calls for healing and reconciliation," he said.
January 8, 2021
In the immediate aftermath of the chaos, which halted a session of Congress held to certify Mr Biden's election win, Mr Trump had declined to condemn the incident, instead telling supporters he loved them and repeating his assertion that he was being cheated of victory.
---
In pictures: Trump supporters storm US Capitol
What is the 25th Amendment that could remove Trump?
---
Ms Pelosi and Senate Minority Leader Chuck Schumer demanded yesterday that Mr Pence and Mr Trump's Cabinet invoke the Constitution's 25th Amendment, which allows them to strip the president of his powers if he cannot discharge the duties of his office.
Mr Pence opposes the idea, an adviser said.
We need your consent to load this rte-player contentWe use rte-player to manage extra content that can set cookies on your device and collect data about your activity. Please review their details and accept them to load the content.Manage Preferences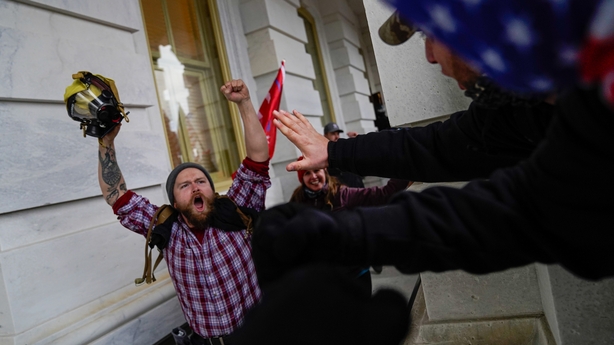 A Capitol police officer died from injuries sustained in the assault, the force said. A woman protester was fatally shot by the authorities, and three people died from medical emergencies.