Hours after hundreds of President Donald Trump's supporters stormed the US Capitol, Congress formally certified Democrat Joe Biden's election victory.
Immediately after the certification, the White House released a statement from Mr Trump in which he pledged an "orderly transition" on 20 January when Mr Biden will be sworn into office.
The President-elect had called the violence an "insurrection".
"Our democracy's under unprecedented assault," Mr Biden said in his home state of Delaware. "This is not dissent. It's disorder. It's chaos. It borders on sedition. And it must end now."
Congress resumed its work certifying Mr Biden's Electoral College win late yesterday after the chaotic scenes on Capitol Hill, with debate stretching into the early hours this morning.
After debate, the Senate and the House of Representatives rejected two objections to the tally and certified the final Electoral College vote with Mr Biden receiving 306 votes and Mr Trump on 232 votes.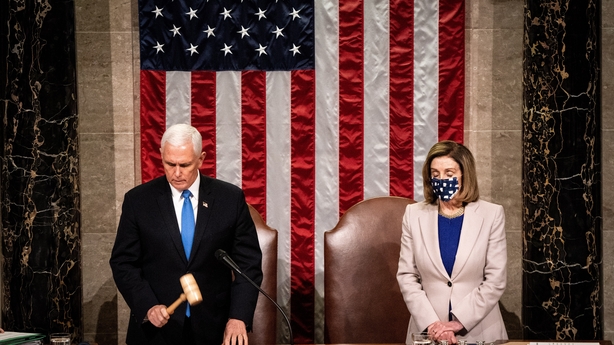 Vice President Mike Pence, in declaring the final vote totals behind Mr Biden's victory, said this "shall be deemed a sufficient declaration of the persons elected president and vice president of the United States".
Vice President-elect Kamala Harris will take office alongside Mr Biden on 20 January.
The outcome of the certification proceedings had never been in doubt, but had been interrupted by rioters - spurred on by Mr Trump - who forced their way past metal security barricades, broke windows and scaled walls to fight their way into the Capitol.
World leaders and governments expressed shock and outrage at the storming of the building by supporters of President Donald Trump.
---
Read More:
Dark chapter in final days of Trump presidency
Global leaders condemn 'assault on US democracy'
As it Happened: Trump pledges orderly transfer of power
In pictures: Pro-Trump supporters storm US Capitol
---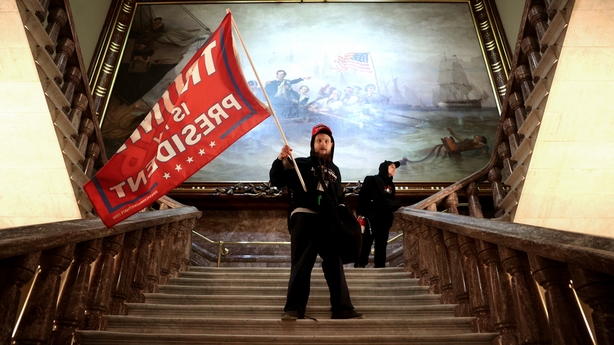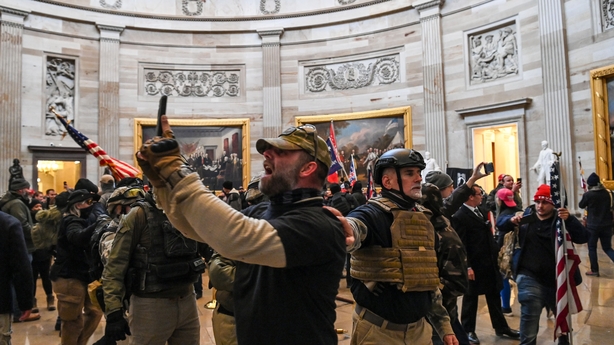 Police said four people died during the chaos - one from gunshot wounds and three from medical emergencies - and 52 people were arrested.
Some besieged the House of Representatives chamber while politicians were inside, banging on its doors and forcing suspension of the certification debate.
Security officers piled furniture against the chamber's door and drew their pistols before helping politicians and others escape.
One Trump backer in jeans and a baseball cap was pictured propping a leg up on House Speaker Nancy Pelosi's desk, as throngs climbed onto risers set up for Mr Biden's inauguration.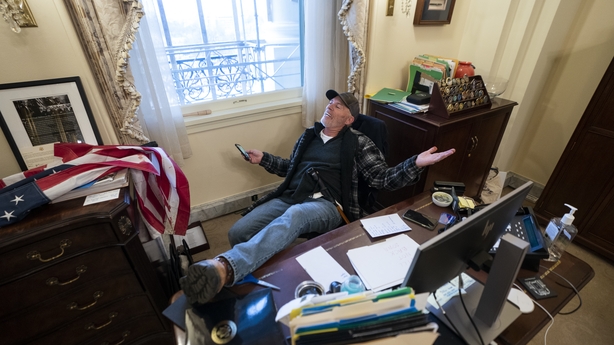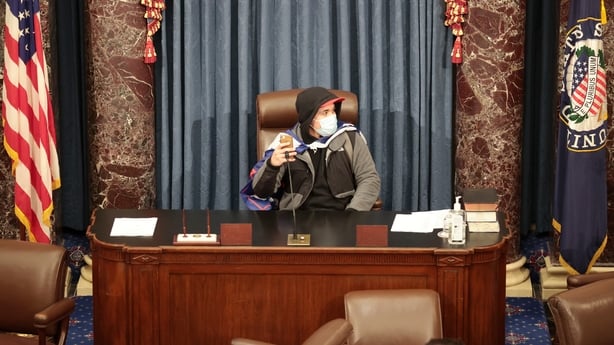 The assault on the Capitol was the culmination of months of divisive and escalating rhetoric around the 3 November election, with the Republican president repeatedly making false claims that the vote was rigged and urging his supporters to help him overturn his loss.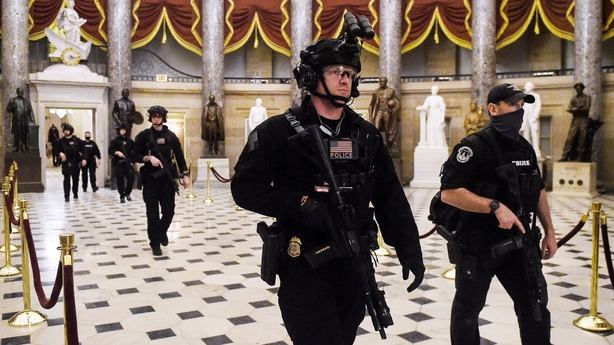 Mr Trump persisted in making the false claims he had won - even as he said the transition would be orderly.
"Even though I totally disagree with the outcome of the election, and the facts bear me out, nevertheless there will be an orderly transition on January 20," he said in a statement posted on Twitter by White House spokesman Dan Scavino.
Yesterday's chaos unfolded after Mr Trump - who before the election refused to commit to a peaceful transfer of power if he lost - addressed thousands of supporters near the White House and told them to march on the Capitol to express their anger at the voting process.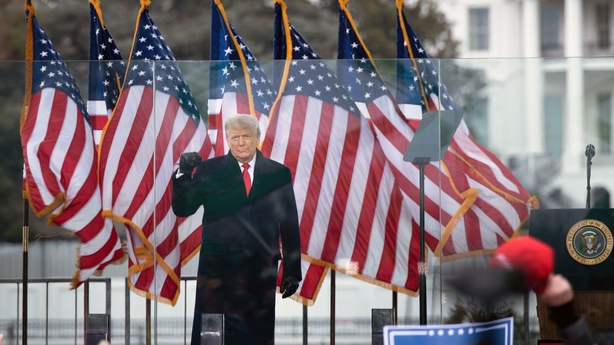 He told his supporters to pressure their elected officials to reject the results, urging them "to fight".
Some prominent Republicans in Congress strongly criticised Mr Trump, putting the blame for the day's violence squarely on his shoulders.
Senator Mitt Romney, one of Mr Trump's most vocal critics inside the Republican Party, pointedly said that the best way to respect voters "is to tell them the truth".
"Those who continue to support this dangerous gambit," Mr Romney said, "will forever be seen as being complicit in an unprecedented attack against our democracy."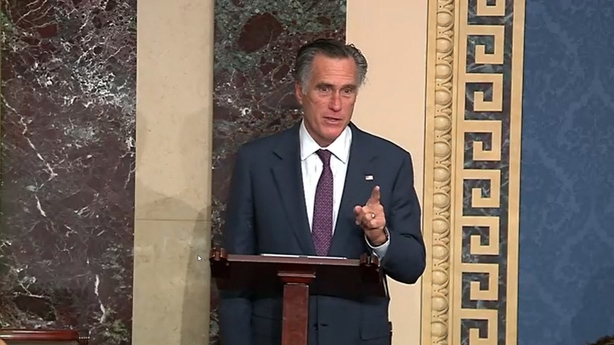 "There is no question that the President formed the mob, the President incited the mob, the President addressed the mob. He lit the flame," House Republican Conference Chairwoman Liz Cheney said on Twitter.
Republican Senator Tom Cotton, a leading conservative from Arkansas, called on Mr Trump to accept his election loss and "quit misleading the American people and repudiate mob violence".
Here's my statement on today's violence at the Capitol. pic.twitter.com/jLCKo2D1Ya

— Barack Obama (@BarackObama) January 7, 2021
Former president Barack Obama called the violence "a moment of great dishonour and shame for our nation".
"But we'd be kidding ourselves if we treated it as a total surprise," he said, adding that it was "incited" by Mr Trump, "who has continued to baselessly lie about the outcome of a lawful election".
Former president George W Bush also did not mince words, saying: "This is how election results are disputed in a banana republic, not our democratic republic."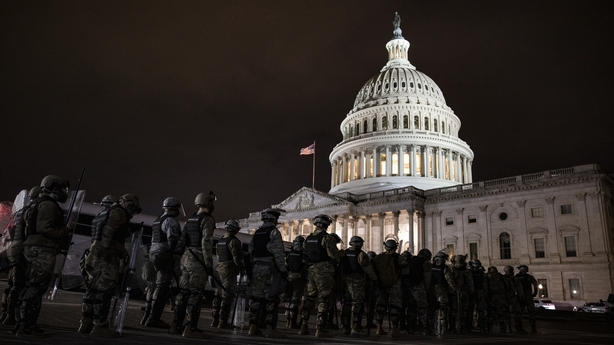 The chaos at the Capitol came a day after President-elect Biden enjoyed a new triumph, with his Democrats projected to win two Senate seats in runoffs in Georgia, handing the party full control of Congress and dramatically increasing Mr Biden's ability to pass legislation, starting with new Covid-19 relief.
Historians said it was the first time that the Capitol had been taken over since 1814 when the British burned it during the War of 1812.
Biden confirms Merrick Garland as pick for attorney general
The President-elect confirmed that he will nominate Merrick Garland - a centrist judge that Republicans denied a seat on the Supreme Court five years ago - to be US attorney general.
Judge Garland, a judge on the Washington federal appeals court, has a record as a moderate liberal and is not aligned with either political party.
But Senate Republicans blocked his nomination to the high court by then president Barack Obama for eight months in 2016, which allowed President Donald Trump to fill the vacant seat with a conservative-leaning justice the next year.
Mr Biden will introduce Mr Garland and other key picks for the Justice Department today, said a statement from the president-elect's transition team.
Mr Garland, 68, has had a long career as a private sector lawyer and a federal prosecutor.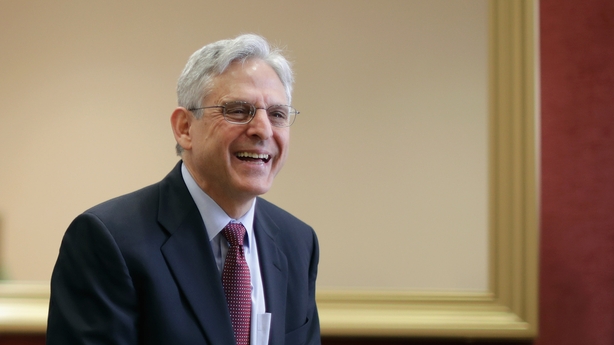 In 1993, he was named deputy assistant attorney general in the Department of Justice, handling important national security cases including the Oklahoma City and Atlanta Olympics bombings.
In 1997, president Bill Clinton named him to the Washington appeals court, and he received broad support from Democratic and Republican senators in his confirmation.
He became chief judge of that court in 2013 and, in March 2016, was picked by Obama to fill a seat on the Supreme Court after Antonin Scalia died.
His nomination as attorney general is likely to easily pass the Senate, which is to come under narrow Democratic Party control. He is likely to garner Republican support as well.