There have been 11 further coronavirus-related deaths and 1,754 new cases notified to the Department of Health while at least 9,000 new cases are set to be reported in the coming days.
Chief Medical Officer Dr Tony Holohan warned: "Our health system will not continue to cope with this level of impact."
The exponential rise can be seen when comparing daily data from recent weeks. On 1 December, there were 269 new infections, on 14 December there were 264 new confirmed cases but on 21 December, the number of positive cases had jumped to 727 with the highest ever number today at 1,754.
The 14-day incidence rate per 100,000 population in Ireland went from 87 at the beginning of December to 321.3 at the end of the month.
The death toll now stands at 2,248 with a total of 93,532 confirmed cases of Covid-19. 
The number of patients with the disease in ICU is 47, an increase of five since yesterday. There are 504 patients with coronavirus in hospital with 46 additional hospitalisations in the past 24 hours.
Professor Philip Nolan from the National Public Health Emergency team said: "A very large volume of positive tests in recent days means there is a delay in formal reporting. In excess of 9,000 additional new cases will be reported over the coming days.
"The reporting delay does not affect case management or contact tracing or our overall monitoring and modelling of the pandemic."
Dr Holohan said in a statement: "The most concerning trend at present is the rapidly increasing number of people being admitted to hospital - we are now admitting between 50 to 70 people a day.
"Unfortunately, we expect this to get worse before it gets better. Our health system will not continue to cope with this level of impact.
"We have also seen a significant increase in positive laboratory tests in recent days reflecting a true increase in the incidence of the disease as well as the delay in people coming forward for testing over the Christmas period.
"As our systems catch up with these effects it places significant pressure on our reporting system.
"We have always understood that numbers of positive tests or confirmed cases would be a less reliable indicator over the Christmas period. This is typical of infectious disease reporting annually over the two weeks of Christmas and New Year.
"What is clear are the measures that the Government has now mandated and the behaviours that we as individuals need to observe. Everyone needs to stay at home other than for essential work or care."
The 14-day incidence rate per 100,000 population nationally is 321.3. Counties with the highest infection rates include Monaghan (581.6), Donegal (552.2) and Louth (528.4).
The lowest rates are in Tipperary (138.5), Leitrim (143.6) and Wicklow (154.5).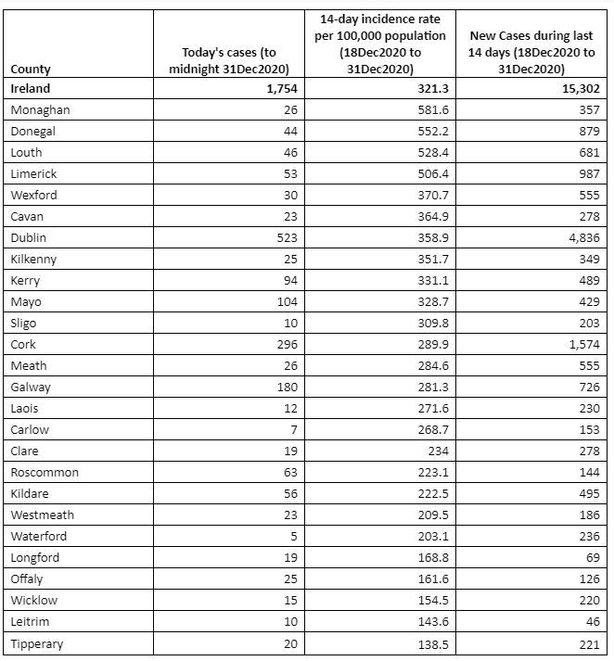 Of the cases notified today 846 are men, 900 are women and 64% are under 45 years of age.
523 of the cases were in Dublin with 296 in Cork, 180 in Galway, 104 in Mayo, 94 in Kerry and the remaining 557 cases spread across all other counties. 
Northern Ireland is not updating its Covid-19 figures again until tomorrow but the deaths of 11 people were confirmed yesterday along with 1,929 new infections.
Meanwhile Health Service Executive CEO Paul Reid has warned that "we need to get the spread of the virus back under control".
In a post on Twitter, he said: "Positivity rates yesterday at 22% with some centres reaching 50%. It's quite rampant & high risk. But we can turn this around again. Let's do it." 
  
2021 will be brighter for sure. But firstly we need to get the spread of the virus back under control. Positivity rates yesterday at 22% with some centres reaching 50%. It's quite rampant & high risk. But we can turn this around again. Let's do it. @HSELive #COVID19

— Paul Reid (@paulreiddublin) January 1, 2021
Earlier, Mr Reid said that vulnerable groups need to be on their highest guard as Covid-19 is now "rampant" in our communities.
Speaking on RTÉ's Morning Ireland, he described the Covid situation as a "worst-case scenario" coming together with "explosive impacts".
"It is absolutely rampant in the community and we know that for a fact. Everyone is at extreme high risk now of contracting the virus," he said.
The HSE chief said we need our vulnerable groups to be on their highest guard.
"The real picture over the last few days is most likely getting close to 3,000 cases a day. That is the extent of the virus we are dealing with.
"So when we get to these levels it has a severe impact across a whole set of areas, and the volume beyond what any system can cope with," said Mr Reid.
He said they had good capacity in hospitals overall heading into Christmas, with the number of people on trolleys down over 70% on this time last year.
However, he warned this capacity gets used very quickly as Covid cases have a "detrimental and disproportionate impact" in terms of bed capacity.
He said private hospitals are providing support at this time and that the HSE is in discussions with the private hospitals about the possibility of needing their services if there was a surge and they expect to come to an agreement with them on that.
On the vaccine roll-out, he said by the end of next week around 25,000 doses of the 40,000 doses will be used across nursing homes and hospitals.
2,000 vaccines were delivered to four acute hospitals in Dublin, Cork and Galway this week and up to yesterday evening over 1,800 of those have been administered.
He said a further 2,000 vaccines will be administered this weekend across the South/South West Hospital Group.
Mr Reid's warning comes as the number of new cases of Covid-19 is expected to rise sharply in the coming days as a backlog of positive cases is officially confirmed to the National Public Health Emergency Team.
Professor Nolan explained: "Tests processed and reported on a given day will normally be validated and confirmed by the HPSC [Health Protection Surveillance Centre] the following day.
"Positive tests detected in laboratories require validation (to remove duplicates and other tests that do not create new cases) and transfer to the HPSC database before confirmation and reporting."
The large volume of positive tests means there is a delay in formal reporting, which is how an estimated 9,000 cases have not yet been reported. 
The Department of Health issued a table outlining the number of confirmed cases compared to positive tests. The gap between the two figures has been increasing in recent days.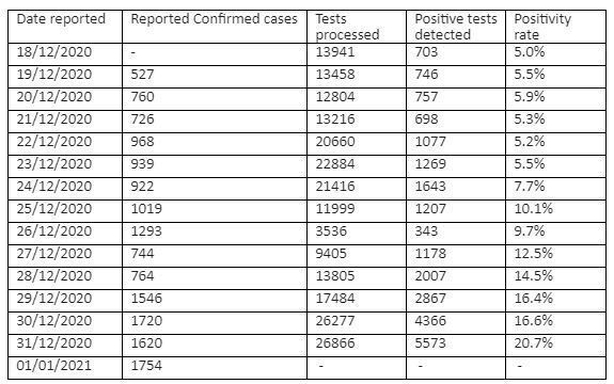 The computer system for notifying infectious diseases is old and was designed to report sporadic cases on a weekly basis - not for the kind of numbers that are now being seen.  
Prof Nolan warned of difficult weeks ahead, as the number of patients admitted to hospital suffering from the virus continues to rise.
'We're in for difficult weeks ahead' Setting out recent trends in #Covid19, Prof Philip Nolan (@President_MU) says the actual situation is even worse than the latest figures show, and we should expect to see very high numbers of cases in the coming days | https://t.co/pO7lVq2dTO pic.twitter.com/f6i9lAcHZ5

— RTÉ News (@rtenews) December 31, 2020
Even if the R number was brought below one, there could still be a peak of 700 to 1,000 people in hospital with Covid-19 by early to mid January, he said.  
Prof Nolan added that if Ireland failed to suppress the rise in transmission, the country would face what NPHET described as an intolerable, untenable and unconscionable situation.
The HSE has said it will not be calling close contacts of confirmed cases for testing as the system reaches capacity.
Close contacts should restrict their movements for 14 days and call a doctor if they start getting symptoms.
'Essentially the one piece of good news that we have in the data at the moment is that children seem to remain protected even through this third wave', @President_MU says | https://t.co/pO7lVq2dTO pic.twitter.com/zybn1S4XFz

— RTÉ News (@rtenews) December 31, 2020
Cases are increasing in all age groups, particularly those aged between 19 and 24.
Pre-school and primary children have been somewhat protected from this third wave so far.
NPHET said if the current restrictions are not enough to curb transmission of the disease, additional measures may be required.