The Taoiseach, Micheál Martin, has confirmed that the country will move to full Level 5 restrictions in an attempt to bring the latest surge in cases of Covid-19 under control.
In a televised address this evening, he said the new restrictions would remain in place for "at least" one month.
Schools are to remain closed until 11 January under the revised plans agreed by Cabinet. Primary and secondary schools had been due to reopen on Wednesday 6 January.
The decision does not apply to childcare facilities or créches.
Taoiseach Micheál Martin says schools will open on 11 January, saying, "public health has been consistent in saying that schools are safe places for our children." pic.twitter.com/2GRmJVsN7M

— RTÉ News (@rtenews) December 30, 2020
The Level 5 restrictions include a ban on all household visits, the closure of non-essential retail and a 5km limit on travel.
Other restrictions include the closure of sports including golf and tennis, with the exception of professional or elite sports like Gaelic games and horse racing behind closed doors.
Weddings will be confined to 6 guests from 2 January and only 10 people will be allowed to attend a funeral. 
It is understood that construction will be allowed to continue to operate under the latest restrictions. 
An eviction moratorium will also be reintroduced from midnight for the duration of the restrictions.
"This situation is extremely serious. The numbers will deteriorate further over the coming days"@MichealMartinTD says the latest surge is different to the second wave, and that with the virus growing exponentially, it is not time for nuanced response | https://t.co/nFWwRtNJ7J pic.twitter.com/Axj8gvNHpT

— RTÉ News (@rtenews) December 30, 2020
---
At a glance: What does Level 5 mean?
---
On travel, the Government also agreed that the ban on air travel and passenger travel on ferries from the UK will be extended to 6 January. 
As a similar new strain of the virus has been identified in South Africa, this ban will also apply to South Africa until the same date.
Agreement was reached at the second Cabinet meeting in three days, which was called amid growing concern around case numbers and an increase in people being admitted to hospital with Covid-19.
The Taoiseach said the country was now weary from the virus. He said the next month is going to be tough for everyone. 
"The most important responsibility we all share is to protect the lives of those we love"@MichealMartinTD says people must stay at home and eliminate contact with others now, to make sure as many as possible are still with us for brighter days ahead | https://t.co/nFWwRtNJ7J pic.twitter.com/CDp0mZ5vZ2

— RTÉ News (@rtenews) December 30, 2020
---
What is considered 'essential retail' under Level 5?
---
However, referring to the arrival of Covid-19 vaccines, the Taoiseach said: "This time we truly have an end in sight." 
While the pandemic was costing the State billions of euro, Mr Martin said the economy would be rebuilt but now was the time to stay at home and eliminate contact with others. 
The Government said supports such as the Pandemic Unemployment Payment and the Covid Restrictions Support Scheme (CRSS) will continue to be made available to those impacted by the additional restrictions. 
A double payment of the CRSS, up to a maximum of €5,000 a week, will be available to those businesses subject to restrictions this week and next week.  
It also says businesses affected will be able to avail of commercial rates relief for the first three months of 2021.
Tánaiste Leo Varadkar says the Pandemic Unemployment Payment will remain in place at current rates "until the end of March at least." pic.twitter.com/U22QE6eU1I

— RTÉ News (@rtenews) December 30, 2020
---
---
Speaking ahead of today's Cabinet meeting, Minister for Health Stephen Donnelly said very serious decisions had to be taken, adding that the situation is continuing to deteriorate.
"We are seeing a very rapid increase, an ongoing increase in cases, we are also seeing a very rapid increase in hospitalisations," he said.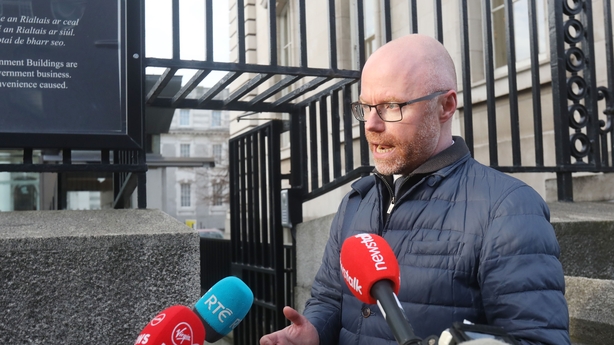 "I, and Government, are watching what is happening in the UK very closely. What we are seeing now in NHS hospitals is, because of this variant which appears to be far more contagious the UK hospitals are beginning to become overwhelmed.
"So really the focus right now has to be on doing everything that is necessary to surprise this virus while we get vaccinating."
Meanwhile, the Minister for Higher Education Simon Harris said a number of difficult weeks lie ahead.
Mr Harris said the country was now at the "beginning of the end" of the pandemic and it was important not to fall at the final hurdle.