A powerful earthquake of 6.4 magnitude killed at least six people as it tore down buildings in central Croatia today, as rescuers combed toppled roofs and rubble in the dark.
The tremors were felt as far afield as Vienna while the damage was concentrated in and around Petrinja, a town some 50 kilometres south of Croatia's capital Zagreb.
Rescuers tried to pull people from the rubble of collapsed buildings, television footage showed, and army troops were sent in to the area to help.
As rescue teams shovelled away bricks and other debris, some elderly residents gathered in a park in downtown Petrinja, wrapped in blankets and afraid to return home.
"All the tiles in the bathroom are broken, all the dishes fell out", Marica Pavlovic, a 72-year-old retired meat factory worker, told AFP of the damage to her home.
"Even if we wanted to, we can't go back in, there is no electricity."
The GFZ German Research Centre for Geosciences said the quake hit at a depth of 10km. The epicentre was in the town of Petrinja, 50km south of the Croatian capital Zagreb.
Tomislav Fabijanic, head of emergency medical services in nearby Sisak, said many people had been injured in Petrinja and in Sisak.
"There are fractures, there are concussions and some had to be operated on," he said.
Prime Minister Adrej Plenkovic, who rushed to Petrinja, said: "The army is here to help. We will have to move some people from Petrinja because it is unsafe to be here."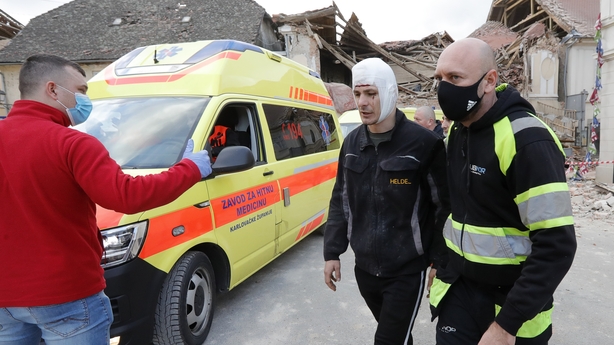 N1 news channel showed footage of rescuers in Petrinja pulling a man and a child from the debris. Both were alive.
Other footage showed a house with its roof caved in. The reporter said she did not know if anyone was inside.
N1 also said a kindergarten was destroyed in the quake butthere had been no children in it. The situation was "difficult" in retirement homes in the Petrinja area, it added.
Piles of stone, bricks and tiles littered the streets in the aftermath of the quake, and cars parked in the road were also damaged by falling debris. Patients were evacuated from the Sisak hospital because buildings were damaged.
Images of the town, which is home to around 20,000, showed collapsed roofs and streets strewn with bricks and other debris.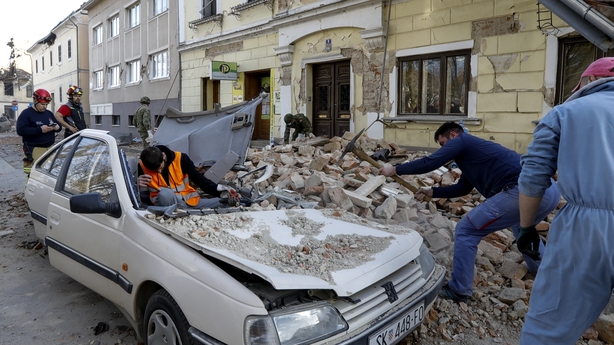 The Balkan region lies on major fault lines and is regularly hit by earthquakes.
European Affairs Minister Thomas Byrne offered "full solidarity" to Croatia on Twitter. "We stand ready to work with member states and the EU Commission."
Our full solidarity to Croatia ???? with the devastating earthquakes yesterday and, particularly, today. I know that the EU crisis management teams are in touch with the Croatian government @CroatiaInEU @IrlEmbCroatia
We stand ready to work with member states and @EU_Commission

— ????Thomas Byrne TD - ???????? (@ThomasByrneTD) December 29, 2020
The earthquake was felt in several neighbouring countries, including Slovenia and as far away as the Austrian capital Vienna.
Slovenia's Krsko nuclear power plant has been shut down as a precaution after the earthquake in neighbouring Croatia, the plant's spokeswoman said.
Krsko is Slovenia's sole nuclear power plant and lies about 100km east of the capital Ljubljana.
The current 700-megawatt Westinghouse reactor was built in the former Yugoslavia and went into service in 1983. It is co-owned by Slovenia and Croatia.
The plant provides for around 20% of Slovenia's electricity needs and 15% of Croatia's but environmental campaigners have previously called for it to be shut down because of its age and the risks of seismic activity in the region.
It was originally due to be switched off in 2023, but Ljubljana and Zagreb decided in 2015 to extend its lifetime by another 20 years.