Taoiseach Micheál Martin has said that the country will return to Level 5 restrictions with adjustments between 24 December and 12 January.
Mr Martin said the move was in response to the extraordinary increase in Covid-19 cases, with a 10% daily growth rate that is "simply not sustainable".
Speaking at Government Buildings, he said that while there is no evidence yet the more virulent strain of the coronavirus is here, "the safest and most responsible thing to do is to proceed on the assumption that it is already here".
He said the Government has decided to move quickly and meet the renewed threat "aggressively and head on".
Mr Martin said that "we will do whatever it takes to get through this pandemic safely".
The Taoiseach said the sacrifices being made by everyone have already saved lives and will save more lives.
Taoiseach Micheál Martin: "Unfortunately in the last week, we have seen extraordinary growth in the spread of the virus." He says figures suggest that we may now be seeing a daily growth rate of approximately 10% | https://t.co/YYqGprOD9w pic.twitter.com/2RBenlASNf

— RTÉ News (@rtenews) December 22, 2020
The Cabinet today agreed that people can travel beyond their county until the end of St Stephen's Day, 26 December.
The changes will allow people after 26 December to stay where they are at that point and travel back to their own home later. However, there will be no new inter-county travel allowed after that date.
Household visits will be reduced to one other household from 27 December.
Restaurants and gastro pubs must close at 3pm on Christmas Eve.
Travel restrictions from Britain will remain until 31 December.
From 1 January, no visitors are permitted in private homes or gardens except for essential family reasons, providing care to children, elderly or vulnerable people, or as part of a support bubble.
Hairdressers are to close on Christmas Eve. Non-essential retail will remain open as will gyms for individual training only.
Golf and tennis clubs will stay open and non-contact training in pods of up to 15 will be allowed outdoors.
The number of wedding guests will be reduced to six from 2 January. Public worship is to move online from 26 December, but can stay open for private prayer.
Taoiseach says from Christmas Eve until 12 January the country will be placed under Level 5 Covid-19 restrictions, with a "number of specific adjustments" | https://t.co/YYqGprOD9w pic.twitter.com/lsbfHxqhy8

— RTÉ News (@rtenews) December 22, 2020
The restrictions agreed today are to be reviewed on 12 January.
The Government is to engage with shops and request no major sales events after Christmas.
Schools, childcare and early learning services will return as normal in January after the Christmas break.
At a press conference following the Taoiseach's announcement, Tánaiste Leo Varadkar said people need to operate on the basis that these restrictions will be in place for the first two months of next year.
Mr Varadkar said while it is difficult to speculate on a timeline, it will probably be the towards the end of February or early March before a critical mass of the population is vaccinated.
The situation will be reviewed on 12 January, he said, adding that the safest thing people can do is stay at home.
"I think we should all operate, on the basis as a society, that these restrictions will be in place for the first two months of next year," says Tánaiste Leo Varadkar | https://t.co/YYqGprOD9w pic.twitter.com/ewmI0Maa9U

— RTÉ News (@rtenews) December 22, 2020
---
---
The Cabinet sub-committee was briefed last night by the National Public Health Emergency Team (NPHET) where they set out the latest details on the pandemic.
Minister for Health Stephen Donnelly said the new restrictions announced by the Government are "broadly in line" with the NPHET recommendations and are "a mark of how quickly the situation is changing".
Minister Donnelly said NPHET's letter of last Thursday suggested a move to Level 3 after Christmas and then yesterday the Chief Medical Officer said that a move to Level 5 was needed, based on the growth of cases and serious concerns about the variant strain.
The minister said the Government has to consider first and foremost public health and wider society, as well as the fact that it is Christmas, and to give retailers and businesses some notice.
The first vaccination here will take place on 30 December, the Cabinet was told.
The Taoiseach said additional financial supports will be put in place as a result of the return to Level 5.
He praised the resilience of small business owners and those in the hospitality trade, who have faced so many challenges.
He acknowledged that these restrictions will pose huge challenges for some sectors of the economy, but he reassured them that extra financial supports will be provided.
Hotels will only open for essential, non-social and non-tourists events, except for guests with a booking who check in before 26 December.
Hotels can provide food and bar services to guests only after that point.
Visits from two other households can continue up to and including to 26 December, and visits to private homes and gardens from one other household between 26 and 31 December inclusive.
A support bubble is counted as one household.
The Taoiseach commended the strength of the Irish nation over the past nine months, "in the selfless dedication of our healthcare workers and the professionalism of our teachers and our school staff".
He said "we have seen it in the quiet army of cleaning staff and caretakers who have kept so many facilities accessible and safe" and in the shop workers who have kept essential retail open without complaint throughout the entire pandemic.
We need your consent to load this rte-player contentWe use rte-player to manage extra content that can set cookies on your device and collect data about your activity. Please review their details and accept them to load the content.Manage Preferences
He said in any year this is a week of light and hope, but those twin themes have never felt more important or more vital than they do this year.
Mr Martin said the very idea of Christmas is showing our love and respect for others, and this year the way to do that is to act responsibly, to comply with the guidelines and to limit the spread of this virus. 
This Christmas is going to different, but it is also going to be very special, he said.
We have lost many friends and neighbours to this disease, and many others did not get the goodbye they deserved because of the restrictions the disease required, the Taoiseach said.
The Tánaiste said for businesses across the country particularly those in the hospitality sector and for those who provide personal services, it has been "particularly devastating" to be told to close for a third time.
He said the Government will step in to help these businesses and have agreed that the Covid Restrictions Subsidy Scheme (CRSS) will be paid as a double week for the next two weeks in recognition that those businesses had expected to stay open until at least 6 January.
He said the weekly CRSS payment will continue as long as they are closed.
Mr Varadkar said the Employment Wage Subsidy Scheme will continue into the New Year and for as long as necessary.
He said there will also be a commercial rates holiday in the first quarter for all businesses that are closed.
A reopening grant will be put in place in the spring or summer, he said, to help those businesses reopen when the Government is in a position to tell them that they can reopen.
He said the decision is to keep non-essential retail open, as there is very little evidence that clothes and shoe shops and furniture create clusters for infection.
While people may need to buy white goods, clothes or furniture, he said no sales events should take place.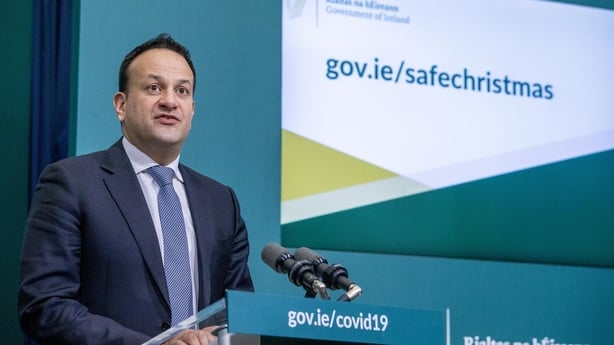 Mr Varadkar said people should not be rushing to the shops and there should not be crowds in the shops over the next few days and they are relying on retailers to make sure that is not the case.
He said if there are issues in gyms, pools, churches or in non-essential retail, where these places become clusters for infection, the decision will be reviewed.
The Taoiseach said that he cannot guarantee that this will be the last time Ireland enters Level 5 restrictions.
He said that Government received a briefing from Health Service Executive CEO Paul Reid who said that, at present, the health service is not over burdened but that the situation will be monitored.
He rejected that the reopening strategy of the country, at the start of December, was wrong.
Mr Martin said that Government considered NPHET advice at all times and that everyone, including the Chief Medical Officer, was surprised by the rate of growth over the past few weeks.
The Tánaiste said he hoped Ireland could avoid reaching 2,000 cases by New Year's Eve, but the current growth rate has the country on track to reach that milestone.
Mr Martin warned that if Ireland reaches 2,000 cases per day it would be "very challenging" for contact tracing.
Tánaiste Leo Varadkar: "On this current trajectory, it is likely we will exceed 1,000 cases a day before Christmas and perhaps 2,000 cases a day before New Years Eve" | https://t.co/YYqGprOD9w pic.twitter.com/JnJfItEOHl

— RTÉ News (@rtenews) December 22, 2020