The Government will be meeting weekly and monitoring Covid-19 numbers in an effort to ensure infections in the Republic do not follow rising figures in Northern Ireland, the Taoiseach has said.
Speaking in the Dáil, Micheál Martin said: "We are now moving into a situation after Friday where people will be allowed go home.
"People will want to meet their grandparents and their parents. To enable us to do that safely, all of our behaviour from now on matters. Every contact matters."
He added: "Once you get to a certain level, the virus transmits very quickly and thereafter grows exponentially.
"We have a strong testing capacity but we must be very vigilant now. But what we are witnessing in Northern Ireland could happen here if we allow things to go out of control which we are not going to do."
He said "the border counties is a worry for us".
He added: "We will be meeting weekly to keep an eye on the situation. NPHET will be meeting weekly. Our officials will be meeting weekly to keep a constant eye and monitoring of our situation and what is happening in Northern Ireland."
Taoiseach Micheál Martin has said 'every contact matters' from now on if people are planning to see older and vulnerable relatives over the Christmas period | Read more: https://t.co/w6OVB3mDve pic.twitter.com/GBNUS1Fije

— RTÉ News (@rtenews) December 16, 2020
The HSE Chief Operations Officer said they are concerned at the increased number of people who have come forward this week for Covid testing.
She also said there is a higher positivity rate in the last couple of days.
Speaking on RTÉ's News at One, Anne O'Connor said "the more mixing, the more contacts that people have, the higher the risk is".
She said any winter can be challenging for their system and "certainly there's no doubt that our system will be under pressure in January".
Meanwhile, Minister for Health Stephen Donnelly earlier said vaccine certificates are part of the implementation plan for the Covid-19 vaccination.
But Mr Donnelly said they needed to see what level of impact the vaccines have in terms of protecting people from the effects of the virus and the impact they have on the transmission of the virus.
Speaking on RTÉ's Morning Ireland, he said it needed to be seen how effective the vaccine is at reducing transmission, adding that this was not yet known by the regulator or the vaccine producer.
Once that information was known, he said, informed decisions could be made about how exactly a certificate could be used.
The minister said he had heard that airlines were looking at the potential for people needing vaccinations certificates to fly.
By this time next year, he said, anyone who wants the vaccine should have received it.
The focus now is on listening carefully to everyone's concerns and making sure that clinical experts are engaging with people, he added.
Minister Donnelly said no country had any detail in relation to how many vaccines they would receive initially, adding that no decision has yet been made on which nursing homes would be prioritised when the first batches of the vaccine arrive.
Decisions on who will receive the vaccine will depend on how many doses Ireland gets, he said.
He explained that the European Medicines Agency is bringing forward its vaccine decision to 21 December which means Ireland could be looking at the start of vaccinations before the new year, or very early in 2021.
We need your consent to load this rte-player contentWe use rte-player to manage extra content that can set cookies on your device and collect data about your activity. Please review their details and accept them to load the content.Manage Preferences
---
What you need to know about the Government's vaccination plan
Latest coronavirus stories
---
Ireland's vaccine plan was announced yesterday and the full vaccination allocation sequencing approved by Government is set out below.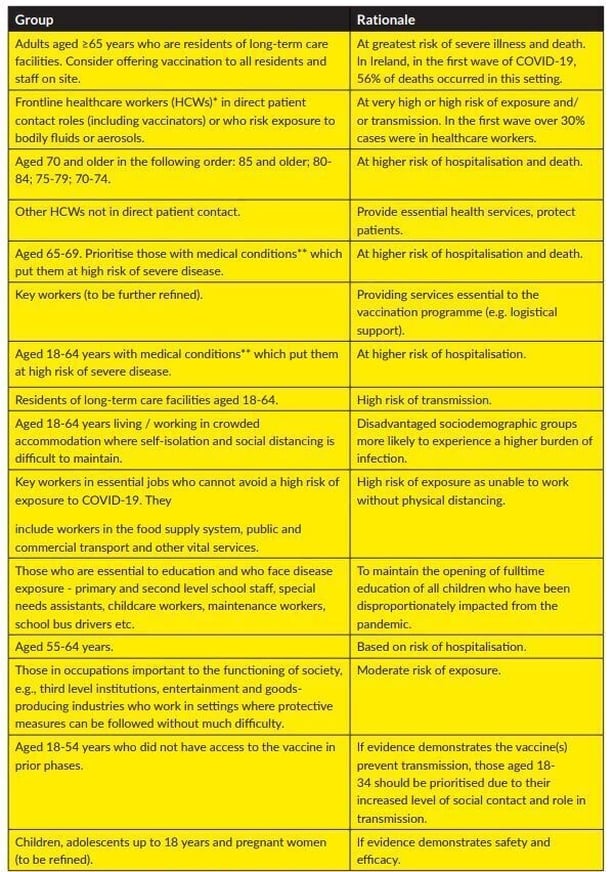 It is understood that the sequencing of population groups may need to be adapted as more evidence on vaccine effectiveness, safety and suitability becomes available for specific population groups.
Mr Donnelly said the current sequencing maximises keeping people alive and keeping people healthy from the virus.
People will be able to get the Covid-19 vaccine at five types of locations after the Cabinet agreed the plan.
They include hospitals, nursing homes, GP surgeries, pharmacies and mass vaccination centres.
Under the plan, up to 14 million doses of the vaccine could be purchased and it will be available to people free of charge.
GPs and pharmacies will have a greater role to play once a broad section of the population have got the vaccine.
Through its membership of the EU, Ireland has secured access to six prospective vaccine candidates at volumes that are sufficient to vaccinate the whole population, assuming all of the vaccines are authorised.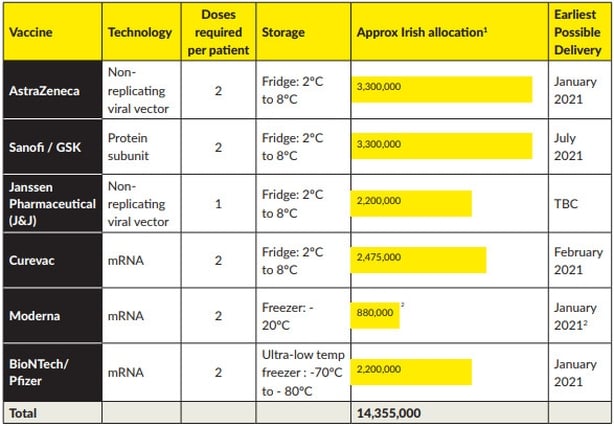 The plan states storage of the vaccines will be centralised and managed by a single logistics provider, "with substantial relevant experience".
As the different types of vaccine require varying temperature storage requirements, the HSE's logistics partner has prepared substantial storage capacity for each temperature range.
Plans for the rollout of the vaccine in Ireland are at an advanced stage, according to Health Service Executive CEO Paul Reid.
He said the HSE has mapped out 26 private nursing homes to be part of the first deployment of the vaccine.
Mr Reid told RTÉs Prime Time last night that he hoped the rollout will start around the end of the year.
Yesterday, there were eight more Covid-19 related deaths and 329 cases notified to the Department of Health.
This means there have been a total of 2,134 deaths and 76,776 cases in Ireland.
The figures also show that 196 people are in hospital with the virus, 31 of which are in intensive care, down two from yesterday.
There were 13 additional hospitalisations in the past 24 hours.
The 14-day virus incidence rate per 100,000 of the population is 84.7.