Monaghan has the highest rate of deaths from Covid-19 per 100,000 of population of any county in the State.
Figures compiled by the Department of Health for the 7Lá programme on TG4 shows the national distribution of the 2,053 deaths, from the beginning of the pandemic up to the 29 November.
Co Dublin recorded 948 deaths, the highest number in the period and almost half of the national total.
Kildare had 206 deaths while neighbouring Meath recorded 77. The next two highest counties were Monaghan with 74 deaths and Cork with 72.
However, the rate of deaths per 100,000 showed a further side of the Covid-19 story. While Monaghan came fourth by overall number, the rate of death per 100,000 was almost treble the national average.
Nationally, the figure was 43.1 for the period, but in Monaghan it was 120.5.
Kildare was next highest with a rate of 92.6, followed by Cavan at 78.8 and Dublin at 70.4.
There were fewer than five deaths in Waterford and therefore the rate has not been given for that county or the next lowest county, Leitrim, to protect confidentiality.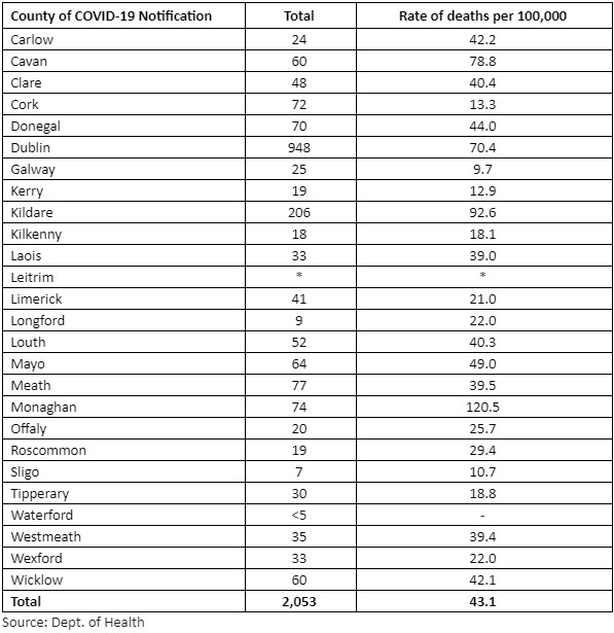 The greatest number of deaths in any month was in April with 1,175 deaths, over half of the total for the period. The overall median age of those who died was 83 years.
Of the 2,053 deaths in the period, 921 took place in nursing homes, 797 in hospitals, 36 at home, 12 in other settings and a further 287 deaths were recorded where the place of death was unknown.
1,794 of the total deaths were in confirmed Covid-19 cases, 95 deaths were in probable cases while a further 164 deaths were in possible cases.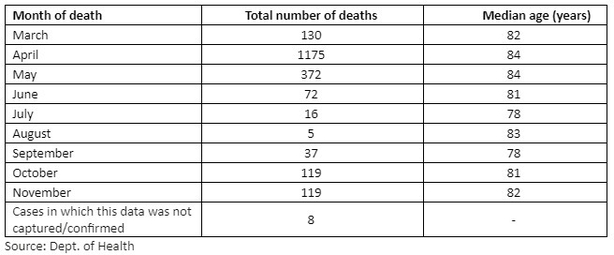 The data provided by the Department of Health to 7Lá were as reported on the national Computerised Infectious Disease Reporting system (CIDR) up to midnight 29 November 2020.
The Department of Health emphasises that the county of death as recorded may not always reflect the county of residence.