A young Cork boy who inspired the nation with his 'virtual hug' idea has been honoured by An Post.
From tomorrow, An Post will mark millions of Christmas cards and letters with a special message of love.
In a memorable moment from this year's Toy Show, six-year-old Adam King from Co Cork held up a homemade "virtual hug" that he shows to everyone he meets because of Covid-19.
Adam's creation will now be represented on post across Ireland and the world.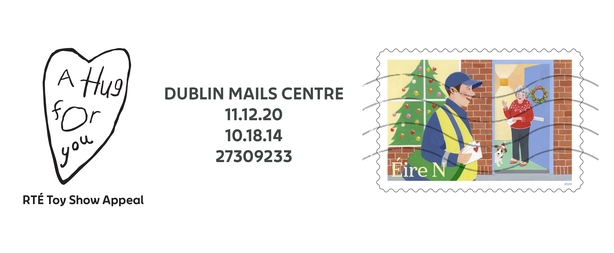 An Post said the new postmark, which was announced on the Late Late Show, would help people keep connected.
"We're big fans of Adam and his virtual hug. As we all Send Love this Christmas, this special hug on every envelope keeps us all connected, even if we can't hug in person this year. Thanks Adam, for making the world a whole lot brighter this Christmas," said Richard Miley of An Post Mails & Parcels.
It is the latest in a string of surprises for Adam.
After telling Ryan Tubridy of his plans to work for mission control at NASA, Adam had the opportunity to speak to Commander Chris Hadfield on last Friday's Late Late Show.
The Toy Show also segment featured a surprise visit from "the nicest hospital porter in Ireland" John Doyle, who had befriended Adam at Temple Street.
"Adam has such an infectious smile that even the darkest planet out there would light up," he said.
This year's Toy Show also featured a charity appeal which raised more than €6.6m.