Taoiseach Micheál Martin has said his "gut instinct" is that it is 50-50 as to whether a trade deal between the European Union and the United Kingdom will be reached in the coming days.
The Taoiseach was speaking to RTÉ News at Marymount Hospice in Cork where he formally switched on the Christmas lights.
"My sense is that we are at a very difficult juncture and I think it's important that the resumed talks use every piece of creativity they can by the participants to try and get a resolution," he said.
He added: "I think a 'no deal' would be very damaging to all concerned, to the Irish economy and indeed to the economies of the member states as well, so it's very, very important that common sense prevails here and that a deal is done".
Negotiators from the EU and the UK are preparing to resume talks on a "future relationship" and trade deal.
"The situation is serious and obviously the three issues that have proved very difficult to reconcile all the way through the talks are still there to be dealt with," Mr Martin said, "namely the level playing field which is proving particularly difficult, fisheries and of course a dispute resolution mechanism to deal with the level playing field issue."
The level playing field refers to ensuring neither the EU nor the UK can gain a competitive advantage over the other by lowering standards in the spheres of employment and social rights, environmental protection and taxation, or by subsidising individual companies or industries.
The Taoiseach said that while talks are continuing, his message to businesses was to be "very alert and vigilant" in preparing for Brexit.
"I think that the message to the Irish people and in particular to Irish businesses is to be very alert now and very vigilant in your preparations for Brexit, double down, make sure, check again that all of your preparations are in place.
"Because even with a deal done it will be challenging in terms of the changes that will occur and the additional documentation. In the event of a no deal, it will be significantly onerous on businesses out there, so things are on a knife edge here and it is serious."
Asked if his gut instinct is that there will be a deal, or not, he replied: "My gut instinct is that it's 50-50 right now and I don't think one can be overly-optimistic about a resolution emerging.
"My sense is, and I've spoken to some of the key principals here, this is a very challenging issue to resolve, particularly around the level playing field."
He said he is "not going to put deadlines" on reaching a final deal.
"The important dimension here is to get a deal and to make sure it's a deal that works in the medium to longer term because a good, sustainable relationship between the United Kingdom and the European Union is what makes sense for the medium term so therefore if it takes an extra couple of days to get this resolved, it's better to do that than to rush things."
---
---
Minister for Foreign Affairs Simon Coveney earlier said the consequences of a no-deal situation between the UK and EU are "so significant", that both sides will "find a way" of reaching the necessary compromises.
Speaking to RTÉ News this afternoon, Mr Coveney said the hope is that a deal will be reached this week "to provide the certainty everybody is craving" so they can plan for the future and avoid the "disruption, division and acrimony" of a failed agreement.
However, he said negotiations are in "a very difficult place" following the suspension of talks in recent days and last night's conversation between the European Commission President and the British Prime Minister.
"Significant differences remain on three critical issues: level playing field, governance and fisheries," Ursula von der Leyen and Boris Johnson said in a joint statement yesterday.
They instructed their chief negotiators Michel Barnier and David Frost to reconvene today in Brussels. Mr Coveney will travel to the city this evening for a meeting of EU foreign ministers.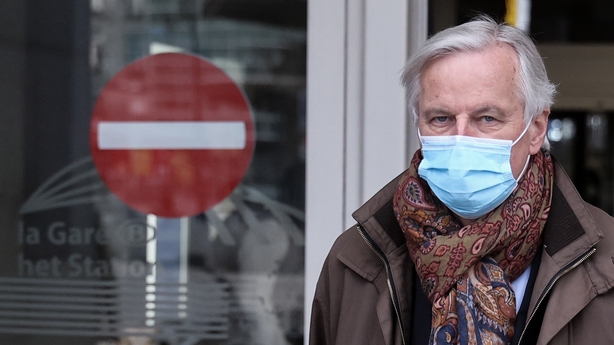 Speaking to RTÉ News this afternoon in Cork before his departure, the minister said that while he still thinks a deal is more likely than not, "nothing would surprise me or shock me" when it comes to Brexit.
He said any move by the UK Government to pass a taxation bill later this week that would breach the withdrawal agreement "would be extremely damaging to the prospects of getting a deal". However he added: "I think we need to focus less on the threats and more on the detail of how we find an agreement".
Mr Coveney said that it does not make any political, economic or social sense for there to be no "future relationship" agreement between Britain and the EU.
"Not having a structured future relationship agreement in place is going to very, very costly and very, very disruptive for the UK and for Ireland."
He added: "I think the negotiating teams and senior politicians will find a way of getting a deal but at the moment we're in a difficult place as we try to close it out."
Mr Coveney called on all sides to "avoid emotive, divisive language" as they attempt to find "a compromise that we can both live with".
As Minister for Foreign Affairs @SimonCoveney says not having a structured future relationship agreement in place would be very costly for both the UK and Ireland, @tconnellyRTE has the latest on #Brexit talks | https://t.co/e9ThjjLNEo pic.twitter.com/nsk4uNtYoQ

— RTÉ News (@rtenews) December 6, 2020
Asked if there will be a deal or not, he replied: "I've said for some time that's it's more likely that we get a deal than not, but nothing would surprise me or shock me about Brexit.
"So we need to be ready for either outcome as a country. That's why the Government really is working night and day to try and prepare Ireland for the prospects of no trade deal.
"But I am still hopeful that a deal can be done."
The minister said that the key issues remain fishing and a "level playing field" which would avoid the need for tariffs and quotas.
EU and UK negotiators are resuming talks in Brussels this afternoon on a post-Brexit relationship governing trade and other areas.
David Frost, the UK's chief negotiator, and his team arrived in Brussels by Eurostar earlier today.
"We will be working very hard to try to get a deal," he told reporters. "We will be looking forward to meeting our European colleagues later on this afternoon."
Both sides have until tomorrow evening, effectively, to try to overcome stubborn and fundamental differences over the nature of their future relationship.
Minister for Higher and Further Education Simon Harris said this afternoon he believes there is a Brexit deal to be done if there is a willingness from both sides. 
Minister for Further & Higher Education @SimonHarrisTD also describes this week as a crunch moment for Brexit. Believes that there is a deal there to be done if there is a willingness from both sides, but we should not be complacent. #brexitdeal #rtepolitics pic.twitter.com/C3ROzo3Hss

— The Week in Politics (@rtetwip) December 6, 2020
Speaking on RTÉ's The Week on Politics he said the fact that Ms Von der Leyen and Mr Johnson had mandated the negotiators to keep talking was a good sign. 
On the same programme, former EU Ambassador to the US David O'Sullivan said tomorrow is the vital day as talks reach a critical stage. 
He also said there would be a lot of disruption on 1 January whether there was a deal or not, but a deal would make the end of the transition period less disruptive and would eliminate tariffs.
Discussing what will happen come January 1st, @D0Sullivan explains that whether or not there is a deal, there will be a lot of disruption with the introduction of new customs controls and new bureaucratic formula. #brexit #rtepolitics pic.twitter.com/H508Vze6ar

— The Week in Politics (@rtetwip) December 6, 2020
Sinn Féin TD Eoin Ó Broin said it was last-chance saloon. He said the costs of a deal would be substantial but Ireland would not be able to cope with no deal. 
Independent TD Marian Harkin said talks were at the theatrics stage but she believed a deal would be done with a possible compromise on fisheries. 
People Before Profit TD Richard Boyd Barrett said there was brinkmanship and there probably would be a deal but that was not certain as he said that Mr Johnson did not behave rationally.
Gavin Barwell, who was chief of staff for former UK prime minister Theresa May, said he believes a deal is "definitely still possible", although it will rely on whether or not both sides are "prepared to make the compromises necessary".
Mr Barwell told BBC Breakfast: "Both sides are going to have to compromise if we're going to get a deal."
Britain is prepared to keep negotiating with the EU until there is no longer any point doing so, the UK farming minister George Eustice said today, adding that the country was ready for a no-deal scenario.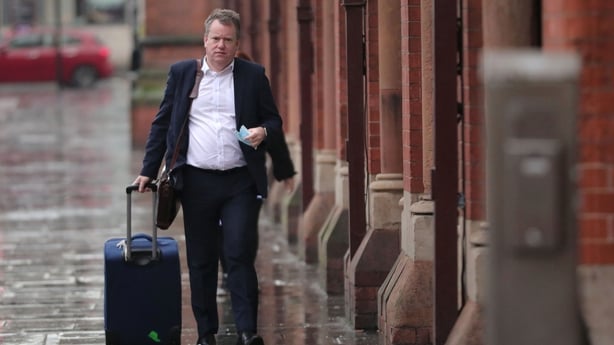 "We've actually been doing huge amounts of work on this for a long period of time," he told Sky News.
"We had done a lot of preparation to leave without an agreement last October and we've been preparing ever since for the prospect of potentially having to leave without an agreement at the end of this year.
"We'll  be ready to do so if that is what transpires."
Mr Eustice later told the BBC that if extra time is needed for technical fixes it can be found, but for fundamental issues "things have to be decided in next few days".
Additional reporting: Tony Connelly, PA, Reuters