We once waited with excitement for the big parcel from America, but now the special gifts are travelling in the opposite direction, with Covid-19 travel restrictions leading to a surge in business for a small west Kerry start-up.
Every month Katharine Keane and Thomas Barrett pack boxes full of carefully selected Irish craft products and post them to subscribers in the US and Canada. The business is known as 'My Ireland Box' and the contents of the gift box remains a surprise until it is received by the subscriber.
The business was reasonably successful in the early stages, but the onset of the current pandemic has led to dramatic surge in orders for the gift boxes.
"We can't believe how busy we are. There seems to be a lot of second and third-generation Irish in America and Canada that would love to visit Ireland this year but can't. Some had booked flights and have had to cancel.
"So they are longing for a bit of Ireland and we deliver that to their door through our 'My Ireland Box'. Since the first lockdown demand has soared," said Katharine Keane.
According to Tourism Ireland over two million North Americans visited Ireland last year, generating revenue of around €1.89bn for the economy. The spread of Covid-19 has seen visitor travel from the region grind to a halt.
A qualified solicitor and financial trader, the couple have left their previous jobs to concentrate full-time on the new enterprise.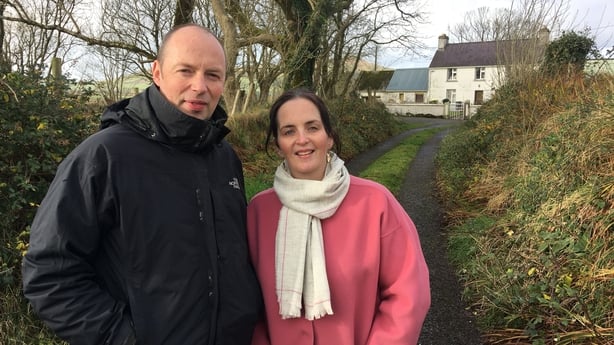 "It's been so busy of late that I've decided to jump in and take on the marketing side of things full-time," said Thomas Barrett.
"We don't have a proper business unit yet, so we're working from the dining room. We've run out of space, which is a good complaint. Our packing area is getting busier and more chaotic by the moment. Friends of ours and family members often come in and help pack boxes, so everyone is getting involved," he added.
The couple have been extremely busy preparing surprise boxes for Thanksgiving and Christmas. It also provides a much-needed boost for its suppliers.
"It's a great platform for the small Irish producers we work with because they wouldn't normally get a reach that far. It's also beneficial for our subscribers because they are receiving high quality products which they mightn't find elsewhere," said Mr Barrett.
The contents of the themed gift box changes every month and the couple focuses on hand-crafted products which reflect the richness of Irish culture, history and language. They also include some small personal touches.
"I like to write them a letter and I might send them one of my grandmother's family recipes, for example," said Katharine.
"With the present Covid crisis I think our subscribers have a longing to reconnect with the ancestral home. They can't come here, but the box arriving at their doorstep helps bring a small bit of happiness into their lives in difficult times," she added.