Donald Trump's promise to "build a wall" dominated the 2016 US election campaign – but as the votes were counted in the 2020 poll, it was CNN reporter John King's 'Magic Wall' that garnered all the attention.
A red (Republican votes) and blue (Democrats) map at his fingertips, millions of viewers saw the newsman showcase his detailed demographic knowledge of cities, suburbs and rural areas across all 50 states.
The popular political pundit told Miriam O'Callaghan on RTÉ's Radio One's Sunday with Miriam that covering the US election was "exciting but exhausting". 
Mr King admitted he has not got much sleep since counting began after polling day on 3 November. "I am averaging two to three hours a night but that's OK."
A proud Irish-American, he plans to visit Ireland as soon as the time is right. His paternal grandfather Christopher was born in Doonloughan near Ballyconneely in Co Galway - one of 24 children.
"I am 100% Irish - well, Irish American - and I grew up in the Irish Catholic neighbourhood of Dorchester in Boston. I was one of seven children, five boys and two girls," he told Miriam.
"We did not have much money but there was a lot of love, laughter and song."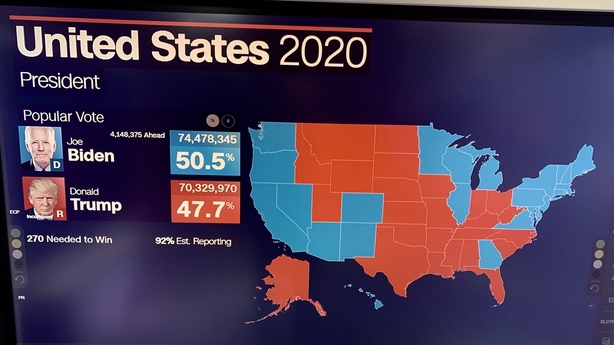 Mr King revealed he had visited Ireland several times "but always for work - not as a tourist and not as an Irish American retracing my roots."
His cousin Jackie Kenny has invited him over to visit the family in Connemara and promised him a pint at Keogh's pub in Ballyconneely.
"As soon as she says it's the right time to visit, I will be there. But I am telling the barkeeper now, there better be more than one pint," he laughed.
Not soon enough https://t.co/ocYqyQyP2m

— John King (@JohnKingCNN) November 8, 2020
John King said learning more about his extended Irish family has been one of the most "heartwarming" experiences.
However, a more embarrassing experience was when viewers took to social media to query the way he wrote the figure 8 on screen. "It became an international incident," he joked.
"The nuns at St Mark's school taught me the right way - my writing is pretty messy and that is not their fault!"
He was confident that the presidency of Joe Biden - who has Mayo roots - will be good for Ireland.
"I am certain it will. There is no question that when it comes to Europe, [the Irish] are going to get more attention - Ireland can feel very happy."
He said the difference in tone and policy between the outgoing and incoming US presidents will be "like night and day".
Yeah, the nuns tried their best. #sorry. https://t.co/56XpcxwSmv

— John King (@JohnKingCNN) November 5, 2020
Mr King said Joe Biden "will bring an air of decency respect and common courtesy" to the White House. "We will not wake up every morning wondering what he is going to tweet."
He said the Democrat would rejoin the Paris climate accord, boost the US-NATO alliance and "try to get back to bread and butter working class issues".
The political correspondent admitted it was flattering to see CNN's election coverage and his 'Magic Wall' resonate with people around the world.
"There is great theatre in a close election. I think there was higher interest than usual because of Trumpism and also because of coronavirus.
"The complexity of the election made the CNN wall more important and it helped that we had more technological upgrades this time as well.
"I think people tune into me because they like familiarity when they are feeling anxious. This is my ninth presidential election. I am like a comfy pair of slippers."
First votes of #2020 #ElectionNight in IN & KY. pic.twitter.com/aUlCFpDNrO

— John King (@JohnKingCNN) November 3, 2020
Mr King said his indepth knowledge of various regions across the US was down to research and travel.
"Where my hands are going on the map is where I have lived my life. A lot of those key counties is where I have spent time while covering elections, year after year.
"I read census data to understand population trends. As the economy changes, politics changes. You need to be able to track those shifts."
While the software to explain demographics like Covid figures, unemployment and ethnicity is written in advance, Mr King said going live on election night "is like being on a rollercoaster with a blindfold".
"It is an honour that people found the Magic Wall helpful. I feel privileged and grateful for the responsibility of explaining the results."