The first major English-Irish dictionary in over 60 years has been officially published by President Michael D Higgins.
The new dictionary - produced by Fóras na Gaeilge - contains 1,800 pages, over 30,000 entries, and 1.8 million words in contemporary English and Irish.
The updated version includes words such as home office (oifig bhaile), fake news (bréagnuacht) and social distancing (scaradh sóisialta), and aims to produce a comprehensive modern dictionary to represent current language usage.
Speaking on RTÉ's Morning Ireland, Chief Editor of the new Concise English-Irish Dictionary Pádraig Ó Mianáin said: "Any dictionary really is meant to reflect life as it is when the dictionary is published. The last dictionary that came out in '59 didn't even contain the word computer.
"So this new one, not alone does it cover modern English, but also modern Irish as it is spoken, and as well as that, it reflects modern dictionaries and as much as older dictionaries would've been much more formal.
"All modern dictionaries are more democratic, they reflect the language that is spoken."
Seoladh an Fhoclóra
Amárach 1pm
Ar Facebook agus ar Youtube
Join us || Bí Linn#OnaS2020 #Foclóir pic.twitter.com/NA7WPp6PCI

— Foras na Gaeilge (@ForasnaGaeilge) October 29, 2020
Mr Ó Mianáin said it had been a challenge to try and translate all the informal common English language words as there was such a gap since the last one, "they couldn't just take the last one and add words to it".
He said the dictionary was meant to go to print at around Easter, but due to the pandemic they received 24 hours to close their offices.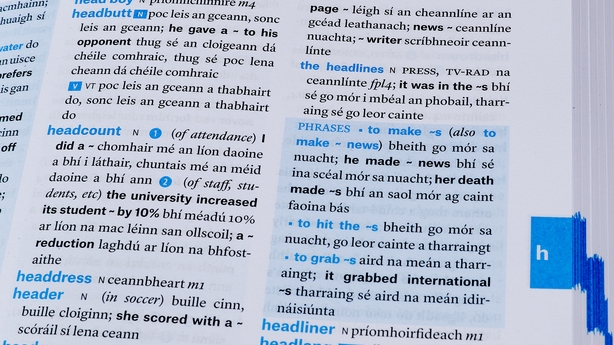 But, he said, those extra few weeks gave them a chance to add words such as "coronavirus" or "social distancing", so the dictionary is now up to date to May of this year.
Every book does go out of date, so it will be a while before more current terminology is added, he said.