Officials in the US city of Philadelphia have announced a curfew following two nights of unrest over the latest police killing of a black man.
The citywide order will last from 9pm tonight (1am Irish time) to 6am tomorrow, according to a statement on the city government's website.
Thousands of people have taken to Philadelphia's streets this week, with looting and violence breaking out.
It follows the fatal shooting on Monday of 27-year-old Walter Wallace, whose family said suffered from mental health issues.
Hundreds of marchers demanded racial justice, with some jeering and clashing with police last night and into the early hours of this morning.
Philadelphia has become the latest flashpoint in the US on issues of race and police use of force just days ahead of Tuesday's presidential election.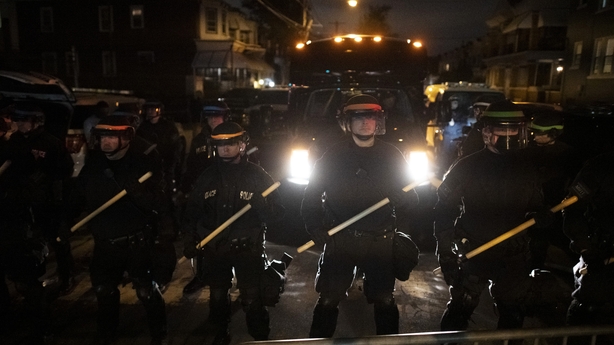 The White House said the disturbances were "the most recent consequence of the Liberal Democrats' war against the police" as President Donald Trump tries to bolster his claims to be the "law-and-order" candidate.
Democratic candidate Joe Biden called for demonstrators to protest peacefully and said in a statement with his running mate Kamala Harris that their "hearts are broken" for victim's family.
More than 90 arrests were made during the first night of sporadic riots and looting in the city, and 30 police officers were injured.
Police say officers opened fire on Mr Wallace on Monday when he ignored orders to drop a knife he was holding.
Phone video of the killing posted on social media showed Mr Wallace push his mother away and then walk towards the police.
"Put the knife down," one of the officers shouted in the video, which panned away as officers opened fire.
Mr Wallace's father, also called Walter Wallace, said his son appeared to have been shot ten times, according to the Philadelphia Inquirer.
"Why didn't they use a Taser?" the paper quoted him as saying.
"He has mental issues. Why you have to gun him down?" he added, saying that his son was on medication.
Police Commissioner Outlaw launched an investigation, saying the video "raises many questions."
"While at the scene this evening, I heard and felt the anger of the community," she said in a statement.