As I stood at St Conleth's Hall in Newbridge last Monday for the garda press conference that confirmed Jo Jo Dullard's disappearance a quarter of a century ago was finally and officially a murder investigation I thought of two women no longer alive. 
Firstly, I thought of Jo Jo, a 21-year-old woman much loved by family and friends, who had her whole life in front of her when a murderer crossed her path on a dark winter's night in Co Kildare in 1995. 
The second woman I thought of was Jo Jo's sister Mary Phelan, a woman who for so many years consistently campaigned for more to be done to find Jo Jo, and all missing people. 
Mary was a powerhouse, someone who challenged politicians and gardaí, and who believed missing people deserved to have their voices heard. Her love for her sister was matched by her ambition to do everything to find her.
She contacted anybody and everybody she thought could assist in raising awareness of missing people, including Bill and Hillary Clinton and George Bush.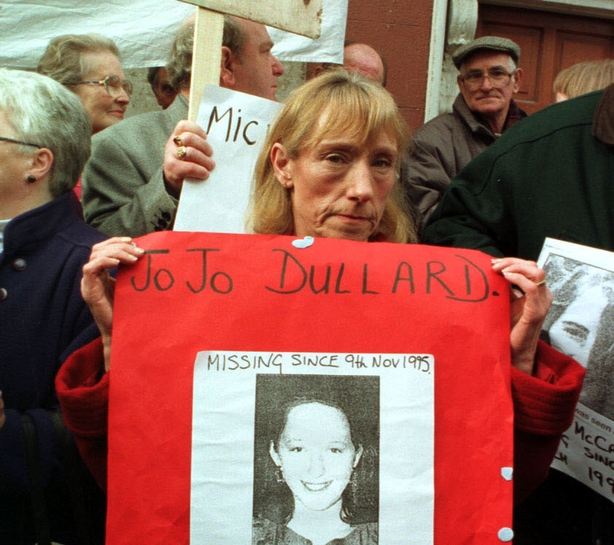 Mary was the first relative of a missing person that I ever interviewed. It was 30 July 2002 and I got the 7.30am train from Dublin to Kilkenny. Mary and her husband Martin picked me up two hours later at MacDonagh Junction, and brought me to their farm at Cuffesgrange. 
On the drive to their home that Tuesday morning we chatted about the difference between traffic in Dublin and Kilkenny. I told them more about the book I was researching. I wanted to write about all the women who had vanished in Leinster in the 1990s.
I told them how my initial interest came from reporting in 1996 for a local radio station on the disappearance of Fiona Pender in Tullamore. Fiona was seven months' pregnant when it is believed she was murdered and her body hidden somewhere in the midlands.
Mary told me how she knew Fiona's mother Josephine well. The families of a number of missing people had formed a network - they understood what each other was going through. 
I hit it off with Mary and Martin immediately. I told them two things at the start of our chat in their home. I told them how sorry I was for the position they found themselves in. And I also told them that I had no idea what that position was like.
It was a conversation I was to have with dozens of other families over the subsequent 18 years. In order to fully understand what it is like for a loved one to vanish you have to live through it. All the questions, all the emptiness, all the pain, all the anger, all the sadness; and very often, the inescapable reality that your life of grief is now lived in the public eye. 
Media become key, publicity is paramount. Mary told me that morning that she had such great time for the media. Journalists were keeping Jo Jo's memory alive she told me, journalists were keeping pressure on the gardaí and politicians. It's something that stays with me. Journalists are privileged to have a power to shine a light where it needs to be shone. 
Before Jo Jo disappeared, Mary and Martin and their two children were living a happy life. They ran a farm in Co Kilkenny, tending to cows and sheep on their 90 acres.
Their children were eight and five when Jo Jo vanished. From November 1995, everything changed forever.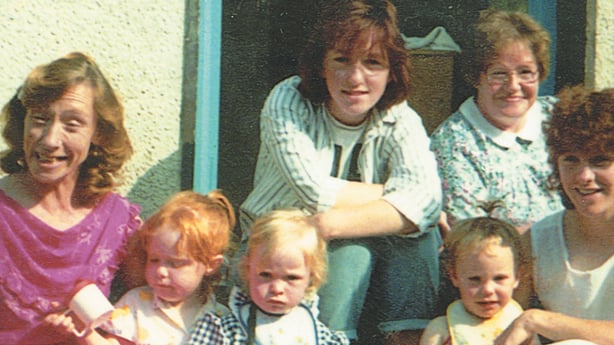 The Phelans became campaigners, spending much of every day planning and pressuring and fundraising and phoning and faxing and pleading with people to help find Jo Jo. 
Sitting in the Phelans home that day, the love that Mary had for her sister was evident in her eyes. They welled up when she spoke of her memories of Jo Jo.
But she also had the strength to answer all my questions.
The family had been let down by many gardaí, she told me. Mary told me how another sister Kathleen had been left deeply upset and frustrated when speaking with gardaí that awful weekend in November 1995 when Kathleen wanted to report Jo Jo missing. 
In the first few days the Dullard family felt gardaí hadn't taken Jo Jo's disappearance seriously, and had suggested she might turn up safe soon enough. Such comments are hurtful to families who know their loved ones. 
The Dullard family knew Jo Jo was gone, knew she had been taken, and wanted urgency from day one.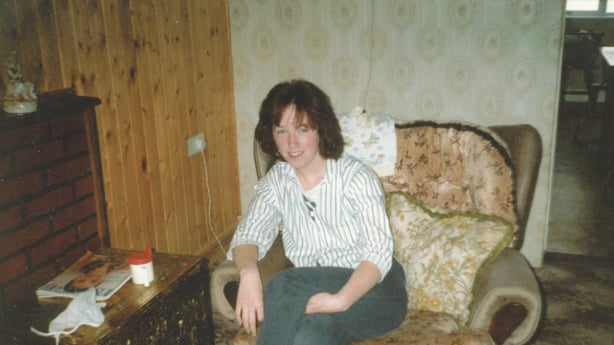 As we sat in Mary's kitchen she told me how the family had told gardaí everything they could about Jo Jo, every piece of information. 
The Phelans believed some personal information given to gardaí had later been leaked to some journalists, who had published stories.
In another appalling incident a body had been found in the River Shannon and due to crossed wires among gardaí and journalists, Jo Jo's loved ones had been led to believe the body might be her. 
That body turned out to be a man from Limerick, but the incident left another sour taste for Mary and Martin. But their upset was with gardaí, not with reporters.
By the time I met Mary and Martin I had met some very impressive detectives who were very committed to finding Jo Jo and all the missing women, but it was instructive to learn that in the view and experience of Mary and Martin, not every garda was as good as the next. 
Mary asked me if I'd like to speak with other families of missing people. I said I was indeed reaching out to other families.
I had contacted Ciara Breen's mum Bernadette in Dundalk. Ciara was just 17 years old when she was abducted and murdered in 1997.
I'd also phoned and then written to the sisters of Fiona Sinnott, who was 19 when she met a similar fate in Co Wexford in 1998. 
I was due to travel to meet Diane and Caroline Sinnott soon.
I'd phoned John McCarrick in New York, whose only child Annie was missing from Dublin since 1993.
And I was due to meet Josephine Pender in Tullamore soon to talk about her daughter Fiona. 
Mary told me of other families she knew, and gave me numbers. She not only had contacts for families in Ireland, but had made contact with families as far away as the USA. 
They told me they believed a man local to a village near Moone in south county Kildare was a clear suspect in the case. 
In subsequent years, the National Missing Person's Helpline would be established, and a support group called Missing in Ireland Support Services. But that July day in 2002, Mary Phelan was 'it', she was the nerve centre, she was the woman bringing people together with a tragic shared experience.
Mary, Martin and myself went for a walk around outside their house and chatted more about Jo Jo's case. They told me they believed a man local to a village near Moone in south Kildare was a clear suspect in the case.
They had been told certain things about him, and they believed he had been in Moone that night and had lied about his movements when spoken with by gardaí. He also had a scratch on his face when a private detective hired by the Phelans had seen him and engaged him in conversation under the pretext of getting directions.
The man owned property, and it seemed logical that the land should be searched, either to rule the man in or rule him out as a suspect. But despite the Phelans asking for the land to be searched it had not happened. 
The frustration of the Phelans was clearly visible as we stood chatting. They couldn't figure out why the lands were not assessed by gardaí. I couldn't figure it out either. As I write this 18 years later I can state that the lands in question have still not been searched. 
I remember Mary and Martin dropping me back to catch the 3.35pm train in Kilkenny. They gave me a loan of some photographs of Jo Jo that I would send back after copying them. I spent the journey back to Dublin writing up my notes, and spent the next five months working late into the night writing Missing. 
I finished the book shortly before midnight on New Year's Eve 2002. But for Mary opening doors for me the book would not have been written so quickly, and would have been less impactful. 
Mary had plans to visit the US and raise international awareness about Ireland's missing women. She also had a clear focus on Irish politicians and went straight to the top. She contacted then taoiseach Bertie Ahern, and said she and I would be visiting him at Government Buildings. 
That was Mary's way, very polite and very effective. And so we did indeed meet the taoiseach. It was soon after my book Missing was published we went to meet Mr Ahern.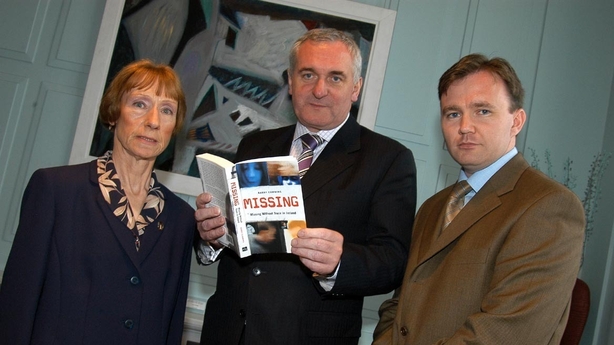 Just beforehand I met Mary and Martin at the Central Hotel off George's Street and we walked over to Government Buildings. I arranged a photographer friend of mine, Marc O'Sullivan to come and record the meeting. I gave the taoiseach a copy of my book, and he was genuinely pleased to chat with Mary and hear what she had to say. 
The three of us had our photo taken, and that image is being shown here publicly the first time. At that meeting, Mary said that there should be a specialist team of gardaí to investigate missing persons' cases. She was right. Mary was ahead of her time. 
That meeting with Mr Ahern was in 2003. It would be four years later before the Garda Cold Case Unit was finally set up. It is members of that specialist unit that are now investigating Jo Jo's case. It is those detectives who have pushed for the case to be re-categorised as a murder inquiry. 
Mary Phelan also put me in touch with local Kilkenny Fianna Fáil TD John McGuinness who had become a close friend of the family. 
His first encounter with Jo Jo's case was when he was Mayor of Kilkenny and Martin Phelan went in to see him and stood up on a glass table and told him what a scandal it was that a young woman could be abducted and murdered.
Martin's message was clear - more needed to be done. Mr McGuinness listened carefully to the passionate speech and agreed fully and immediately committed himself to doing all he could to help.
As well as practical advice, this also involved an early morning trip to Moone in Co Kildare to cement a memorial plaque for Jo Jo to a wall beside the phone box from which she had vanished in November 1995. 
As John McGuinness recounted to me, the vast majority of people in Moone were supportive of a plaque, but there had been a fear that one or two people might lodge an objection if planning permission was sought.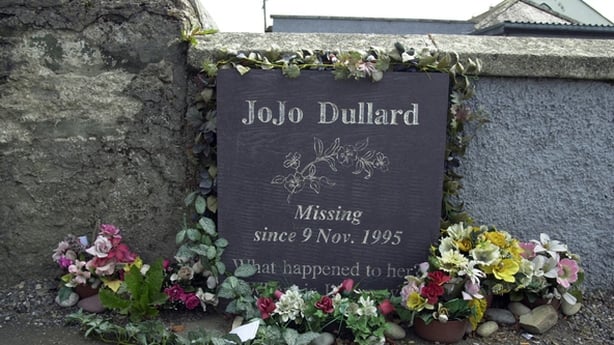 "At around five o'clock one morning, myself, my brother Declan, Martin Phelan and his brother Gerard loaded the stone up into a jeep and we headed off for Moone with the cement mixed in the back. Before it was bright we had cemented the stone against the wall beside the phone box." 
The phone box was removed some years later, but the stone remains in place, a fitting tribute to Jo Jo.
I have stood at the plaque on a number of occasions. The road in Moone is quieter now than it would have been in 1995. Back then the road was part of the N9, which linked Dublin with Kilkenny and Waterford. Today, the M9 motorway bypasses Moone.
Every time I'm there I wonder if Jo Jo was the victim of a serial killer, or was she murdered by someone who perhaps did not set out that night to kill at all.
I wonder if the murderer is a local man - local to Kildare or to Wicklow or Carlow, or is he from further afield?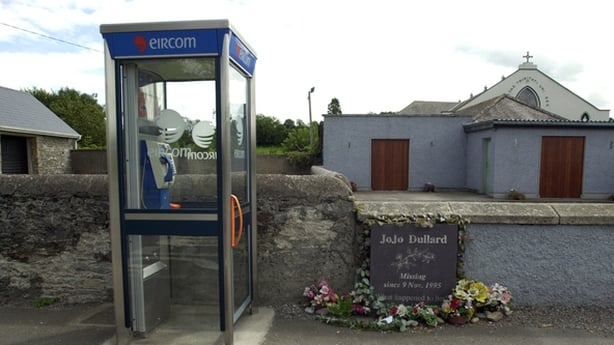 Was there one killer, or could Jo Jo have been abducted by two or more men?
These are all questions that the Garda Cold Case Unit will be considering as they continue a painstaking re-examination of the case.
At Monday's press conference Detective Superintendent Des McTiernan of the Garda Serious Crime Review Team said officers want to hear from everybody who has information. Gardaí want to hear every rumour, everything.
At the press conference I did elbow bumps with Jo Jo's sister Kathleen who I also know since 2002. Ordinarily I would have given her a hug, and I would have shaken her husband Séamus' hand. But you can't do that right now. 
Covid-19 has changed our lives in so many ways. And so we did an elbow bump, and I told Kathleen how happy I was that gardaí were finally giving Jo Jo's case the status and attention it has always deserved. I told her I was thinking of Jo Jo and I was thinking of Mary. I already knew it, but Kathleen told me she was thinking of Mary too. 
Back in 2002 it was Mary who put me in touch with Kathleen. Jo Jo had lived with Kathleen until she was 16. Jo Jo never knew her father. John Dullard died when his wife Nora was pregnant with Jo Jo. Nora died when Jo Jo was nine, so Kathleen had brought her up.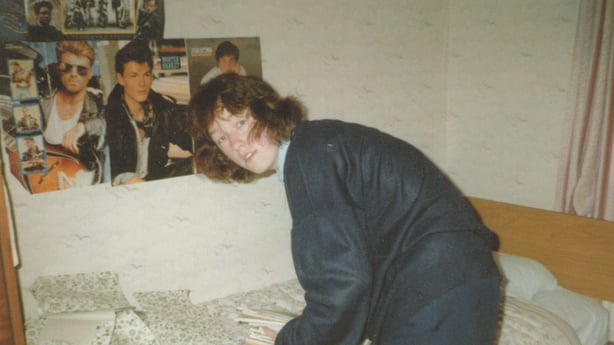 Jo Jo was the youngest of five children. As well as Mary and Kathleen, she also had another sister Nora, and a big brother Tom. Kathleen told me of Jo Jo's love of music. 
She was a big fan of George Michael, Michael Jackson and A-Ha. She had a dog she named Freeway, after the dog in the TV show 'Hart to Hart'. 
As Kathleen stood with cold-case detective Des McTiernan and local Superintendent Martin Walker last Monday, and did numerous interviews with television, radio and newspaper journalists, it was clear that in continuing to fight on behalf of Jo Jo Kathleen has taken up the mantle from Mary. 
For so long Mary Phelan battled against inaction and disinterest of some power holders. Long before the current National Missing Persons Day event was admirably established in 2013 by then Minister for Justice Alan Shatter, Mary had campaigned for such a day. 
Back in 2002, she had organised a monument for missing people to be placed in the grounds of Kilkenny Castle. Even back then she had to battle against some people who questioned the suitability of where to put such a monument. 
Thankfully the monument went ahead and the then President Mary McAleese attended a most beautiful and moving event. 
Afterwards the President met a number of families of missing people. And there beside her, introducing each family was Mary Phelan. She wanted to make sure that every family got to meet the President. That was Mary.
All Jo Jo Dullard wanted to do that night in November 1995 was get home to Callan in Co Kilkenny. Having spent the day in Dublin collecting her last dole payment and tying up loose ends after two years living in the capital, Jo Jo was heading for home where she was starting a new exciting chapter in her life; she'd got a job in a local restaurant, and had so much to look forward to. 
But she missed the bus from Busáras that would have got her home. She decided to get a bus that was only heading for Naas. From there she hitched two lifts, one to Kilcullen and the second one to Moone.
She entered the phone box in Moone at 11.37pm that wet winter's night and rang a friend Mary Cullinane. She told Mary of her predicament and said she might try and hitch to Carlow, which was only a further ten miles down the road.
She had a friend there who she could stay with until morning. But Jo Jo never got to her friend.
As she spoke with Mary, Jo Jo was looking out of the phone box trying to hitch her next lift. And then she came back on the phone and the last words her friend heard were "……I have a lift. See you Mary."
In April 2018, and following an illness, Mary Phelan died peacefully at her home in Cuffesgrange surrounded by her family.
For the last 23 years of her life Mary had wondered what had happened to Jo Jo, and had urged for more to be done to find her and all missing people.
I still remember that day in July 2002 Mary telling me of her memory of Jo Jo going to her Debs dance.
"Jo Jo had bought a lovely dress, and she was getting ready here. She had her hair all up in curls. I gave her a ring and a bracelet that had been given to me. I'll never forget how she looked. She looked just like Mum. When Jo Jo was ready to go out she came and gave me a big hug."
Through her generosity to me that day in 2002, and providing me with phone numbers of other families of missing people, Mary Phelan set me on a course that I am still on, and will never divert from. 
I am committed to the cases of missing people, I have been since that day I took the train from Dublin to Kilkenny.
I don't know what families like the Dullard family endure, but I know I can help, I know I have an ability as a journalist to keep the focus on people who have disappeared. 
Just what Mary might make of the gardaí this week officially classifying Jo Jo's disappearance as murder I don't know. 
It was plain as day a quarter of a century ago that Jo Jo had been abducted and killed.
Why did it take so long, and what will this week's developments mean for the investigation? 
If I was chatting with Mary now, I'd tell her that based on what I know of the detectives in the Cold Case Unit they will consider every single piece of evidence, and will be meticulous. 
They will carry out searches, and if the need presents itself they will carry out arrests. 
I would tell her I know them to be committed and compassionate and driven. I would say that the appeal last Monday has already led to a number of calls from the public. I would say that gardaí will listen to Jo Jo's family and will keep them informed of what is happening. 
Whether detectives solve the case or not remains to be seen. But they will do everything they can for a 21-year-old woman who is last known to have been in a phone box in Moone, Co Kildare at 11.37pm on 9 November 1995.
I would tell Mary what I told Kathleen this week. I believe the killer of Jo Jo Dullard will be feeling nervous this weekend, and I believe his loved ones will be thinking it over, wondering how to tell what they know. 
You can see it on Facebook and Twitter and in general interactions with people. Everybody is more reflective.
Covid-19 has reimagined social interactions, and forced us to look within ourselves. One thing about the pandemic, and Level 5 restrictions, it gives us all a lot of time with our thoughts, and that can only help the case of Jo Jo Dullard, and all missing persons' cases. 
Some killers, and those who have given them cover, will not be sleeping soundly these next few weeks.
If you've any information about the murder of Jo Jo Dullard you can call the Garda Confidential Line on 1800 666 111.
If you wish to contact me, I'm at barry.cummins@rte.ie
Barry Cummins is Security Correspondent with Prime Time and author of Missing.