Transition year students from Mercy Secondary School in Inchicore, Co Dublin have been given a fresh perspective on the Covid-19 pandemic through their fieldwork survey of Bluebell Cemetery.
The focus of the survey, which was commissioned by Dublin City Council, was to find graves relating to the 1918 - 1919 flu pandemic (the "Spanish flu") which killed upwards of 50 million worldwide.
There are around 1,000 graves in the cemetery, dating from the 1700s, but the stories behind two family graves in particular stood out for the students.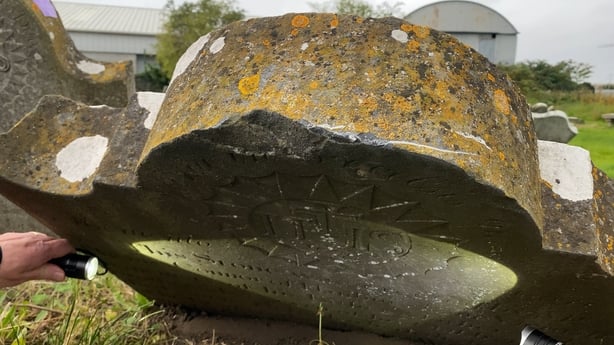 "We were trying to see could we get something relating to the flu pandemic of 1918/1919," said John Tierney who is the archaeologist running the project.
"We reached out and connected with Cathy Scuffil who is Dublin City Council's Historian in Residence this year.
"There was a Byrne Family and a Power family who had died in the winter and early spring of 1919 and who had pneumonia and flu as cause of death on their death registries."
"The big difference with the 1918 - 1919 flu pandemic was that a lot of young people got very ill and died. And that's what we saw. At least two in those families were children," he added.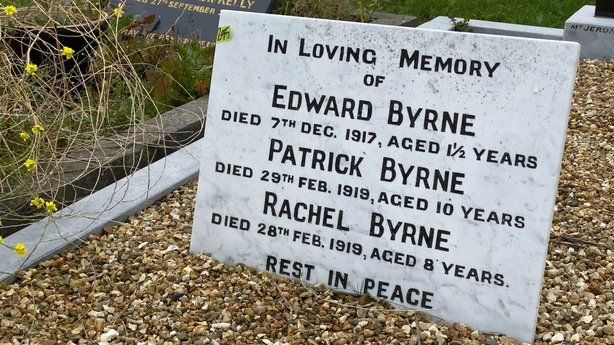 Those stark realities are not lost on the surveyors from Mercy Secondary School.
15-year-old transition year student Gráinne Nolan says she felt "very upset because they are younger than us and they died because of a flu and the virus".
"It's so strange to see. We, as young people, aren't getting infected as much but back then young people were the main people getting infected because their immune systems were so low," she added.
16-year-old Jemma Kennedy says: "It's kind of weird to know that they were going through a very similar thing to what we are going through now."
"But I'd hope that looking at what they did can help us get through this one," she added.
15-year-old Natalia Goworek thinks the fieldwork has been "a good experience to find out about the history of these people for the future generation".
"Because they might be doing the same thing as what we are doing today or even our kids, they might be doing this in the future," she added.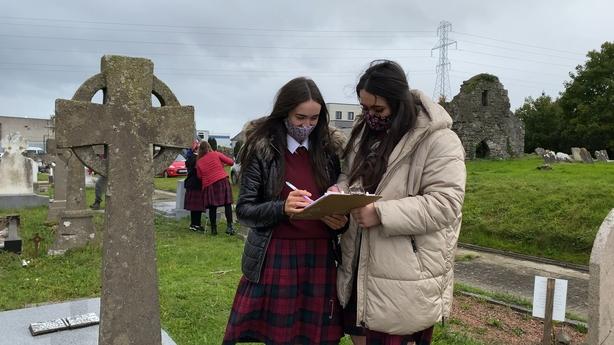 The schoolgirls fieldwork includes photographing each grave along with transcribing the inscriptions from each headstone.
The results of the survey will be recorded on www.historicgraves.com.
For archaeologist John Tierney, the project aims to teach the students to "learn from the past", "what happened in the past" and "how can we relate it to the present".