A major high visibility policing operation to support the new public health restrictions to curb the spread of Covid-19 in underway.
Garda rosters are being changed and over 2,500 gardaí will be deployed every day on 132 static and mobile checkpoints, to community patrols and to support for the elderly and the vulnerable.
Training in the Garda College has been suspended for the next nine weeks as 260 trainee gardaí and their tutors as well as members in administrative roles are deployed to police the Level 5 restrictions.
Long tailbacks were reported on the main Belfast to Dublin motorway this morning.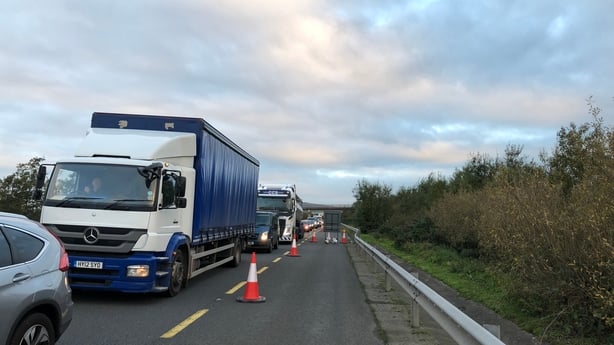 Traffic was diverted onto the Carrickdale roundabout where gardaí were stopping motorists and checking the nature of their journey.
Gardaí say there will be high visibility patrols at parks, beauty spots, beaches and public amenities and they will also continue to support victims of domestic abuse.
However, Women's Aid - a national organisation providing support and information to women experiencing domestic violence - said it expects the restrictions to result in a surge in contacts over the coming weeks.
During the previous tightening of restrictions earlier this year, it said it responded to a 43% increase in calls from women who were trapped with abusers at home, many of whom had to come up with ingenious ways to get in touch with the organisation.
Women, it said, called from their car, the garden shed and from the bathroom with the shower running to report abuse by their partners.
Women's Aid Chief Executive Sarah Benson said callers are reporting increased anxiety about abusive partners continuing to work from home who have more opportunity to abuse and control.
"We are getting more calls from women with suicidal ideation than we normally would and there are more calls at night, when the abusive partner is asleep," Ms Benson said.
"We are also seeing lots of messages to the online chat service which some women find easier to access as it can be done in silence from laptops and mobile phones".
Gardaí said that under Operation Faoiseamh thousands of contacts have been made with victims of domestic abuse and that as well as arrests, over 100 prosecutions have commenced.
The Garda Commissioner said there had been very good compliance by the public with the travel restrictions when they were in place before, adding that it is vital the high level of compliance continues.
"The public health advice is clear. This will help save lives," Drew Harris said.
"In particular, we would ask people to think about their journeys and not exercise or travel outside the 5km limit unless it meets the essential criteria."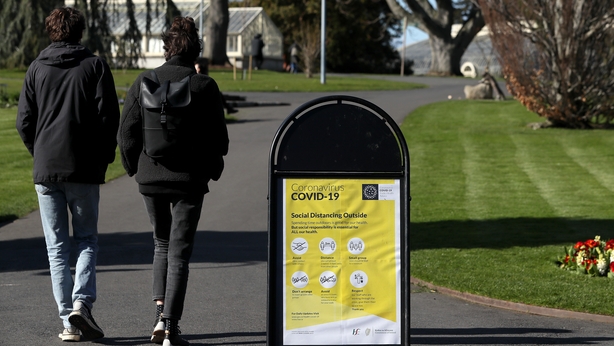 ---
---
Deputy Commissioner John Twomey said members have and will continue to help the vulnerable and those who feel isolated during the pandemic.
"Gardaí have collected prescriptions, delivered pensions, and had socially distanced contacts," he said.
"If people need such assistance or know someone who does, please contact your local garda station. We are here to help".
Meanwhile, the Garda Representative Association President Jim Mulligan said imposing fines for breaches of public health regulations must not compromise the relationship gardaí have with the public and business community.
Mr Mulligan said: "Our members are very conscious of the anxiety and financial stress being experienced by other workers and business owners affected by the new Level-5 restrictions. Our members will not want to add to that.
"But a decision has been made to take a stronger line with the very few people who have not shown responsibility by following guidelines that save lives and keep our economy going."
He added: "The legislation has yet to be passed but we have been briefed by senior management and ministers have given everyone a fair idea of what is envisaged.
"It is important from a policing perspective, that the clear communication about how these powers will be enforced is maintained once our members get their orders."