Private nursing homes say they are extremely worried at the rate at which they are losing frontline staff to the HSE and other public health roles.
Nursing home HR managers told RTÉ's This Week that agencies working on behalf of the HSE were "aggressively" recruiting their nurses.
Nursing Homes Ireland has called for a six month pause on recruiting vital nursing home staff.
In a statement to RTÉ News, the HSE said it was "not targeting nursing home staff" and did "not want to deplete any health services employees".
Olivia Geraghty, HR manager for the Sonas Nursing Home Group, told This Week that nursing homes had lost a lot of staff during the pandemic.
"There was a lot of recruitment from the HSE. We were receiving a lot of reference requests and resignations from our nursing home staff at a time when we needed to retain staff," she said.
With Covid cases spiraling upwards she said nursing homes needed to have certainty that they can retain their staff.
"We need to have continuity of care for our vulnerable residents. It's very worrying for us to think that this is going to continue in the weeks and months ahead."
Ms Geraghty told This Week she was able to retain housekeeping and catering staff, but was losing key nursing staff.
We need your consent to load this rte-player contentWe use rte-player to manage extra content that can set cookies on your device and collect data about your activity. Please review their details and accept them to load the content.Manage Preferences
Mairead Byrne, the registered person in charge at Kilkenny's Gowran Abbey nursing home told This Week she had recently lost three key staff members who took jobs as community swabbers.
"There was an agreement as far as I understand between the HSE and Nursing Homes Ireland that they would desist from taking staff from nursing homes during the Covid-19 Pandemic."
She continued: "I'm losing some of my most senior staff to the department of public health. Staff are being taken from nursing homes at a time when we are approaching the possibility of winter flu, Norovirus, and the dreaded Covid-19 pandemic. We cannot compete with the HSE and public health."
Others said it was very difficult to replace lost staff in the current climate.
John O'Neill, HR manager with Mowlam Healthcare nursing homes, said: "We are able to get some overseas staff in by following the proper processes and the quarantines but it takes longer times to replace then. Other staff might end up working longer hours. But in these difficult times we need to ensure our staff don't get and excessive heavy workload."
CEO of Nursing Homes Ireland Tadhg Daly told This Week the reality was that they were losing staff to the HSE and other public health roles.
Mr Daly said it was counterproductive to staff who were already working on the frontline.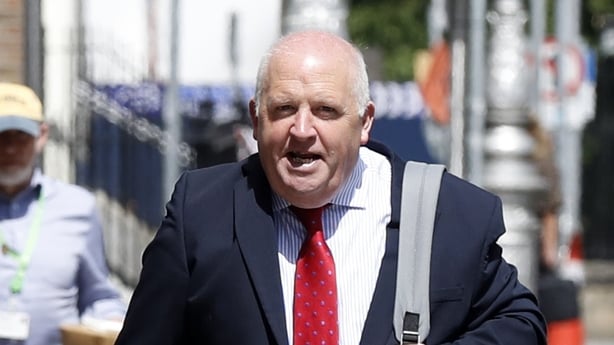 "We've seen the tragedy of Covid so there is a systemic issue long-term that we need to address."
He said he had raised the issue with Taoiseach Micheál Martin last week.
Mr Daly said there were currently 36 outbreaks of Covid across the nursing home sector.
In a statement to RTÉ News, the HSE said it "does not want to deplete any health services employees in the private or public sector and is not targeting staff from nursing homes".
It said the HSE advertises posts in a "transparent and open way and candidates who consider they meet the criteria are eligible to apply".
It added that the "Be on call for Ireland" campaign launched on St Patrick's Day only targeted qualified health care workers who were not currently providing health services.
The Department of Health said the recent report of the Covid-19 Nursing Homes Expert Panel had raised the issue of low pay rates in nursing homes and the need to offer contracts that encouraged staff not to seek employment in more than one nursing home.
The Department added that €92 million was being made available to nursing homes under the Temporary Assistance Payment Scheme to help them to cope with Covid-19 related costs this year.