A lecturer at University College Dublin (UCD) has come up with a novel approach to delivering online lectures to his students during the pandemic.
Colm Fitzgerald, an Assistant Professor in the School of Mathematics and Statistics, is lecturing in Actuarial and Financial Studies from a forest in the Wicklow Mountains.
Mr Fitzgerald is encouraging his students to attend online in a similar outdoor environment.
"I have been quite concerned about the well-being of students during online classes. I think if you are a student you are probably not getting out as much as usual.
"You are probably not seeing your friends as much. You might not be getting as much exercise. You are probably not getting enough healthy social interactions.
"I feel for the students, but I also see them as the future. I see them as the ones who will be the change in our society, so it's our duty to help them. So I had this idea of running outdoor classes," he explained.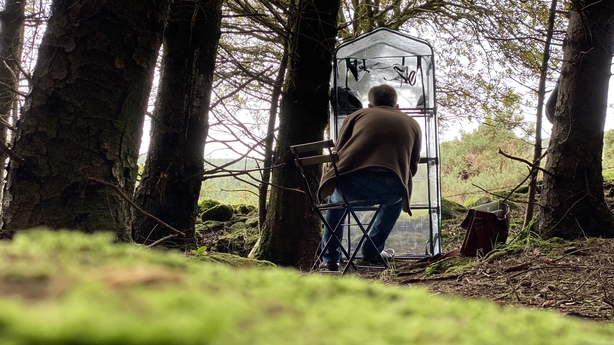 Using a 4G signal from a nearby mast, Mr Fitzgerald has been running his online lectures outdoors for several weeks.
"I had internet connectivity problems during the lockdown, like so many students had for lectures and their exams. But then I found the spot in my forest with a line-of-site to a 4G mast, and that's where I've set up the shelter for my laptop for the lectures.
"I think the worst-case scenario for the students attending online and outdoors, is that this is going to be a bit of craic against the grim backdrop of the pandemic.
"The best-case scenario is that it will encourage them to get out into nature and have some actions which will improve their well-being."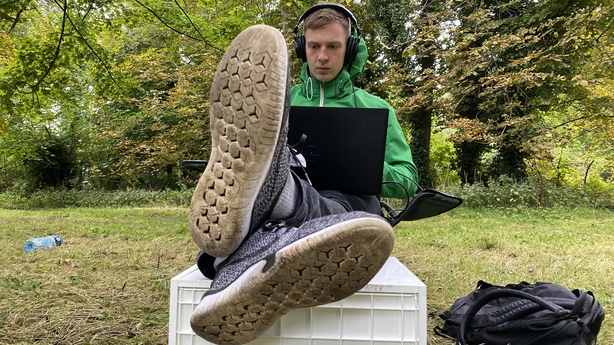 So far, the lecturer's outside-the-box approach has gone down well with students.
Speaking from her home in Co Offaly, Aisling Lydon, 21, said: "It is nice to have this as the excuse to go outside, because otherwise it's very easy to just stay inside in your pyjamas.
"It gives you a bit more structure to your day, rather than just following pre-recorded lectures online. I do really miss the social aspect of college.
"You only have four years and this is a time that we won't get back. It's one of the most valuable times in our lives and we are losing out on it."
Donal Lynch, 23, has been attending the online lectures from his back garden in Co Dublin.
He said: "For people our age it can be difficult. The uncertainty is the main thing. It's not knowing when everything is going to go back to normal. So distractions like this are really useful because it's tough to get a routine going when your bed is right next to your desk."
Louise Gannon, 21, has been attending the lectures in a small group of socially distanced students in a park near UCD.
She said: "It's lovely to get some fresh air, rather than being cooped up in my bedroom watching online lectures.
"It's not something I would have thought of doing myself, but I'm really glad Colm came up with the idea. And of course he sets an example by delivering the lectures live from his forest!"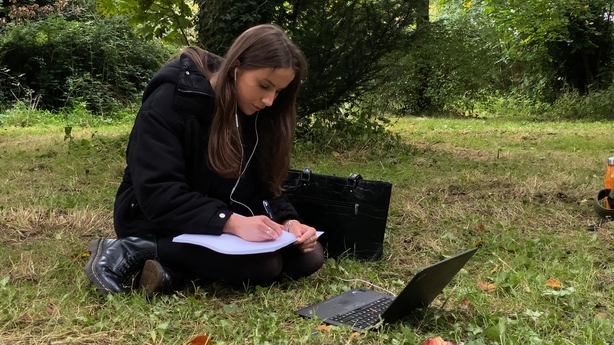 Mr Fitzgerald has issued advice to his students on how to equip themselves to attend his lectures outdoors.
"I expect any student who is joining the class outdoors to take reasonable and sensible precautions for their health and safety. I want them to stay warm and dry and to protect their health.
"I sat here a week ago and had some rain gear on, but I was like a drowned rat at the end of it. However, I was just determined to keep going.
"And I think because I did that, I have got buy-in from the students. The problems from online classes are starting to bubble up and I somehow think I need to get more initiatives like this going."