The World Health Organization chief has warned against suggestions by some to just allow Covid-19 to spread in the hope of achieving so-called herd immunity, saying this was "unethical".
Tedros Adhanom Ghebreyesus said during a virtual press briefing that "herd immunity is a concept used for vaccination, in which a population can be protected from a certain virus if a threshold of vaccination is reached".
He pointed out for instance that for measles, it is estimated that if 95% of the population is vaccinated, the remaining 5% will also be protected from the spread of the virus.
For polio, the threshold is estimated at 80%, he said.
"Herd immunity is achieved by protecting people from a virus, not by exposing them to it," Mr Tedros said.
"Never in the history of public health has herd immunity been used as a strategy for responding to an outbreak, let alone a pandemic," he insisted.
The new coronavirus has killed well over one million people and has infected more than 37.5 million since it first surfaced in China late last year.
Relying on naturally obtaining herd immunity in such a situation would be "scientifically and ethically problematic", Mr Tedros said.
"Allowing a dangerous virus that we don't fully understand to run free is simply unethical. It's not an option."
He pointed to lacking information on the development of immunity to Covid-19, including how strong the immune response is and how long antibodies remain in the body.
He also pointed out that it has been estimated that less than 10% of the population in most countries are believed to have contracted the disease.
"The vast majority of people in most countries remain susceptible to this virus," he said.
Meanwhile, Italy is set to ban private parties and limit the number of guests at weddings and funerals among new restrictions aimed at curbing a surge in coronavirus infections, according to a draft decree seen by Reuters.
The decree, which could be issued as early as today, prohibits people from hosting more than ten guests in their homes or in any other private premises.
It also states that no more than ten guests will be allowed at weddings, and no more than 15 people can be present at funerals.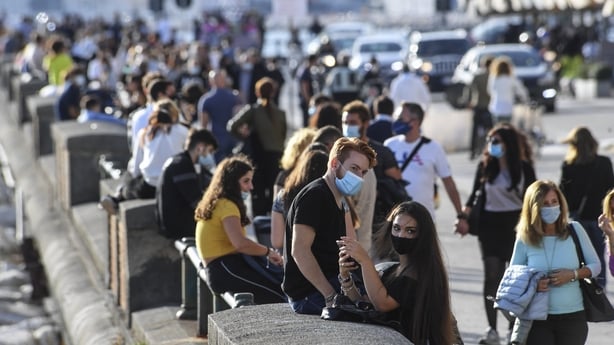 Italy on Friday topped 5,000 new Covid-19 cases in a single day for the first time since March. Daily infections remained above 5,000 on both Saturday and yesterday.
Deaths linked to Covid-19 are far fewer, normally below 30, compared with peaks above 900 per day around the end of March.
Under the draft decree, amateur contact sports involving more than six people, such as football, are to be suspended and more severe social distancing is to be imposed in some work places.
The government also plans to reduce to ten days from 14 days the quarantine period necessary for people who have come in contact with an infected person, Health Minister Roberto Speranza said yesterday.
As infections continue to surge, some European countries including the United Kingdom, Spain and France further tightened their epidemic prevention and control in the hope of avoiding large-scale lockdowns that have heavily impacted their economic recovery.
Another 12,872 people in Britain have tested positive for Covid-19 during the past 24 hours, bringing the total number of coronavirus cases in the country to 603,716, according to official figures released yesterday.
The coronavirus-related deaths rose by 65 to 42,825, the latest data showed.
Jonathan Van-Tam, England's deputy chief medical officer, also warned that Britain has reached a "tipping point" in its epidemic, similar to that seen in March.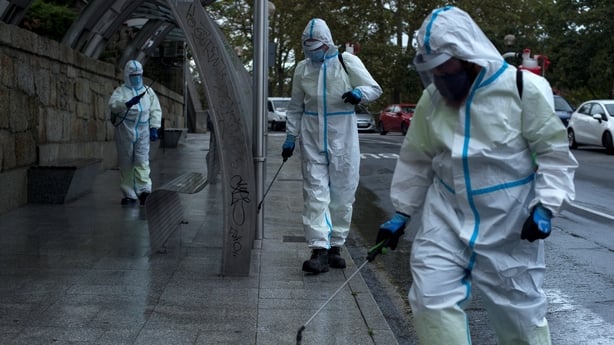 Two Spanish regions, Catalonia and Navarre, announced new measures to contain the outbreak yesterday.
Catalonia's public health authority urged local companies to encourage their employees to work from home for the next 15 days, and asked universities to switch to online teaching.
In Navarre, gatherings will be limited to six people from tomorrow; bars and restaurants will be closed at 10pm and capacity will be limited at 30% of normal levels.
Visitor flows in public places such as theaters, libraries and supermarkets will also be limited.
According to the latest data released by the French Public Health Authority, the number of confirmed Covid-19 cases in France has risen to 734,974 as of 14:00 local time, with 16,101 cases added over the last 24 hours.
The cumulative number of deaths reached 32,730. 
Currently, 1,489 cluster infections - an increase of 55 in 24 hours - are under investigation. 
A total of 12 cities or regions in France are on the highest alert for Covid-19. The French government announced that a health emergency will be declared in the "maximum alert" areas if the epidemic further worsens.
Meanwhile, India has become the second country after the US to report seven million Covid-19 cases yesterday, with the health ministry data showing a rise of 74,383 new cases in one day. 
According to Times of India, it took 11 days for India's caseload to go from four million to five million, 12 days from five million to six million, and 13 days from six million to seven million.
As Diwali, the Hindu festival of lights, and other festivals are held in mid-October, Indian's tradition of gathering together for celebration will pose as a great challenge for epidemic prevention and control in India. 
China's Qingdao orders city-wide testing after new Covid-19 infections
The Chinese city of Qingdao said it will conduct coronavirus tests for its entire population of more than nine million after reporting new cases that appeared to be linked to a hospital treating imported infections.
Daily Covid-19 infections in mainland China have fallen drastically since the early days of the outbreak, which first emerged in the city of Wuhan.
China has reported no new domestically transmitted cases since early August, but it remains on high alert.
Qingdao reported a total of six new Covid-19 cases and six asymptomatic cases as of 11pm yesterday, including three asymptomatic cases announced earlier in the day.
All of the cases were linked to the Qingdao Chest Hospital. Testing is being accelerated and will cover the city in five days, it said.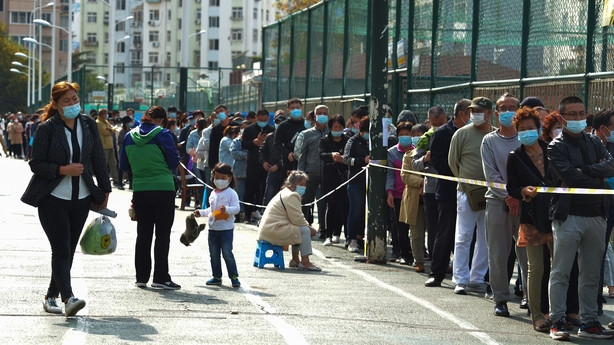 Qingdao's mass testing campaign is not China's first. Wuhan city tested its entire population, and mass schemes involving several million samples have also been conducted in Beijing and Urumqi.
Following the latest infections, an investment and trade expo organised by the Shanghai Co-operation Organisation and scheduled for the weekend of 16-18 October in Qingdao has been postponed, China's state TV reported today.
The National Health Commission's (NHC) tally of 21 confirmed Covid-19 cases in mainland China for 11 October was published after Qingdao's announcement, but did not include any confirmed infections in the city. It was not immediately clear why.
The number of new nationwide asymptomatic cases, which China does not count as confirmed cases, rose to 32 from 23 a day earlier, the NHC said.
It did not offer a breakdown on where the new asymptomatic cases were reported, although it said 29 of these cases were imported.
Qingdao said it has locked down the Qingdao Chest Hospital, as well as the emergency department of its central hospital.
Buildings housing infected individuals have also been locked down as part of the city's virus containment measures.
Total confirmed Covid-19 cases in mainland China now stand at 85,578. The death toll remains at 4,634.
Qingdao's new infections occurred shortly after China completed its Golden Week holiday, during which millions of people travelled domestically.