Northern Ireland First Minister Arlene Foster said heavier restrictions are "not inevitable" there while senior DUP MP Jeffrey Donaldson questioned the need for a region-wide lockdown.
The comments were made before three further coronavirus-related deaths were reported in the North, alongside 877 new cases.
The official death toll is now 591 with 21,035 confirmed coronavirus cases.
There are currently 140 patients in hospital in Northern Ireland with Covid-19, including 22 in intensive care. 
Mr Donaldson was reacting to reports that Stormont's Chief Medical Officer Dr Michael McBride is advocating a six-week lockdown to halt spiralling infection rates.
The DUP parliamentary leader said such a proposal was far more extensive than what was being considered elsewhere in the UK or in the Republic of Ireland.
"A six-week full lockdown, back to where we were last March, I think would take us way, way ahead of anywhere else," Mr Donaldson told BBC Radio Ulster's Nolan Show.
"I would need to be convinced that such measures at the moment are appropriate for all of Northern Ireland.
"I'd be wanting to know why we are abandoning the policy of focusing in on the areas where the infection rates are highest."
There were 1,066 new cases of coronavirus recorded in Northern Ireland yesterday. 
Mr Donaldson said Dr McBride needed to produce data that justified the imposition of a six-week lockdown.
"What we're asking the chief medical officer, is why do we need a full lockdown in those areas where the infection rate is much lower so as to combat the spread of infection in places like Derry and Strabane?" he said. "I think that's a fair question."
We need your consent to load this rte-player contentWe use rte-player to manage extra content that can set cookies on your device and collect data about your activity. Please review their details and accept them to load the content.Manage Preferences
McDonald says next 24 hours are crucial
Sinn Féin President Mary Lou McDonald has said that the next 24 hours are crucial on the island of Ireland in the battle against Covid-19.
She was speaking following a meeting with the Taoiseach, the Minister for Health and the Chief Medical Officer.
Ms McDonald said health interventions and social supports are now required.
Elsewhere, the Chief Medical Officer in the Republic has said NPHET wants to work as closely as possible on the two parts of the island to try to control the transmission on the whole island.
Dr Tony Holohan said they are in constant contact with their counterparts in Northern Ireland.
He said the while incidence in Northern Ireland is much higher than the incidence south of the border and the doubling times of cases are shorter than here, they have the same broad objectives to interrupt the pattern of transmission.
Dr Holohan said there is clearly a challenge with spread in relation to a number of counties along the border, such as Donegal.
He said they had seen very substantial transmission patterns in Cavan in recent days, which are very large in population terms compared to other counties.
Dr Holohan said there had been a particular challenge in terms of population movements in counties that are close to Northern Ireland.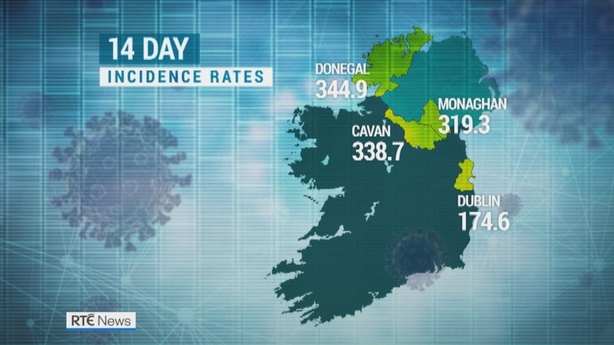 Earlier, Northern Ireland First Minister Arlene Foster said it was "hugely disappointing" that a small minority of people think the spread of the virus does not concern them "when of course it does".
In a video on Twitter, she said there were 19 patients in ICU at present.
"We need to halt the spread of the virus, otherwise it will have a hugely detrimental effect on our health service," she said.
0830 update. 👇👇
Balance needed to protect life and livelihoods. pic.twitter.com/6acS6egNEa

— Arlene Foster #We'llMeetAgain (@DUPleader) October 12, 2020
She said heavier restrictions "are not inevitable if people go back to basics such as washing their hands and wearing a mask in the appropriate places.
"We in the Executive will have big decisions to take this week and those are far from straightforward, and cannot be characterised as health versus wealth.
"At a very basic level, if you lose your job, if your business goes under and you end up in poverty, that too has health implications."
Ms Foster said Covid-19 and non-Covid-19 health needed to be considered ahead of any further restrictions, as well as societal and family impacts, including "the education of our young people and their life chances".
She said the Executive would be weighing up some very big decisions in the coming days.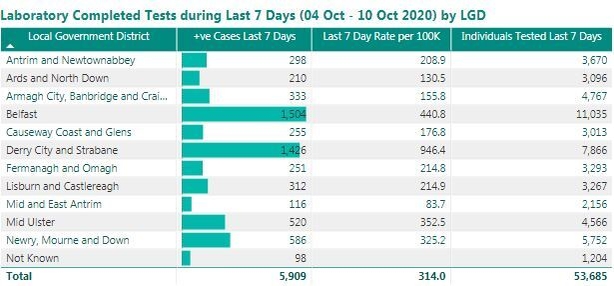 Sinn Féin's spokesperson for health in Northern Ireland said the situation there is "very worrying" and called for the maximum possible efforts to drive down transmission rates of Covid-19.
Speaking to RTÉ's Morning Ireland, Chair of the Assembly Health Committee Colm Gildernew said there is recognition that there will need to be increased Covid restrictions. 
Although local restrictions have been put in place, he said, there is a recognition that greater measures need to be taken across the board.
Stormont's Deputy First Minister, Sinn Féin's Michelle O'Neill, said on Twitter today: "Our covid situation requires decisive action to stop the spread and therefore we need the finances to support workers, families and business in these challenging times."
Ms O'Neill, who is self-isolating after a family member tested positive, although she herself tested negative, said she had raised the need for additional financial support with the British government this morning.
Also today, a respiratory consultant at Altnagelvin Hospital in Derry said staff struggled yesterday to find beds for the "sheer number of people coming through the door".
Dr Martin Kelly said although not many patients needed ICU, many were very sick and some of them were quite young.
The situation has taken off over the last few weeks "somewhat unexpectedly", he told RTÉ's News At One.
Dr Kelly said there is a groundswell of belief among people that something radical needs to be done because the numbers are "intolerable".
Simon Hamilton, chief executive of Belfast Chamber of Trade, warned a second lockdown could kill off many businesses.
"Whilst we all appreciate that the situation with the virus has taken a turn for the worse and that action is required, the Executive must equally consider the wider and longer-term impacts on society, our mental health, jobs and the economy of the choices before them.
"Until a vaccine is available, it is clear that whatever measures the Executive introduce, they won't kill off the virus but the inadvertent effect of their decisions in coming days could be to kill off many, many businesses and lots and lots of jobs with them, affecting thousands upon thousands of families all across the region.
"The Executive faces some difficult decisions but surely they know that stopping and restarting large swathes of our economy again and again and expecting there to be no damage, no business closures, no job losses and no uncertain futures for many families is foolish.
"Another lockdown with insufficient support and without a clear path out should be avoided at all costs."