Catholic Church leaders are awaiting a response from the Government to their request for a meeting to discuss the effects the latest Covid-19 restrictions are having on their parishioners.
Under the Level 3 rules, members of all faiths are not allowed to attend religious services in person.
Instead, they can be broadcast online, while attendances at funerals and weddings are strictly limited.
However, the four Catholic archbishops have written to Taoiseach Micheál Martin to ask for a meeting to discuss this rule, expressing their concern about the impact on church-goers.
If the meeting goes ahead, it would be the first of its kind since before the abortion referendum in 2018.
The Irish Muslim Peace and Integration Council said today that all congregational prayers have been suspended. It is asking everybody to strictly follow the guidelines.
However, in a statement to RTÉ News, the council said the decision "will have a severe impact on our society, particularly our economic recovery and the mental wellbeing of people living in Ireland".
It also said the effect of being deprived of the opportunity for collective worship on people of faith "cannot be understated".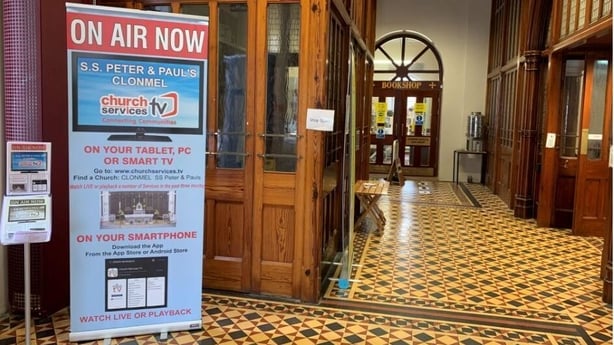 The Church of Ireland said that all parishes have been advised to follow public health guidance.
"Many parishes and dioceses are providing online services in situations where gatherings for church services are currently not taking place.
"The church also publishes listings of broadcast services to assist parishioners who may not be familiar or comfortable with an online service," a spokesperson told RTÉ News in a statement.
In Northern Ireland, the rules currently allow church services to continue in person, with safeguards in place such as face coverings, hand sanitisers and social distancing.
Many in the Catholic Church are hoping that the rules can be relaxed to allow limited attendances at regular Masses.
Parish priest of Ardfinnan, Co Tipperary, Fr Michael Toomey, said today that large churches allow social distancing to take place, while volunteers clean and sanitise the interiors on an ongoing basis.
"It is probably one of the safest places for people to go and congregate," he told RTÉ News.
"People do need to be able to go to Mass. It's not just a social gathering, it is part of our faith, it's part of our heritage and it's a vital mental health support as well."