US President Donald Trump drove past supporters this evening outside the hospital where he is being treated for Covid-19, after announcing on Twitter a surprise visit to his backers.
He was seen in a face mask waving to crowds from the vehicle.
A short time later he was back in hospital.
President @realDonaldTrump drives by his supporters outside Walter Reed to thank them!pic.twitter.com/LlJr7umi8O

— Team Trump (Text VOTE to 88022) (@TeamTrump) October 4, 2020
October 4, 2020
Mr Trump has "continued to improve" as he is treated for Covid-19, his doctors said, revealing he could be discharged as early as tomorrow.
His medical team said his oxygen levels had dropped twice briefly in recent days and he is being treated with steroids, but they gave an upbeat assessment of the 74-year-old president's health and outlook.
"Since we spoke last, the president has continued to improve. As with any illness, there are frequent ups and downs over the course," said Mr Trump's physician Sean Conley earlier today.
Dr Conley said the president was flown to Walter Reed military medical centre on Friday after a "rapid progression" of his illness, with his oxygen levels dropping worryingly low.
He received supplementary oxygen at the White House before being admitted. 
Brian Garibaldi, another of Mr Trump's doctors, said the president had been "up and around" and was feeling well.
Donald Trump's health has 'continued to improve', said his doctor Sean Conley. Mr Trump experienced two episodes of low oxygen saturation since his diagnosis, and received supplemental oxygen before attending hospital. | Read more: https://t.co/YfEuayGuLc pic.twitter.com/whreAUMmn2

— RTÉ News (@rtenews) October 4, 2020
"Our plan for today is to have him eat and drink, be up out of bed as much as possible, to be mobile," Dr Garibaldi said.
"And, if he continues to look and feel as well as he does today, our hope is that we can plan a discharge as early as tomorrow to the White House where he can continue his treatment course."
---
Watch the full briefing
Doctors treating Donald Trump give an update on the US President's health from outside Walter Reed Medical Centre. | Read more: https://t.co/YfEuayGuLc https://t.co/ZizxCOrTzJ

— RTÉ News (@rtenews) October 4, 2020
---
White House Chief of Staff Mark Meadows had said last night that Mr Trump's health had left the doctors "very concerned", but that he had improved and there was never a risk he would have to hand over power.
Mr Meadows' comments to Fox News capped a day of back-and-forth in which conflicting reports about the president's health created widespread confusion.
Late last night, Dr Conley warned that Mr Trump was "not yet out of the woods," but that the medical team was "cautiously optimistic".
The president posted a video to Twitter last night appearing relaxed in an open-collar shirt and blue suit jacket, telling viewers he would be "back soon", but acknowledging that the crucial coming days would be "the real test".
Mr Trump acknowledged that when he arrived at the Walter Reed Military Medical Centre on Friday, he "was not feeling well" but was improving now.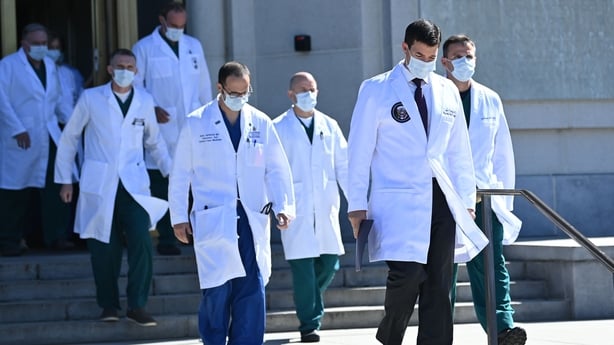 "We're working hard to get me all the way back ... I think I'll be back soon and I look forward to finishing up the campaign the way it was started," said the president from his suite at the centre, where he is continuing to carry out his duties.
October 3, 2020
Mr Trump acknowledged that there was uncertainty about the course of the disease, which can hit recovering patients hard with no warning.
"I'm starting to feel good," he said.
"You don't know over the next period of a few days, I guess that's the real test, so we'll be seeing what happens over those next couple of days."
---
Trump supporters: 'He's a warrior and he'll defeat the virus'
---
Another positive case among attendees at White House event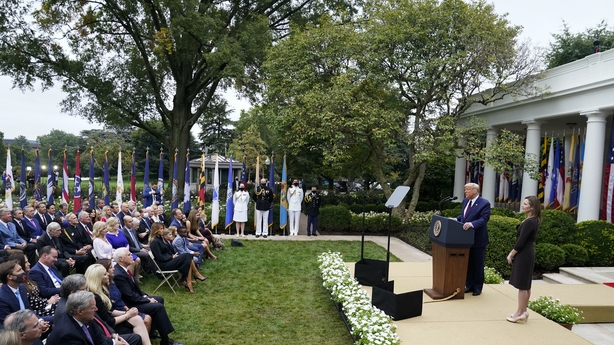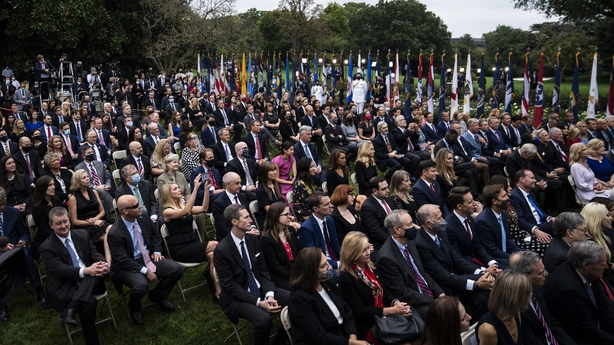 Mr Trump's optimism over his recovery prospects has been tempered by news that more people close to the president have tested positive for the coronavirus.
The latest is campaign advisor Chris Christie, who was among several aides that helped the Republican candidate prepare for the first presidential debate.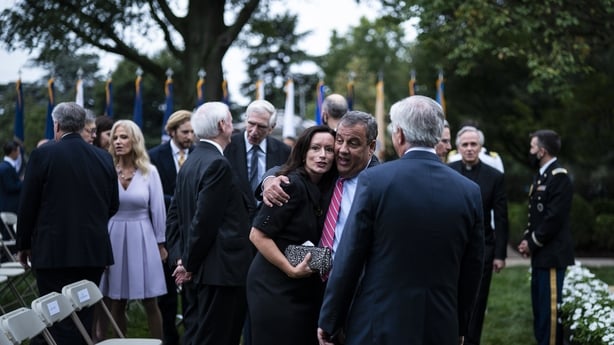 Mr Christie is part of a growing list from the president's orbit to have tested positive for coronavirus after attending an event in the White House Rose Garden last weekend.
It was held to celebrate conservative judge Amy Coney Barrett's nomination to the Supreme Court.
However, she must await Senate approval before being confirmed in the post.
In consultation with my doctors, I checked myself into Morristown Medical Center this afternoon. While I am feeling good and only have mild symptoms, due to my history of asthma we decided this is an important precautionary measure.

— Governor Christie (@GovChristie) October 3, 2020
The so-called "White House cluster" includes the president's wife Melania, close confidante Hope Hicks, former White House top aide Kellyanne Conway, campaign manager Bill Stepien and Republican senators Thom Tillis and Mike Lee.
Heightening the sense of crisis at the heart of power in America, a third Republican senator, Ron Johnson of Wisconsin, announced yesterday that he had tested positive.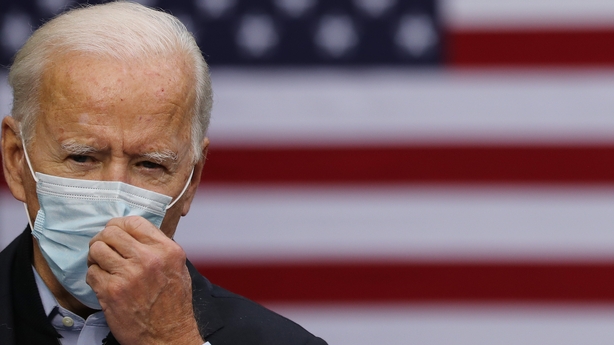 President Trump, who is well behind his 77-year-old Democratic election rival Joe Biden in the polls, has been forced to freeze or rework much of his campaign ahead of the election on 3 November.

The former vice president, who stood on a stage with Mr Trump for 90 minutes during their ill-tempered first debate on Tuesday, announced that he and his wife Jill tested negative for Covid-19 on Friday.
Mr Biden, who largely avoided direct criticism of Mr Trump during a campaign trip to Michigan on Friday, took a more aggressive tone yesterday while speaking to a transit workers' union, even as he wished the president well.
"I'm in a little bit of a spot here, because I don't want to be attacking the president and the first lady now," Mr Biden said.
He added that he hoped Mr Trump and his wife Melania, who also has the illness, make a full recovery.
But he quickly turned to Mr Trump's response to the pandemic, calling it "unconscionable" and blasting Mr Trump's comment in an interview this summer that "it is what it is" when asked about the death toll.
"I find this one of the most despicable things that I've encountered in my whole career," Mr Biden said.
Mr Trump has repeatedly played down the threat of the coronavirus pandemic, even as it has killed more than 208,000 Americans and hammered the US economy.
British Prime Minister Boris Johnson, who himself was seriously ill with Covid-19 earlier this year, said today he was sure Mr Trump would be fine.
"He's got the best possible care... He just needs, I mean, the most important thing to do is to follow his doctors' advice. He's got superb medical advice," Mr Johnson told BBC television.
Trump campaign announces 'Operation MAGA'
In an early morning tweet, Mr Trump said "Thank you so much!" - referring to supporters who gathered on Saturday night outside the Walter Reed hospital waving 'Trump2020' flags.
With Mr Trump off the campaign trail indefinitely, his campaign announced "Operation MAGA", which is based on his slogan "Make America Great Again".
It will see high-profile allies including Vice President Mike Pence and Mr Trump's sons, Donald Jr and Eric, take over in-person campaigning this week.
Mr Pence, who tested negative on Friday, is scheduled to debate Democratic vice presidential nominee Kamala Harris on Wednesday.