Ireland's European Commissioner-designate Máiréad McGuinness has faced questions on the flow of financial services between the EU and Britain at her approval hearing before the European Parliament's Economic and Monetary Affairs Committee.
Questioned on her approach to taxation as Financial Services Commissioner, given her stance on the Apple Tax case, Ms McGuinness said she would support the European Commission's position on taxation.
"If I'm approved, I will be a European Commissioner defending the European Interest. I will leave the national hat at the door. As European Commissioner I would take the Commission approach to taxation," she said.
In her opening statement to MEP's, Ms McGuinness emphasised her record in the European Parliament on unfair trading practices, legislative reform on medical devices and Brexit.
She said she looked forward to a gender balanced Commission of 13 women and 14 men.
Ms McGuinness said the context had changed for business with Covid-19, adding that "we know that some companies will not recover and that financial institutions will face an increase in non-performing loans, which we must prepare for".
However, she said that this crisis differed to the 2008 financial crisis and that she expected banks to be part of the process of recovery.
"Banks, part of the problem then, are now part of the solution, with stronger levels of capital and liquidity."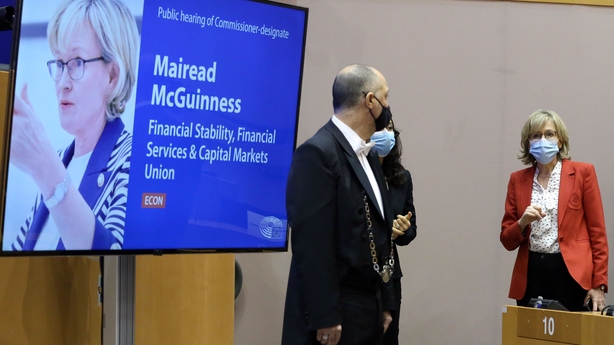 Ms McGuinness committed to advancing the work of banking union to aid financial stability, but said that this was currently in stalemate and added that "allowing this stalemate to continue leaves us vulnerable in times of crisis".
"In this house, I have never shied away from the most difficult of challenges," she said.
"I will not shy away from building consensus on the Banking Union."
Earlier in her opening statement Ms McGuinness said that her approach would be framed by her experience of distressed policyholders of the Equitable Life Assurance Society by putting people "front and centre".
She said that she would be committed to achieving ambitious climate targets in her new role through "a renewed sustainable finance strategy".
On Brexit, Ms McGuinness said that financial services in the EU needed have a plan for post-Brexit disruption and the changed relationship with the City of London.
"Under all circumstances - deal or no deal - the trade in financial services between the EU and the UK will be different and less fluid as of 1 January next year," she said.  
Warning that all EU financial firms and stakeholders need to be prepared, Ms McGuinness stressed the importance of avoiding being overly dependent on a third country for key financial services.
"We have taken decisions in the interests of EU financial stability for the short term, notably on CCPs. We need to avoid being overly dependent on a third country for key financial services.
"This is not closing ourselves off to the outside world. Instead, I want to make sure that we have a strong European financial system, and that the services that underpin our financial stability are under our rules and supervision," she concluded.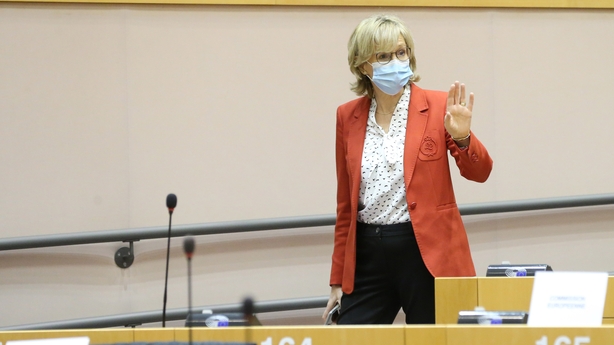 Ms McGuinness added she is concerned about the interruption Covid-19 has caused to post-Brexit planning in Financial Services. 
"I am a bit concerned that there has been an interruption to work around Brexit", she told MEPs, adding that 
there were post-Brexit opportunities for financial service centres in the EU.
She said digital technology meant it would be possible to have financial centres around the EU rather than in one central location, following the change in relationship with the City of London.
Asked by Sinn Féin MEP Chris McManus about banks' ability to sell on non-performing loans to so-called vulture funds, Ms McGuinness said she would be "a champion" in protecting families and their homes.
She said she believed that borrowers "should have the same contact, the same legal capacity" with buyers of loans as was the case with the original lender.
However, she said "you have to face up to the problem of non-performing loans".
"If we do nothing about non-performing loans we will have problems in banks," she added.
In answer to a question from Fine Gael MEP Frances Fitzgerald, Ms McGuinness said that it is "not acceptable" that EU citizens cannot access home loans in other member states.
"There is no single market when it comes to mortgages and that is something we have to address."
Ms McGuinness said there were complicated reasons behind this and that the European Commission needed to "look at blockages to cross border borrowing".
Asked by Fianna Fáil's Billy Kelleher about the risk of interest rises, she said that competition in the banking sector should be looked at. 
In answer to questions about sale of loans by Independent MEP Mick Wallace, Ms McGuinness said she would be "absolutely opposed" to the bundling and sale of mortgages which have become distressed due to the pandemic. 
Asked about 'revolving doors' with respect to her party colleague Senator Michael D'Arcy, she said she "disagreed completely with that".
On the Common Consolidated Corporation Tax base, she said she supported a global, transparent system, which would see multinationals paying their fair share.