The UK has reported 7,143 new cases of coronavirus today, the highest single figure to date, and 71 deaths, the biggest toll since July.
Lockdown measures are being imposed across the country as the government tries to limit the spread of the virus.
The 71 deaths within 28 days of a positive Covid-19 test is the highest level since 97 fatalities were recorded on 1 July.
The overall number of cases confirmed in the UK as of 9am today is 446,156, according to the government's coronavirus dashboard.
Earlier, Prime Minister Boris Johnson apologised on Twitter for having "misspoken" when asked about regional restrictions on socialising that are set to be imposed in northeast England from midnight.
He sought to clarify that the "rule of six" limit on social gatherings in England does apply outdoors, after earlier telling reporters that it did not.
The rule was introduced earlier this month to replace what he himself said were "confusing" regulations.
With 42,000 people confirmed to have died from Covid-19 in the UK, the highest toll in Europe, ministers are desperate to stop the virus spreading as it did in the spring.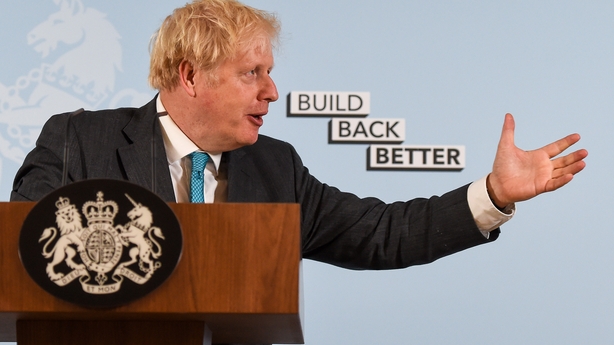 But the new rules have left many people angry, or at least puzzled, as rules vary for England, Scotland, Wales and Northern Ireland.
Elsewhere, Germany will impose a cap on the number of people at parties and family gatherings in areas worst affected by the coronavirus.
Chancellor Angela Merkel made the announcement after talks with premiers of the country's 16 states.
With recent huge outbreaks in the country traced to weddings, family gatherings or parties, Ms Merkel said "a reaction is therefore necessary" to halt the spread of the virus.
Any region where infection rates reach 35 per 100,000 would be required to impose a cap of 50 people maximum at gatherings in public spaces or rented venues.
If rates shoot up to 50 per 100,000 people, then only 25 people would be allowed at public gatherings.
Meanwhile, more than one million people around the world have now died with Covid-19, according to the Johns Hopkins University tally, with the pace of fatalities picking up as infections again surge in several countries.
The grim milestone comes nine months after the coronavirus first emerged in Wuhan in China.
We've lost 1 million lives to #COVID19 & many more are suffering.
My heart is with all those grieving.
My prayers are with those who are sick.
My thoughts are with #healthworkers working tirelessly on the front lines to save lives.

We must #ACTogether to end the pandemic.

— Tedros Adhanom Ghebreyesus (@DrTedros) September 29, 2020
The true global death toll is probably far higher. Deaths from coronavirus-related illnesses have doubled from half a million in just three months.
The United States has reported the most deaths - more than 205,000 - followed by Brazil, India, Mexico and the UK.
The World Health Organization declared the outbreak a pandemic in March.
UN Secretary-General António Guterres called it a "mind-numbing" figure and "an agonising milestone".
"Yet we must never lose sight of each and every individual life," he said in a video message.
"They were fathers and mothers, wives and husbands, brothers and sisters, friends and colleagues. The pain has been multiplied by the savageness of this disease."
---
---
Executive Director of the World Health Organization's Emergencies Programme Mike Ryan recently warned that the official death toll could double to two million before a vaccine is widely available.
The current total number of cases worldwide now stands at over 33 million, while nearly 23 million patients have recovered from the virus.
Health experts stress that official data for both deaths and cases globally since the first reported case in China in early January is almost certainly being under-reported, especially in countries with limited testing capacity.