The Department of Health has been notified of 430 new cases of Covid-19 and no further deaths.
212 of today's cases were reported in Dublin, 54 in Cork, 23 in Donegal, 23 in Galway, 16 in Louth, 15 in Monaghan, 12 in Clare, 12 in Meath, 9 in Cavan, 8 in Roscommon, 7 in Wicklow, 6 in Limerick, 5 in Kildare, 5 in Tipperary with the remaining 23 cases in 9 counties.
72% of people who tested positive were under 45, while 222 were men and 208 were women.
40% are associated with outbreaks or are close contacts of a confirmed case.
59 of the cases were identified as community transmission.
Acting Chief Medical Officer Dr Ronan Glynn said: "As we start into this new week, I am asking every household across the country to sit together this evening and make a plan to reduce the number of people you meet this week.
"We have absolutely no room for complacency. If every person, family, workplace and organisation does not play their part the situation will continue to deteriorate.
"For people who live in Donegal and Dublin remember Government advice is to work from home unless it is essential to attend in person.
"For people living in these and all other counties, assume that Covid-19 is circulating in your community and act accordingly."
Northern Ireland announced 187 new cases of coronavirus today and no further deaths. It takes the cumulative total of cases there to 10,729 with the death toll remaining at 578.
Earlier, Minister for Health Stephen Donnelly has said he is "cautiously optimistic" that the additional Covid-19 measures in Dublin are working but added that it is still "very early days".
Speaking on RTÉ's This Week programme, Mr Donnelly said he had "no doubt" that people living in the Dublin area were doing their best to limit their interactions in order to bring down the spread of the virus.
He had been speaking to the Acting Chief Medical Officer Ronan Glynn over the weekend and they were "cautiously optimistic" about the capital but he stressed it was still "very early days".
Mr Donnelly said: "Where we are in Dublin right now is that the 14-day virus rate is at 147. The seven-day rate is at 78, so just above half of that.
"What we want to start seeing is that the seven-day rate becomes less than half of the 14-day rate ... what that then begins to show us is that the virus is plateauing.
"I have no doubt that the vast majority of people in Dublin are limiting their contacts to try and bring down the R (reproductive) rate."
He urged: "Think about all the people you are planning on meeting in the next week or two, and half that number. If we all reduce our contacts, then we will push this virus back.
"What I want, what everybody wants, is that we get every county and every part of this country back down to Level 1 as quickly as possible."
Mr Donnelly said there are no plans for the National Public Health Emergency Team (NPHET) to call an emergency meeting this week on additional restrictions in other counties.
But he said there are four currently being looked at "very carefully" - Cork, Galway, Louth and Wicklow.
On bed capacity in hospitals come winter, the Minister said he was "very concerned" about the coming weeks ahead. That was why they launched the Winter Plan this earlier than usual.
He said the HSE is negotiating with each private hospital individually in order to create extra surge capacity if another wave of Covid-19 happens, as well as to create additional capacity to treat public patients.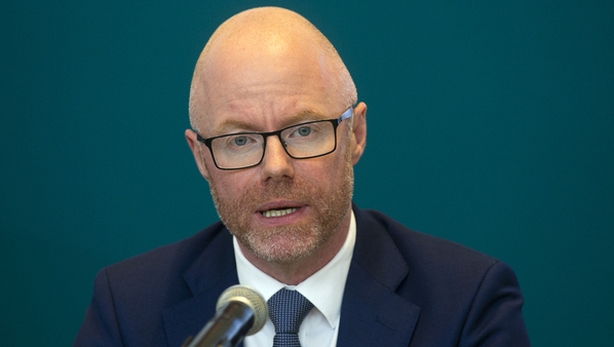 According to HSE chief executive Paul Reid, there are 100 cases of Covid-19 in Irish hospitals at present, including 18 in ICU.
"Although lower than our worst peak, the impact on our hospitals is as significant as we're now trying to keep all of our other services running too. This is a call to arms to everyone," he said on Twitter.
On the flu vaccine this winter, Mr Donnelly said that two million will be provided to all groups identified as being at risk, as well as for children for free. He said it would be a nasal spray rather than an injection.
On NPHET working on new visiting guidelines for nursing homes, Mr Donnelly said he would like to be able to have people visiting their loved ones coming up to Christmas.
Meanwhile Sage Advocacy said in a statement that initial feedback from its Nursing Home Residents-Family Forum showed families and relatives are frustrated that the Government has not drawn up a national protocol regarding visits to long term care facilities, including nursing homes.
The group's executive director, Sarah Lennon, said that while guidelines are in place for nursing home visits these are open to interpretation by nursing home operators.
As a result, different restrictions are in place from nursing home to nursing home and from county to county.
''Stringent adherence to strict infection prevention and control measures is vital to minimise the Covid-19 risk and we fully respect and support that, as do families, but this should not necessarily result in a closed door policy when it comes to visits to nursing homes," she said.
Simply locking nursing home residents away from their families and loved ones is not an option.
Ms Lennon said enabling relatives and families to continue visiting nursing homes is "critically important, they can immediately see and judge for themselves the care their loved one is receiving in a nursing home".
A specialist in infectious diseases said current data shows there have been six outbreaks in nursing homes over the last few weeks, although the scale of those outbreaks is not yet known.
Speaking on RTÉ's Brendan O'Connor programme, Professor Sam McConkey also said Garda-imposed Covid-19 restrictions might not be needed going forward if individuals and communities can change their behaviour.
He said there is better cooperation if people voluntarily choose to do something, which he said was preferable to enforcement.
Pointing to Cork as an example, Prof McConkey said if people there were to voluntarily change how they socialise for two to four weeks, then you would not need legislation and "rigidly enforced heavy-handed restrictions".