Thousands of protesters have gathered for an anti-lockdown demonstration in central London today, prompting clashes with police as officers tried to shut the event down.
Crowds massed in Trafalgar Square carrying a variety of signs, flags and placards to take part in a "we do not consent" rally, none appearing to wear face coverings or to social distance.
The demonstrators, who are protesting against the British government's Covid-19 restrictions, cheered and clapped, shouting "we will win".
The new rules include a ban on gatherings of more than six people and a curfew on pubs and restaurants - they must close by 10pm.
The UK yesterday recorded its highest single-day figure of coronavirus cases, with 6,874 lab-confirmed cases.
A ban on households mixing in each other's homes came into effect at midnight in Wigan, Stockport, Blackpool and Leeds. It was extended across Northern Ireland earlier this week.
Cardiff and Swansea will go into local lockdown from 6pm tomorrow, the Welsh Government has confirmed.
People will not be able to enter or leave the areas without a reasonable excuse. They will not be able to meet indoors with anyone they do not live with, with extended households suspended.
The total number of people set to be living under stricter rules across the UK will rise to 17 million.
British Health Secretary Matt Hancock said there had been an "acceleration of Covid-19 cases across the country, especially in the North West and the North East.
"Working alongside our scientific and public health experts and local leaders, we are prepared to take swift and decisive action to reduce transmission of the virus and protect communities."
Today's protest in London is taking place a week after a separate event which saw more than a dozen officers injured when a "small minority" targeted police and more than 32 arrests were made.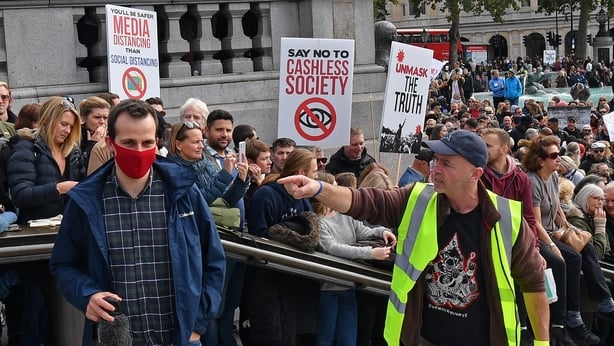 The Metropolitan Police said it had been engaging with organisers throughout the week to remind them of their legal obligations and explaining the events could be in breach of coronavirus regulations.
While protests are exempt from the rule of six which is in force in England, organisers must submit a risk assessment and comply with social distancing.
Commander Ade Adelekan, who is leading the Met operation, said while there is "great frustration" at the regulations, a large midday protest could put the health of protesters and their contacts at risk.
He said: "I know there is great frustration to these regulations but they have been designed to keep everyone safe from what is a lethal virus.
"By flagrantly gathering in large numbers and ignoring social distancing, you are putting your health and the health of your loved ones at risk."
Elsewhere, Manchester Metropolitan University students at two accommodation sites in the city have been instructed to self-isolate for 14 days following a spike in coronavirus cases.
British Prime Minister Boris Johnson will urge world leaders to overcome their differences and unite in the battle against coronavirus in a speech to the United Nations General Assembly later today.