A member of the National Public Health Emergency Team has warned that Covid-19 is spreading in a significant number of counties, particularly in Donegal and Louth.
Professor Philip Nolan, chair of the NPHETs Irish Epidemiological Modelling Advisory Group, said that while there are restrictions to control the spread in Dublin, "what we have here is a nationwide problem".
He said: "The rest of the country may be a week or two weeks behind where Dublin is and it will catch up unless behaviours across the entire country change".
Prof Nolan said the incidence in Dublin remains 3-4 times higher than the rest of the country but it is growing at approximately the same rate right across the country.
He said that Ireland is seeing a continuing increase in all metrics of Covid-19 this week.
The 7-day average over the past week is 276 cases per day.
The 14-day cumulative incidence is approaching 74 today, up from 71 yesterday.
Prof Nolan said an average of 80 people were in hospital with the coronavirus on any given day over the last week. Today there were 95 at last count.
He said, typically, there were seven hospital admissions per day last week, while there were nine in the past 24 hours.
Professor Philip Nolan says 'worryingly' the reproduction number for Covid-19 is high, with an estimate of 1.5 to 1.7.

He says this is 'far too high' and will lead to exponential growth in cases, hospitalisations and deaths | Read more: https://t.co/WEN0APZURP pic.twitter.com/VVDXzCCE4m

— RTÉ News (@rtenews) September 23, 2020
Over the past week, there were 15 people in intensive care on any given day. Today that figure is 16, with typically 1-2 admissions per day to ICU.
Even though the numbers in intensive care today are small compared to the 160 seen in April, the 16 is a very considerable increase over preceding weeks, he added.
Prof Nolan said there is "quite a wide distribution in age, the majority are under the age of 65, and quite a few are young".
We need your consent to load this rte-player contentWe use rte-player to manage extra content that can set cookies on your device and collect data about your activity. Please review their details and accept them to load the content.Manage Preferences
He said that while over the past number of days, the five-day moving average of the number of new cases per day has not been increasing as fast as it was in the last week, it was too early to tell if this as a result of the measures introduced last week.
He said this "should be an encouragement to redouble our efforts in the coming days to follow that public health advice and limit transmission of the virus".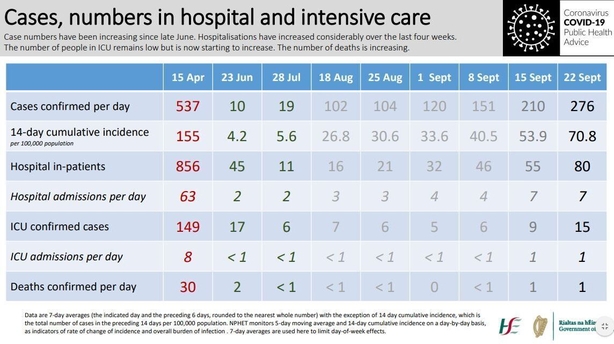 Prof Nolan said there is "absolutely no room for imagining that we're seeing stability yet at this point".
He said the trend can be traced back to June "as we started to mix, more than was safe and in an unsafe manner going back several weeks now and the transmissions that occurred then are catching up with us now".
"We need to wait and see over the next week or so how changes in behaviour over the last week will influence cases, but we know that disease will not be where we want it to be unless we reduce our contacts, radically reduce mixing between households, take the additional precautions when we are seeing our priority and get the reproduction rate back below one".
---
Read more:
Covid-19: Two deaths; 234 new cases, including 103 in Dublin
Latest coronavirus stories
---
Prof Nolan said there has been a progressive increase in cases among older people, so the incidence within the over 65s age group is now approximately four times what it was five weeks ago.
He said the increase in cases in early August was predominantly in the young and working age population but in recent weeks, there are more cases in the over 65s, which is increasing.
Even though the numbers in intensive care today are small compared to the 160 seen in April, the 16 is a very considerable increase over preceding weeks, he added.
He said there is a pattern of the disease transmitting in the community in one in four cases and being amplified in particular settings such as households in particular accounting for the remaining cases.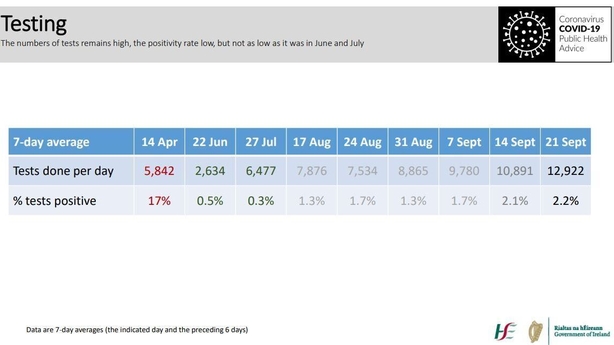 Prof Nolan said that almost 13,000 tests were completed last week, the positivity rate is higher, so there is more virus out there and it is being detected more often, but he added the rate was lower by international standards.
He said on average last week, one additional death a day was confirmed.
"It's taking us all time to learn the technique of socialising in limited numbers safely," Prof Nolan added.