Irish hauliers and exporters said an alternative route to Europe must be found to avoid potentially massive queues at British ports from the beginning of January.
A leaked British government letter suggests exporters to the EU face possible truck queues of up to 7,000 vehicles-long at ports if the industry does not prepare.
In the letter, the UK Minister responsible for no deal planning outlined "a reasonable worst case scenario"
Michael Gove said between 30-50% of trucks crossing the English Channel will not be ready and he warned that UK imports and exports could be adversely affected for up to three months.
The Cabinet Office document states that, in its reasonable worst-case scenario, between 30-50% of trucks crossing the Channel will not be ready for the new regulations coming into force on 1 January 2021.
A "lack of capacity to hold unready trucks at French ports" could also reduce the flow of traffic across the strait to 60-80% of normal levels.
"This could lead to maximum queues of 7,000 port bound trucks in Kent and associated maximum delays of up to two days," the documents said.
Such delays could be in place for at least three months, hauliers have been warned, as alternative routes are sought and supply chains get to grips with the new systems and requirements.
The President of the Irish Road Haulage Association said what is outlined in the letter would be mayhem for Irish hauliers and there would result in a huge loss to the Ireland and the Irish exchequer.
Eugene Drennan said a direct, fast and efficient daily service is needed from Ireland into Northern France.
He said: "it is possible...but we do need some injection of funds from the Government or the EU preferably to put a PSO ... public service order on the shipping".
Simon McKeever from the Irish Exporters Association agrees that alternative routes are needed saying whether there is a trade deal or not there delays are inevitable with "some level of clogging up at British Ports".
He said if there is a deal at a minimum there will be customs paperwork and more onerous checks if there isn't a deal.
Mr McKeever said: "There will be a need to open up more routes directly from Ireland into France and maybe Dutch ports."
We need your consent to load this rte-player contentWe use rte-player to manage extra content that can set cookies on your device and collect data about your activity. Please review their details and accept them to load the content.Manage Preferences
---
---
It comes as EU chief negotiator Michel Barnier said he remains determined to reach a deal with Britain when asked whether such an agreement was possible before the end of a status-quo transition period.
Asked by Reuters as he arrived in London before informal talks if he was optimistic about reaching a deal, Mr Barnier said: "I am determined."
"We remain calm, respectful, realistic and firm."
He refused to comment on the British government's Internal Market Bill, which ministers have said could break international law.
Mr Gove is due to outline the scenario work, which the Cabinet Office stressed is not a forecast, to MPs in the House of Commons today.
In his letter, Mr Gove said: "Irrespective of the outcome of negotiations between the UK and EU, traders will face new customs controls and processes.
"Simply put, if traders, both in the UK and EU, have not completed the right paperwork, their goods will be stopped when entering the EU and disruption will occur.
"It is essential that traders act now and get ready for new formalities."
But sector chiefs have accused the Government of failing to do enough in recent weeks over the threat of post-Brexit border delays.
Logistics UK, formerly the Freight Transport Association, was seething last week after being told the government's Smart Freight system - designed to reduce the risk of cargo delays once Britain is outside of EU rules - would still be in testing mode in January when British exports face new border regulations.
Responding to the worst-case scenario document, UK Road Haulage Association chief executive Richard Burnett said: "We've been consistently warning the government that there will be delays at ports but they're just not engaging with industry on coming up with solutions.
"Traders need 50,000 more customs intermediaries to handle the mountain of new paperwork after transition but Government support to recruit and train those extra people is woefully inadequate.
No-deal Brexit 'harder hit to UK economy' than Covid-19
An academic think tank in the UK has warned that failure to reach an agreement with the EU in post-Brexit trade talks could hit Britain's economy three times harder in the long term than coronavirus.
The 'UK in a Changing Europe' group says shortages of fresh food and medicine, queues at ports and borders, and more "hassle" travelling to the continent, are also possible.
A report by the organisation, based on modelling with the London School of Economics (LSE), says the impacts of coronavirus may mitigate or obscure the immediate impact of a no-deal exit.
But it warns that not reaching an agreement with Brussels would have a significant impact in the long term.
The authors write: "The claim that the economic impacts of Covid-19 dwarf those of Brexit is almost certainly correct in the short term.
"Not even the most pessimistic scenarios suggest that a no-deal Brexit would lead to a fall in output comparable to that seen in the second quarter of 2020.
"However - assuming a reasonably strong recovery, and that government policies succeed in avoiding persistent mass unemployment - in the long run, Brexit is likely to be more significant.
"Our modelling with LSE of the impact of a no-deal Brexit suggests that the total cost to the UK economy over the longer term will be two to three times as large as that implied by the Bank of England's forecast for the impact of Covid-19."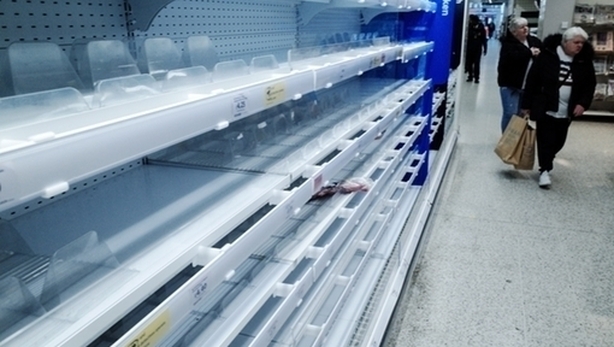 The report warns a no-deal Brexit risks disruption to parts of the UK economy that have been resilient to Covid-19, not least food supply chains.
The transition period, which kept the UK aligned to the EU's single market and customs union rules to allow trade to flow smoothly after Brexit, expires at the end of the year unless both sides agree to an extension - something Boris Johnson has ruled out.
Trade deal talks between the two sides are continuing, but the British Prime Minister has set a deadline of 15 October for an agreement to be reached, otherwise he has said he will simply walk away from the negotiating table.
Professor Anand Menon, director of 'UK in a Changing Europe', said: "While the Prime Minister said no deal is a 'good outcome' our report shows that it may lead to significant disruption and will have a significant negative economic impact.
"As significant will be the political fallout of no deal, particularly with the UK and EU, but also inside the UK, particularly Northern Ireland, and internationally too."