British Prime Minister Boris Johnson's controversial Brexit legislation enabling the UK to break international law has cleared a major Commons hurdle after MPs backed a government compromise.
Tory backbench pressure forced the Prime Minister to agree to amend the United Kingdom Internal Market Bill in order to give MPs a vote before the government can use powers which would breach the Brexit divorce deal brokered with Brussels last year.
Ministers have argued such powers to override the Withdrawal Agreement are needed to protect the relationship between Great Britain and Northern Ireland.
The bill also sets out the way that trade within the UK will work once outside the EU's single market and customs union, amid concerns in Westminster that Brussels could seek to disrupt food goods travelling from Britain to Northern Ireland as part of trade talks.
But the legislation did not originally contain a parliamentary "lock" on the use of the powers, prompting backbench uproar.
The compromise amendment was supported without the need for a formal vote today.
Opponents among the Tory ranks still exist and have expressed concern about the prospect of the UK's willingness to break international law.
Yesterday, former prime minister Theresa May told the Commons she could not support the bill as it will cause "untold damage" to the UK and threaten the future of the Union.
SDLP leader Colum Eastwood said today: "This bill is unfixable, it's probably unamendable, it is an assault on international law, an assault on devolution and it is, I think, the beginning of the biggest act of economic self-harm that we have seen in many a year."
The bill will return to the Commons next week to undergo further scrutiny.
Meanwhile, senior EU and British officials will hold urgent talks next week on the Brexit withdrawal agreement, Brussels said today.
EU Commission vice-president Maros Sefcovic said he would meet senior British minister Michel Gove in Brussels, just ahead of Brussels' end-of-the-month deadline for London to drop a bill designed to rewrite the deal.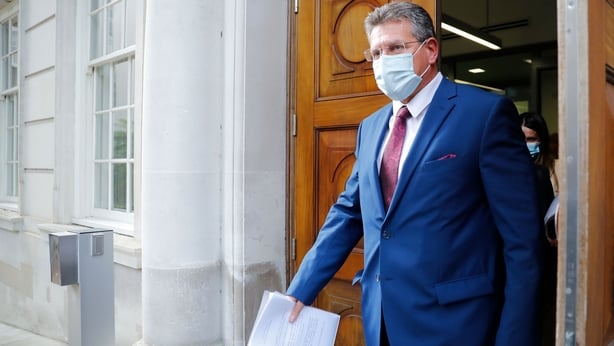 And an EU official confirmed that Brussels' chief Brexit negotiator Michel Barnier would be in London on Wednesday for informal talks with his British opposite number David Frost.
"But please, dear friends in London: Stop the games. Time is running out," Germany's European affairs minister Michael Roth warned as he met colleagues in Brussels ahead of a summit of EU leaders on Thursday.
Mr Sefcovic said he would meet Mr Gove as joint chair of the EU-UK Joint Co-ordination Committee overseeing the divorce agreement.
However, "we will not be renegotiating, but we are dedicated to its full and timely implementation - nothing more and nothing less."
In parallel to the wrangling over the existing agreement, which Mr Johnson signed last year and hailed as an "oven-ready" deal to get Britain out of Europe, EU and UK teams are negotiating a possible trade pact.
The EU leaders meeting on Thursday will receive a "point of information" on progress in these talks, but for the moment have left the protracted debate in the hands of their negotiator, Mr Barnier.
The next round of trade talks will be held next week in Brussels.
Mr Johnson has set a mid-October deadline for success or failure, and EU officials say the deal must be done by the end of the month if it is to be passed into law by the end of the year.
Britain left the European Union on 31 January, and will leave the bloc's single market and customs union at the end of the year. Experts fear economic chaos if no new trade deal can be agreed by then.
But the two sides are still divided on rules for a "level-playing field" of fair competition between companies, on state aid or subsidies for EU and UK firms and on access for EU boats to British fishing waters.
---
---
Meanwhile an economist with the ESRI has said with just three months to go and no clarity on the Brexit trade deal, from January, consumers can expect extra costs to buying goods from the UK as well as interruptions to supply for products for a time.
Speaking on RTÉ's Today with Claire Byrne, Martina Lawless said even if there is a deal, consumers will continue to be impacted because of increased paperwork and delays, which are likely to increase the cost of getting goods to the shelves.
She said there will be extra costs to buying goods from the UK, such as products from online trader Amazon that will come with a Customs' sticker, and it will more difficult to ship things to the UK, which will see prices increase.
She said there is a risk that lower income households will be more affected, as they spend a much larger proportion of their income on food.
Ms Lawless said there will be quite significant price increases in processed foods imported from the UK, like ready meals, biscuits and confectionery.
She said almost a third of sweets and confectionery on supermarket shelves are brought in from the UK and they will be subject to quite considerable increases in terms of tariffs of about 20-30%.
She said the ESRI estimates that an extra €900 will be added to the average annual household bill, as a result of tariff costs, but this will be removed if there is a trade bill,.
However an additional €400 is possible as a result of increased compliance and paperwork, which will remain regardless of whether or not there is a deal.
She said there will be increased costs for businesses and consumer as if there is no trade deal, there will be tariffs applied to goods going to and from Ireland and the UK as well as extra costs in terms of Customs procedures, paperwork and needs for testing.
She said the current Internal Markets Bill, has set back negotiations considerably. It "has been quite damaging for trust" and "raises a much higher probability of there being no deal by the end of the year".