Taoiseach Micheál Martin has announced that Dublin is moving to Level 3 of the Living with Covid plan from midnight tonight.
Among the restrictions, there will be a reduction in the numbers of people allowed to visit households.
Restaurants and pubs serving food must close for indoor dining, but they can stay open for takeaway and delivery or a maximum of 14 customers outdoors.
There is an exception for weddings this weekend. The reduction from 50 to 25 guests will not come into effect until Monday.
Tánaiste Leo Varadkar said "this is getting serious again" with a marked increase in Covid-19 cases.
Speaking at a Government press conference following the Taoiseach's statement, he said: "It's not all bad and there is hope and compared to many of our neighbours we are doing well."
"I know some people may not want to believe it, but this is getting serious again"

Tánaiste Leo Varadkar says we have seen a marked increase in the number of Covid-19 cases in Ireland, and if that is not addressed, it will lead to more deaths | More: https://t.co/3Deurw1a3K pic.twitter.com/WovDAJm5TG

— RTÉ News (@rtenews) September 18, 2020
On the impact of the Level 3 restrictions on workers, employers and businesses, he said he wanted to ensure anyone who might be laid off is eligible for the PUP.
He said €30m in grant aid is being released for businesses in Dublin in the form of a 30% increase in the restart grant and €5m has been allocated for tourism, sport and culture.
Minister for Climate, Communications and Transport Eamon Ryan said "a lot of people will be gutted" as he acknowledged the "huge disappointment in Dublin".
He said the disease needs to be stabilised to prevent large numbers of people going into hospital with the disease.
"If we do not interrupt transmission now, we are concerned we could have upwards of 1,000 cases per day by mid-October"

Acting Chief Medical Officer Dr Ronan Glynn says that the growth rate of cases is currently between 5% and 7% per day | Live updates: https://t.co/3Deurw1a3K pic.twitter.com/kiVuC6hMMQ

— RTÉ News (@rtenews) September 18, 2020
Acting Chief Medical Officer Ronan Glynn said more than half of the cases in the country are in Dublin and he warned that as figures increase, older people will inevitably catch Covid-19.
He said 80 people are in hospital this evening with Covid-19, compared with 22 people in hospital one month ago.
Dr Glynn said in August four people died with the disease but already in September 17 people have died.
He said that the 'R' number, or virus reproductive rate, is between 1.3-1.7 and that if we do not interrupt the transmission now, we could have more than 1,000 cases per day by the middle of October.
Dr Ronan Glynn says the aim in Level 3 is to cut down discretionary contacts. He says while the number of identified clusters in restaurants is low, cases of community transmission are up, and so areas of congregation need to be reduced | Live updates: https://t.co/3Deurw1a3K pic.twitter.com/2486dtcqaa

— RTÉ News (@rtenews) September 18, 2020
Dr Glynn appealed to people to take action now: "Plan to see half the number you see next week as you saw this week."
He acknowledged the worry people in Dublin will be feeling.
"For now we must once again do all we can to protect ourselves and our families," he said.
Mr Glynn said the international evidence is clear that indoor settings are high-risk environments allowing the virus to spread.
---
Explainer: What does Level 3 mean?
Taoiseach makes statement on new restrictions for capital
---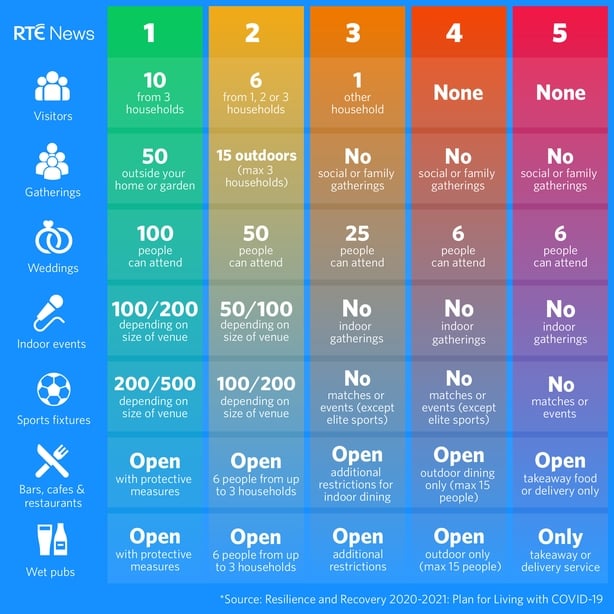 Significant pressure at some Dublin hospitals - HSE
HSE Chief @paulreiddublin tells @MorningIreland "Right now the hospitals are coping ... but we will see our hospital system coming under pressure" and it "doesn't take a large number of cases to start freezing wards and beds" | https://t.co/hASabbWpsV pic.twitter.com/T2gedi1Rl4

— RTÉ News (@rtenews) September 18, 2020
The chief executive of the HSE, Paul Reid, has said that some Dublin hospitals are starting to come under significant pressure as demand increases.
Speaking on RTÉ's Morning Ireland, Mr Reid said it is a decision for Government as to whether Dublin will be put on an increased level of alert.
However, he said unless we take it very seriously now we would be heading towards a more widespread lockdown.
'Not proportionate' to close pubs and restaurants - McDonald
Earlier, Sinn Féin leader Mary Lou McDonald said that restaurants and pubs serving food should stay open in Dublin as they have behaved responsibly and created controlled environments for minimising the spread of Covid-19.
Ms McDonald said that unless evidence and data shows otherwise, it is not proportionate to close down these services and maintain public support for public health restrictions.
Speaking on RTÉ's Today with Claire Byrne, she said a credible approach that enjoys maximum public support is needed and it is difficult to sustain a position where gatherings at home are reduced and outdoor venues are also closed.
The 14-day incidence rate of Covid-19 in Dublin has increased further.
The rate per 100,000 of the population in the county is now 114.2. This compares with a figure of 59.1 for Ireland as a whole.
Five out of eight HSE areas in the county have an incidence rate of more than 100, with Dublin North West having the highest rate at 173.4.
The data is compiled by the Health Protection Surveillance Centre.
The most up to date operational figures from the HSE show that as of 8pm last night, there were 77 people with the virus in our hospitals.
Of these patients, 14 are currently being treated in ICU.