A music company is touring classical and opera-based, outdoor concerts to residential care homes and hospitals across Ireland.
'Covid Care Concerts' is a partnership between the Mobile Music Machine company and Blackwater Valley Opera Festival with funding from Creative Ireland.
They have already performed over 80 outdoor, socially-distanced recitals in six counties.
Performances include music from Mozart to ABBA.
The tour is the idea of Mobile Music Machine founder and director Gerald Peregrine who wanted to "bring high quality classical music into the lives of those most affected by the Covid-19 pandemic."
"Like most performing artists, my career stopped overnight and all live music ceased. It was really in response to the government community call. I was looking to use my talent in a useful way and to give back.
"If there is one positive thing to emerge from the pandemic, it has shone a light on the desperate need to engage on a more regular basis with the most isolated members of society.
"Through our repeated concert visits, we hope to build long-lasting friendships with the residents of care homes throughout the county," he said.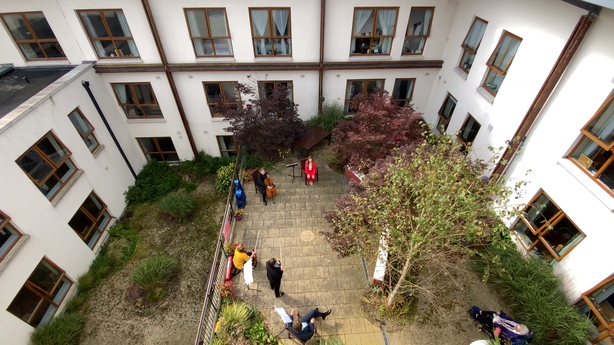 One of the performances took place in the courtyard of HavenWood care home in Co Waterford with residents watching the concerts outside and from their open bedroom windows.
Like many care homes around the country, the residents and staff of HavenWood have endured months of anxiety and fear. 
The Head of Nursing at HavenWood, Regina Power, says the live music helps calm the residents and "lets all the stress go away."
"When Covid came into Ireland in March, we didn't know what to expect. We closed our doors on 6 March. On the Wednesday, the residents had a normal day. Their families, friends were in to visit.
"And then on the Thursday, we are going around explaining that we've gone into lockdown. That we'll have to start communicating with your families on iPads and phones. You know, it was tough on them," she said.
"Nothing beats live music, does it?" she added.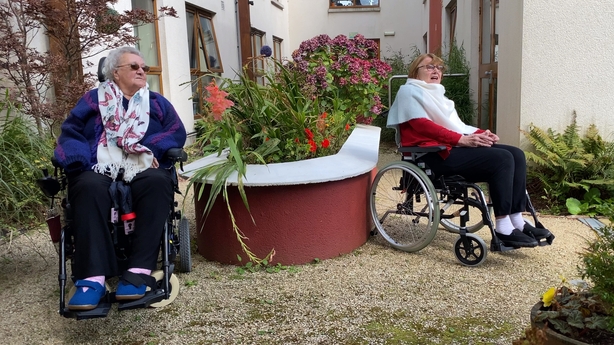 Residents Peggy Dunphy and Bernie Quinn enjoyed the recital at HavenWood residential care home. 
Peggy Dunphy says that the live performance "keeps the magic alive and going."
For resident Bernie Quinn, music is a hobby that helped her coped during lockdown.
"It makes me feel as though I'm in another world," she said.