The Tánaiste has told the Dáil that there has been no message from the Government telling meat plants to stay open contrary to public health advice.
Leo Varadkar said any decision to close a plant is made solely by public health officials or the Health and Safety Authority.
He was responding to questions from Sinn Féin's Pearse Doherty, who asked what hold "meat barons" had on Fianna Fáil and Fine Gael.
Mr Doherty cited the case of a plant in Cork where there have been 226 positive cases and it has never been closed down.
He said "meat barons" were playing with people's lives in the interests of profit.
Mr Varadkar said there was no message from Government requiring plants to stay open and that was a "paranoid fantasy" on the part of Mr Doherty.
Mr Doherty said last week testing was suspended in plants when capacity reached 72,000 and not the 100,000 target.
The Tánaiste defended the level of Covid-19 testing and regime and said an important milestone had been passed this week with the one millionth test.
Sinn Féin's @PearseDoherty asks Tánaiste @LeoVaradkar about #Covid19 inspections in meat plants, saying there have been only five clusters associated with pubs and yet they are inspected far more than meat plants | https://t.co/XDOIhZhlx1 pic.twitter.com/rvDQJVn2os

— RTÉ News (@rtenews) September 17, 2020
HSE Chief Executive Pulk Reid told a briefing this afternoon that serial testing in food and meat processing plants has recommenced, with more than 15,500 tests now completed and positivity rate of 0.4%.
Meanwhile, SIPTU has raised concerns about meat processing companies not releasing information on the number of confirmed Covid-19 cases at meat plants.
The union was commenting after one of the country's largest meat processor, said it would not "publish updates" or "give commentary on test results at specific plants".
Dawn Meats issued a statement in response to queries about the number of cases at some of its facilities and in relation to pictures published in local media of meat workers on a bus, reportedly being transported to a meat processing facility.
The company did not specifically address the queries made by RTÉ News in the statement issued.
However, the company has insisted that their staff are being paid if they are advised to self-isolate as a result of a suspected case of Covid-19.
Greg Ennis of SIPTU welcomed the confirmation that workers will be paid by Dawn Meats if they are self-isolating, but he said that needs to be the standard across the industry.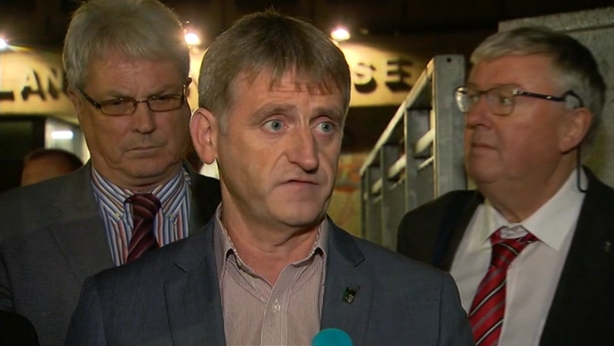 Mr Ennis said he had concerns about what he termed "restrictive information".
He also said the reluctance by Dawn Meats to comment on the number of cases was "not in the public interest".
Mr Ennis questioned why this was the case and said he urged the industry to review such an approach.
Reporting: Fran McNulty and Sandra Hurley