Three mothers have spoken about their daughters who died by suicide after they were bullied online.
They came to the gates of Leinster House with the human rights group, March for Justice Ireland, to hand over a petition to politicians urging them to get a law passed to make cyber-bullying a criminal offence.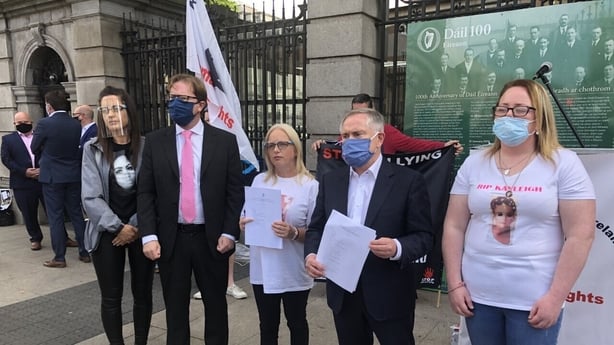 Nicole Fox was 21 when she took her own life. Her mum Jackie said Nicole's nightmare began when she was 17 and started going out. She spoke about the threats made to Nicole and physical and online bullying she received.
"Nicole started staying in her bedroom, she cried herself to sleep every night and she would wake up so unhappy the next morning."
Jackie said "she said to me one night: 'Mam, I don't want to be here anymore; I don't want to live'."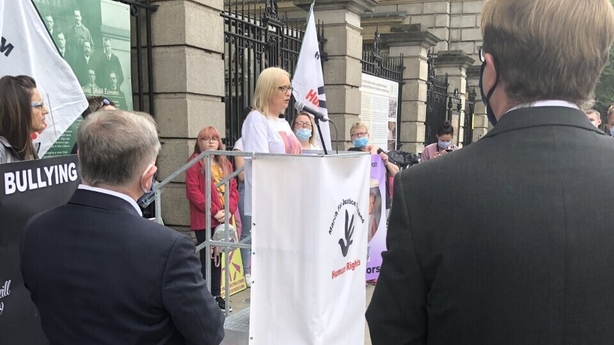 Speaking through tears, Jackie described how she came home on 20th January 2018 where she found her daughter in a critical condition; she died later in hospital.
Mary Sheehan lost her 14-year-old daughter Kayleigh Ryan to suicide last year. Ms Sheehan described how her heart is broken since her daughter's death.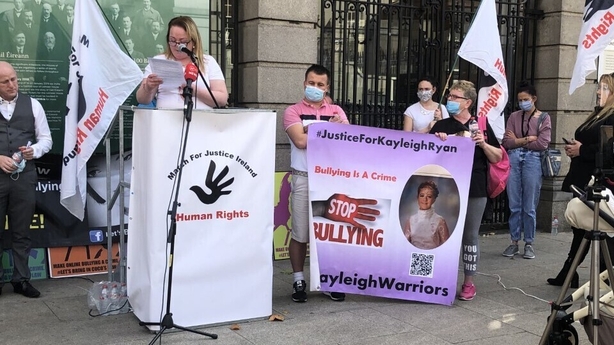 She said she hoped that by speaking out today, anyone who is being bullied should know to come forward "tell your mam, tell your dad, tell your friends, your teachers, just tell."
They were joined by Aisling O'Neill whose daughter, 16-year-old Mia O'Neill took her own life in September 2019.  Aisling said Mia suffered racist bullying for years.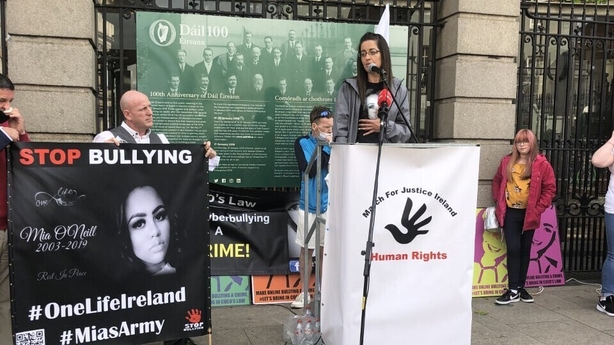 The three mothers handed over the petition, which has so far been signed by over 33,000 people.  
Labour's Brendan Howlin and Fianna Fáil's James Lawless accepted the petition.  
The Harassment, Harmful Communications and Related Offences Bill, was drafted by Mr Howlin, who said he has asked it be named 'Coco's Law' in honour of Nicole.
The Labour party Justice Spokesperson drafted the law three years ago, and said the bill will be reintroduced tomorrow at the committee stage, and that he has asked Minister for Justice Helen McEntee to make this a priority.
Mr Howlin said all political parties are determined this will be made law and he hopes it will be by the end of this year. 
The new chair of the Justice Committee, Fianna Fáil's James Lawless, said his first job was to make this bill "front and centre".  He agreed there is political consensus to get this bill through.
Mr Howlin said it is "beyond belief" that it has taken so long to get through the "difficulties of Leinster House".
He said "if people were being beaten up on the street, there would be a public outcry" going on to say that social media platforms are public spaces and that people should feel safe whether it is on the streets or online.