The ever-popular Spraoi festival could not happen in its usual form this year but organisers pressed ahead with some spectacular street art and are hopeful that they will be able to stage their planned shows in the coming months.
Normally the Spraoi street parade marks the end of summer and the dawn of autumn for the people of Waterford and others who pour into the city for the festivities, but the restrictions on outdoor gatherings made it impossible to mount the parade in 2020, along with other performances of music, drama and comedy.
However, the festival still employed about 20 artists and technicians during the summer and as well as working on their major show based on Area-051 (Waterford's telephone code as well as the famed part of America loved by conspiracy theorists), they put on street installations in a number of locations around the city centre.
Included are overhead decorations on George's Street, Michael Street and Lady Lane among other places, as well as window displays in Arundel Square and other pieces on John Roberts Square.
"We were going to create this mad kind of environment in the middle of town," artistic director Mike Leahy (pictured below) explained.
"So we managed to build this show and it's been developed and we've got all the costumes and pieces for it, but unfortunately when the regulations changed we couldn't get this one out as well as another large-scale show we developed. So these are now in here [Spraoi studios], waiting to see the light of day… but hopefully that will happen soon."
It is understood talks are well-advanced towards staging a "drive-in" event in Dublin in the coming weeks, as well as other outdoor events in Cork and Waterford later in the year.
"At least we managed to keep people employed here, we managed to get shows made and we managed to keep the artistic community ticking over, and some day it will end and we'll get it out there."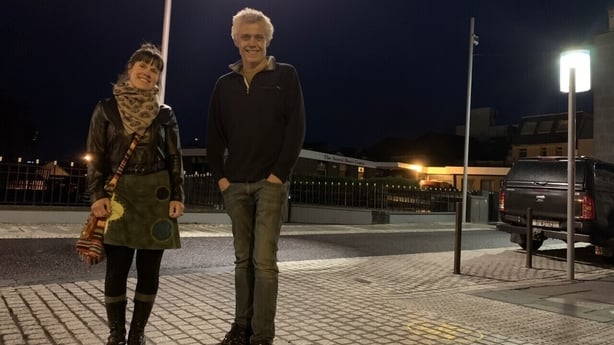 One of the artists to work on the street pieces was Lisa Murphy (above), who said all involved loved being able to build the installations in the city.
"We actually loved it, it was brilliant, that we were actually creating stuff and it was a real buzz. We've never actually done this so it was a real learning curve.
"I think it's cheered people up because it's something different when people are just going about their daily lives. It's brightened the place up."
The Michael Street decorations "look like space invaders" at night-time, she said, while glowing in the sunshine during the day. "That was a nice surprise, we didn't expect that."
The process of dismantling the street art will begin next week but fingers will be crossed that the Spraoi shows can be mounted before long.