The European Union is requesting an urgent debate on Belarus at the UN Human Rights Council as further anti-government protests saw people detained during a rally at a church in the capital, Minsk.
Photos and videos were widely shared online of demonstrators being taken away by law enforcement officers in an "unsanctioned" protest outside St Simon and St Helena Church at Independence Square.
Western countries dispute the outcome of an 9 August election which official results show was won by President Alexander Lukashenko.
Mr Lukashenko - who has been in power for 26 years - denies rigging the election and has refused to talk to the opposition, accusing them of trying to wreck the former Soviet republic.
A letter written by the German ambassador to the UN described a "deterioration" in the situation in Belarus.
UN Secretary-General Antonio Guterres called today for authorities in Belarus "to refrain from the use of force against those engaging in peaceful assembly and to ensure that allegations of torture and other mistreatment of people in detention are fully investigated and addressed."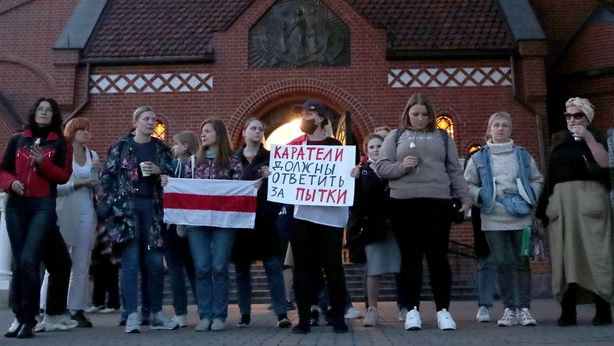 Germany's ambassador to the United Nations, Michael von Ungern-Sternberg, wrote to the Geneva-based Human Rights Council.
"The ongoing deterioration of the human rights situation in Belarus in relation to the 2020 presidential election needs the urgent attention of the Human Rights Council," he said.
The ambassador, whose country holds the EU rotating presidency, added that he would request a resolution after the debate.
A schedule of the rights council showed the item would be discussed on Monday.
The round-ups are just being repeated over and over again #Belarus - this time at a church in Minsk https://t.co/hNCzBcbj6q

— Paul Cunningham (@RTENewsPaulC) September 11, 2020
Meanwhile the United States signalled it will soon punish individual Belarusians with sanctions for election fraud and a brutal crackdown on protests as Washington urged Russia to tell President Lukashenko to step down.
US Deputy Secretary of State Stephen Biegun said the White House is coordinating sanctions with the EU but made clear neither would wait for the other to impose penalties.
"We are looking at targeted sanctions aimed at the individuals who are most responsible for ... the violence as well as the theft of the election," Mr Biegun said.
"Ultimately we hope the message from Moscow to Minsk is that the ruler needs to give way to the will of his people."
However, the Kremlin said Russian President Vladimir Putin and Mr Lukashenko will discuss plans to further integrate their countries on Monday.
A statement said the two leaders would meet in the Black Sea resort of Sochi to discuss further integration plans as well as key trade and energy projects.
"Key issues of the further development of Russian-Belarusian strategic partnership and alliance are planned to be discussed," the Kremlin said.
President Putin has been keen to unify Russia and Belarus, and Moscow has accompanied its recent offers of military and economic aid with calls for tighter integration.