An employee-owned financial technology company based in Clonakilty in west Cork is to create 150 jobs, bringing total employment to over 500 people.
Global Shares, which manages employee share plans for some of the world's best-known companies, says it is on track to achieve a billion dollar valuation by 2024.
Aisling Riordan is from Clonakilty in west Cork. After graduating in international marketing and languages from Dublin City University, Ms Riordan spent almost a decade living and working in Cologne, Stockholm, London and Madrid.
She always wanted to return home, but she never imagined she would land her dream job in Clonakilty, five minutes from the farm where she grew up.
She joined Global Shares six years ago as marketing manager. The company is headquartered at the West Cork Technology Park in Clonakilty.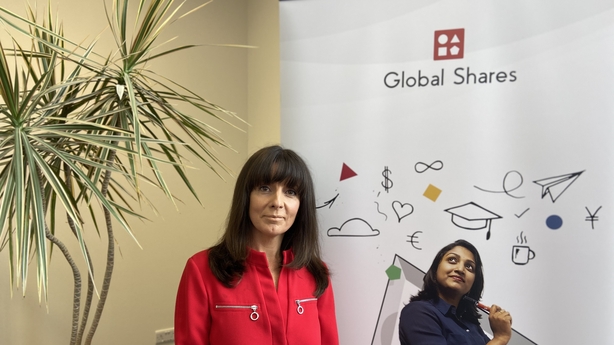 "My commute to home and school is about five minutes long," she told RTÉ News.
"It's the best of both worlds being able to stay close to your community, family and friends and enjoy a global career.
"And it's all down to the will and determination of the people here, those who built the technology park 20 years ago, those who keep reinventing Clonakilty to make it such an attractive place to live and then, of course, Tim and the team here at Global Shares who have built this company from scratch, taking on the world from west Cork and winning."
Tim is Tim Houstoun, Chief Executive of Global Shares. He joined the company in 2008 to cover maternity leave and, under his leadership, Global Shares has become a world leader in its field with 370 employees and international offices in London, Barcelona, New Jersey, Hong Kong and Beijing.
The key has been the development of a software platform through which Global Shares manages employee share plans for other companies.
These include some of the world's best-known companies: L'Oreal, Bank of China, Krispy Kreme, Bosch, Bose, Japanese IT company Fujitsu and giant US food company Cargill.
"I love that we are writing software in Clonakilty that transforms people's lives worldwide," Mr Houstoun said.
"Our growth over the past couple of years has been enormous, but over the next few years, we're aiming to be West Cork's first Unicorn - a company with a billion-dollar valuation - and we're on track to achieve that."
That, in itself, will reap its own rewards for the expanding workforce at Global Shares in Clonakilty and for the wider West Cork area.
Mr Houstoun explained: "This is something that is exciting for many reasons, including the fact that, as an employee-owned company, many of our own staff will reap the rewards of the hard work they've put in over the years.
"People often ask how a company on the edge of Ireland, on the edge of Europe, could succeed on a global stage, competing with the world's biggest financial services giants - yet here we are. It's amazing what you can achieve when you back yourself, think globally and empower your team to succeed".
Taoiseach Micheál Martin and Enterprise Ireland Chief Executive Julie Sinnamon were among those who attended this afternoon's announcement.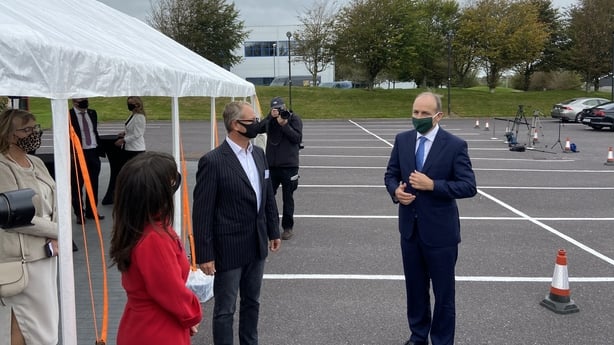 Mr Martin described Global Shares' growth as exceptional.
"The story of Global Shares is a remarkable one, illustrating how from small beginnings a company can grow and develop a global footprint," he said. "It is an inspiring example of what can be achieved through talent and ambition.
"At the heart of Global Shares is its people: this hard-working, determined and highly-skilled workforce has driven the company's success and growth."
Enterprise Ireland's Julie Sinnamon said: "Global Shares is a world-class company and a great example of what's possible for innovative Irish businesses on the world stage."
Global Shares is currently recruiting for positions in software development, compliance, cyber security, financial reporting, project management, among others.
It says it hopes to increase employee numbers globally to over 1,000 by 2024.