The fiancée of a man who was killed after a hit-and-run in Dublin has appealed for anyone with information about the incident to come forward.
Thiago Cortes, 28, a delivery cyclist, was taken to hospital following the incident, which happened at around 10.30pm on Monday.
He died of his injuries in the Mater Hospital yesterday morning.
Mr Cortes, who was originally from Brazil, had just delivered food in Dublin's north inner city and cycled out on to the north Liffey quays.
A car with no tax, insurance or NCT then came along at speed and knocked him down.
The driver of the car did not remain at the scene.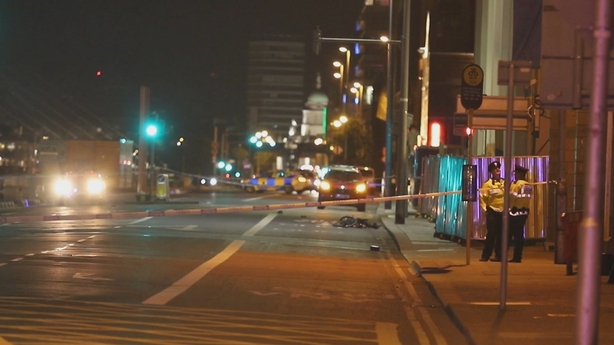 Speaking on RTÉ's Today with Claire Byrne, Teresa Dantas said she did not want what happened to her fiancé to happen to anyone else.
"Thiago wanted to come to Ireland for a better life. And we did have that here," Ms Dantas said.
"Please come forward. If you know something tell the gardaí. We need to know something.
"Unfortunately it happened, but it could happen again. I don't want it to happen to anyone in the future. These people have to answer for what they did." 
She explained that she knew something was wrong on Monday night when Thiago had not returned home at his usual time of between 11pm and 11.30pm.
"I hadn't heard from him and I thought maybe he was still delivering or that he had no battery in his phone," Ms Dantas said.
She said around midnight she received messages to say that a Deliveroo driver had been in an accident.
"At that moment I felt it might be him. I tried to call him several times, but there was no answer. Then a guard answered his phone and said that he was in the hospital and he told me to go there," she said.
Ms Dantes said she was with her fiancé "until his last moments".
"Thank God I got to see him in the emergency room and then after when he was in ICU. I spent the whole day there with him and the night as well, until his last moments," she said.
She said she knew "from the tone" when she first heard that he was injured that "it was really serious".
It was Thiago's idea to move to Ireland two-and-a-half years ago, Ms Dantas said.
She said: "He wasn't happy in Brazil and thought we would get better opportunities. He came here for a better life. We were getting that, we had a great life here."
She explained that they had been together for six years when Thiago proposed.
"He took me out for dinner for my birthday. He was really sweet, and always really loving and caring to me," she said.
A vigil was held for Mr Cortes on O'Connell Street in Dublin yesterday evening, with friends, fellow Deliveroo riders and cyclists paying tribute to the 28-year-old.
Ms Dantas joined the hundreds of friends from Ireland and Brazil to remember him.
The crowd marched from O'Connell street down to the North Wall Quays and left flowers and candles at the hit-and-run location.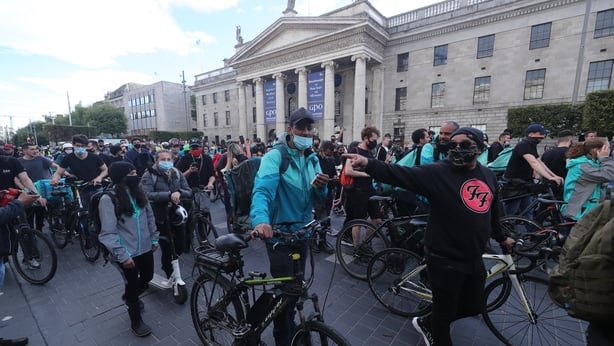 Ms Dantas said she was moved to see the number of people who attended the vigil in last night.
She said: "It was amazing to see how many people were there. A lot didn't know him and they were all touched by it. It could have happened to any of them or any of us.
"I was really happy to see the amount of love and support yesterday and since the accident we have been receiving the same support from the Brazilian community and the Irish community."
Ms Dantas said her mother and sister are arriving in Ireland today to be with her.
Gardaí are searching for four people who they believe were in a car that knocked down and killed Mr Cortes.
A 2005-registered Ford Focus was found abandoned at the nearby Castleforbes Square apartments.
Gardaí said they were making good progress in the investigation as they seek to identify those involved.
They are examining CCTV footage and have today appealed for witnesses or anyone with information to contact them at Store Street Garda Station.
They are particularly interested in speaking to people who has dashcam or mobile phone footage and were in the area of the North Wall Quay, North Wall Avenue, East Wall Road, Sheriff Street Upper, Castleforbes Road or Castleforbes Square between 10.15pm and 10.30pm last Monday night.