A new scheme to help drive sales in the off-season in the hospitality sector, which has been negatively affected as a result of Covid-19, has been launched today. 
The Stay and Spend scheme will enable people to claim back 20% from their bill, up to a maximum of €125 per person (or €250 for a married couple) in an income tax rebate to those who spend up to €625 (or €1,250 for married couples) in restaurants, pubs, hotels, B&Bs and other qualifying businesses.
It will operate from autumn of this year to spring of next year, and includes the Christmas period. 
Catherine Martin, Minister for Media, Tourism, Arts, Culture, Sport and the Gaeltacht, is encouraging people to support their local coffee shops, restaurants and hotels while they avail of the scheme.
Speaking on RTÉ's Drivetime, she said people spending between €25 euro and €625 can get money back by submitting their receipts to the Revenue Receipts Tracker app.
Ms Martin said the relief can be claimed on spending incurred from 1 October and 31 December 2020 in the 2020 tax year, while money spent between 1 January and the 30 April can be claimed back in the 2021 tax year.
"I don't see it as being that complicated actually. You dine in a restaurant, or you stay in a hotel. You have your Revenue Receipts tracker app. You take a photo of the receipt. You send it in and that's it.
"Revenue will take care of everything after that.  All we ask is that businesses become part of this registering now with Revenue."
Minister Martin said a voucher scheme would have taken too long to implement when businesses need the support "ready to go in October."
She said the Stay and Spend scheme encourages additional spend, when a voucher would have encouraged consumers to spend only the value of the voucher.
The tourism sector "needs immense support" added Ms Martin.
The Minister said she is in constant engagement with members of the arts, music and sport sectors, as she believes they are "best placed to find the best way to address public health safety concerns.
"We need to think outside the box to open up these events in a safe manner."
In relation to travel and the possibility of Covid-19 testing at airports, Minister Martin said: "If more extensive testing is needed to open up connectivity then that has to be considered."
We need your consent to load this rte-player contentWe use rte-player to manage extra content that can set cookies on your device and collect data about your activity. Please review their details and accept them to load the content.Manage Preferences
Earlier today, the Minister for Finance said there will be "some people who will not have enough of an income tax liability at the end of this year or next year to make it worth their while" availing of the new Stay and Spend scheme.
But he highlighted that the scheme will be available to 2.7 million people. 
Speaking on RTÉ's News at One, Paschal Donohoe said the Government's focus was on "doing this quickly" to give immediate support to business owners the hospitality sector.
He said 75% of people on the minimum wage will have enough of a USC liability at the end of the year to benefit from the scheme. 
The minister said there would have been "logistical challenges" in implementing a voucher scheme for the hospitality sector. 
"There would have been challenges in getting one to everyone in the country and we would not have been able to do this quickly."
Mr Donohoe said alcohol spend is not included in the scheme. He said given that the scheme is being put in place at a cost of well over €200m, it is appropriate that it concentrates on food and accommodation.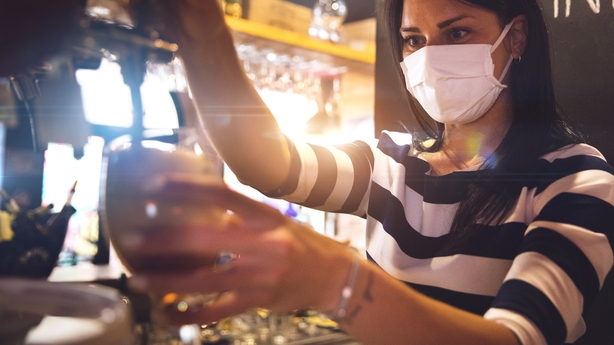 The minister said that the reopening of wet pubs is forming part of the Government's discussion on the medium term strategy in dealing with Covid-19, but he said "for now the regulations are clear, and are in the interest of public health".
Launching the scheme, Mr Donohoe said the hospitality sector is vital to the Irish economy and accounts for over 10% of the country's workforce. 
The scheme is just one part of the Government's July Jobs Stimulus, which also includes the wage subsidy schemes and the recent reduction in the VAT rate. 
"This new tax credit will provide a much-needed boost to the hospitality sector through the autumn and winter months by encouraging people to spend whether through a staycation or eating out," he said.
In order to qualify for participation in the scheme, businesses will need to be registered for VAT and have a current tax clearance certificate.
Businesses must also be registered with the relevant official bodies as appropriate, such as Fáilte Ireland and the HSE Environmental Health Service.
They have to register with Revenue to participate, and display appropriate signage indicating participation in the scheme.
The chief executive of the Doolin Hotel in Co Clare welcomed the scheme, but said it was confusing and people are not sure how to claim the Government-backed tax break.
Speaking to RTÉ's Morning Ireland, Donal Minihane said that bookings for the coming season are down by as much as 90% and many hotels will close midweek to try to survive until next spring.
While encouraging people to avail of the scheme, he said it could be "a bit clearer, simpler and better promoted".
We need your consent to load this rte-player contentWe use rte-player to manage extra content that can set cookies on your device and collect data about your activity. Please review their details and accept them to load the content.Manage Preferences
"There are too many hoops to jump through to claim the rebate back," Mr Minihane said, and people are not clear when they will get the benefit back.
He said that it also may exclude low income earners and those on State benefits as it is managed through the income tax system, adding that he would have preferred if "everyone was sent a voucher for €100".
He said it was great to see Irish families over the summer, but there are not a lot of markets to avail of for the winter season.
Vintners complain about new law
The Vintners' Federation of Ireland (VFI) said the introduction of a new law, which states that restaurants and pubs serving food must now record all individual food orders and keep that data for 28 days, is "bureaucracy gone mad".
Padraig Cribben, VFI chief executive, said it will add a huge burden to already struggling businesses.
"This is crazy stuff. The idea that a pub must record all food ordered by each customer and then store it for 28 days is bureaucracy gone mad.
"Not only is it too impractical for our members to implement but why does the Government think this law will help in the fight against Covid? It's madness."
Mr Cribben said the new regulation was a Statutory Instrument introduced by the Minister for Health Simon Donnelly "without any consultation with the hospitality sector".
The Statutory Instrument, which comes into effect today, also includes confirmation that a closing time of 11.30pm applies to pubs serving food.