Flood waters have receded significantly in Clifden, Co Galway, following torrential rain last night and this morning, which caused what locals have described as unprecedented flooding.
A number of homes in the town had to be evacuated as water levels on the Owenglin River increased.
Schools in the area closed early on the advice of gardaí to allow pupils to return home safely.
Gardaí, fire service personnel, RNLI volunteers and Galway County Council road crews were monitoring the situation.
All routes in the area are now passable, although concerns remain about the Dooneen Bridge just off the road from Clifden to Ballyconneely.
We need your consent to load this rte-player contentWe use rte-player to manage extra content that can set cookies on your device and collect data about your activity. Please review their details and accept them to load the content.Manage Preferences
Council engineers are checking the bridge to see if it has sustained any structural damage, given the huge volume of water flowing underneath it.
Water levels on the Owenglin River dropped by about 1.8 metres from noon onward.
Locals say the speed at which the flooding occurred is unprecedented.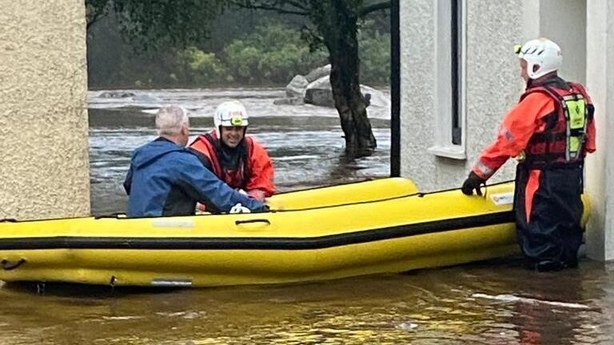 The manager of the Abbeyglen Castle Hotel in Clifden said the flooding is like nothing he has seen before, describing the deluge as "absolutely terrible".
Speaking on RTÉ's News at One, Brian Hughes said the flooding has caused more damage to local properties and lands than the recent storms did.
He said rising river waters have closed roads and blocked off bridges into Clifden and Roundstone, with one local holiday village evacuated of residents and closed after the bridge leading to it was below water.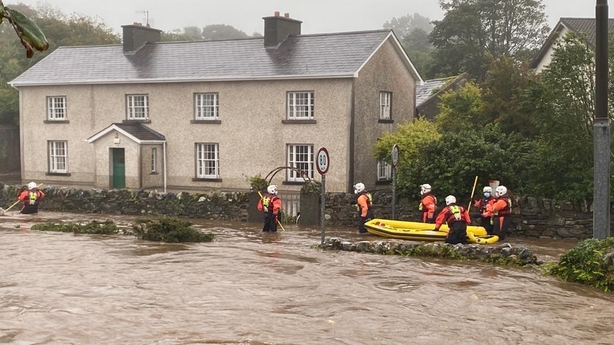 Water levels dropping in Clifden this afternoon after torrential rain and flash flooding. Several houses evacuated. All routes now open around the town. Low tide assisting the flow downstream. More on @rtenews pic.twitter.com/SSu9Yr67dd

— Pat McGrath (@patmcgrath) September 2, 2020
Mr Hughes said hotel has been protected so far by a flood defence system it installed in 2014.
He said the "deluge of rain coming down the Owenglin River is absolutely terrible" and he has never seen it burst its banks like this before.
Mr Hughes said that it has been the most horrendous year for hoteliers and businesses.
He said the flooding follows four months of closures and said "we are doing our best to keep going and to stay positive and to try and look after our customers and staff as best we can".
Emergency services are monitoring the situation on routes in and around Clifden in Co. Galway, following torrential rain overnight and this morning | Read more: https://t.co/d2LFvOPqDm pic.twitter.com/vEyIKY7o00

— RTÉ News (@rtenews) September 2, 2020
A senior climatologist at Met Éireann said the amount of rainfall during August and in recent days "is what we would expect in a changing warming world".
Speaking on RTÉ's News at One, Keith Lampkin said in "August was unusual" as it saw two named storms back-to-back so late in the storm season.
He said climatologists are constantly looking at trends in climate, adding: "Climate is the average weather over a 30-year period. Weather is what you see when you look out the window."
Provisional rainfall figures for Ireland so far in 2020. See more on the August Climate Statement - https://t.co/DJ3Oa32R2O pic.twitter.com/7eD6tuIpE0

— Irish Observational Climatology (@METclimate) September 2, 2020
He said climate trends are signalling that there will be roughly the same amount of rainfall over the course of a year, but the patterns of that rainfall are likely to change.
"It wasn't just a wet June, July and August; it was an unusually dry March, April and May.
"But when you look at the whole year to date the amount of rain is in or around what we would normally expect but the pattern in how that rain has fallen, from a very, very dry spring to a quite wet summer, and that is what is causing the frustration."