The United States has charted its six millionth case of Covid-19 according to a tally kept by Johns Hopkins University, adding one million new infections in less than a month.
The US remains by far the most impacted country in the world by the pandemic in absolute terms, with nearly a quarter of global infections and 183,203 deaths from Covid-19, the Baltimore-based university's tracker showed.
The number of new daily cases has declined in recent weeks, but the virus is far from disappearing in the US, despite President Donald Trump's repeated assertion that it will, and the national average hides huge regional disparities.
Mr Trump, whose re-election bid has been hit by the economic impact of lockdown restrictions, has promised a complete victory over the pandemic, and a readily-available vaccine by the end of the year.
The US charted its five millionth case on 9 August. That was just 17 days after it hit four million.
Global coronavirus infections have soared past 25 million, as countries tightened restrictions to halt the health crisis that has upended life for most of humanity.
New Zealand lifts Auckland virus lockdown
Schools across Auckland reopened today as New Zealand's largest city emerged from lockdown, with Prime Minister Jacinda Ardern expressing confidence a second-wave outbreak of coronavirus was under control.
While Aucklanders were allowed out of their homes, the government limited non-school social gatherings in the city to ten people and made masks compulsory on public transport nationwide.
The Auckland lockdown began on 12 August after four cases were detected in the city of 1.5 million, ending 102 days free of community transmission when it appeared New Zealand had beaten the virus.
The cluster of infections has since grown to 141, with four new cases of community transmission reported today, making it the largest recorded in New Zealand.
The origin of the outbreak has not been found and Ms Ardern said it was "inevitable" there would be more cases linked to the cluster.
But even though it continues to grow, Ms Ardern said it was safe to lift the lockdown.
"We have a plan that we know will work," a masked Ms Ardern told reporters in Auckland.
"We just need everyone's compliance and help. If everyone sticks to the guidelines and rules, coupled together with all our public health measures, we can make this work."
Ms Ardern, who delayed New Zealand's general election by a month to 17 October because of the outbreak, urged fellow New Zealanders to "do their bit" in fighting the virus.
"It's natural that we feel tired, the whole world is," she said.
"But relative to others we're doing really well. We'll be able to get back in front of the virus if we follow the guidelines."
Australia has reported fewer than 100 new coronavirus cases, the lowest number in two months as authorities appeared to bring an outbreak in the country's second-largest city under control.
Victoria state, which has been battling a second wave of infections in Melbourne, recorded just 73 cases after peaking above 700 in late July, providing hope for a way out of a strict city-wide lockdown.
Melbourne residents are currently enduring a raft of restrictions including an overnight curfew, while all non-essential businesses remain closed until at least 13 September.
Under growing pressure to ease restrictions, Premier Daniel Andrews said he would release a "roadmap" next Sunday for reopening but warned any changes would be gradual.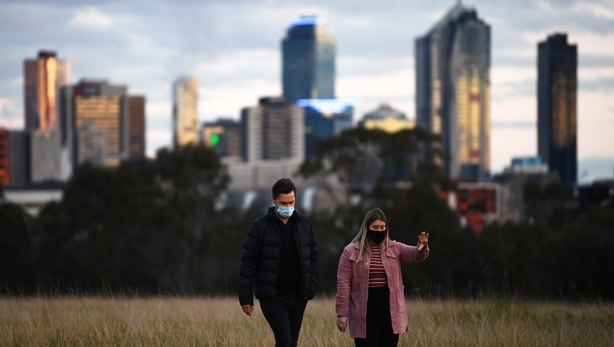 "We know and understand that if we were to open up with numbers anything like what we have had, even with a really positive trend, then those numbers will explode," he told reporters in Melbourne.
"You will lose control of this again."
A further 41 fatalities were added to the state's death toll, mostly in aged care facilities that have been devastated by the outbreak.
Protective equipment in high-risk workplaces, mandatory masks in public and physical distancing will be key to any reopening strategy, according to a government statement.
Even when restrictions are eased, Victoria is likely to remain sealed off from the rest of the country, where most regions are recording few or no new daily cases.
Flare-ups are persisting in neighbouring New South Wales state, which recorded ten new cases as community transmission in Sydney continues to trouble health officials.
Meanwhile, an outbreak at a youth detention centre in Brisbane has led the Queensland state government to put prisons into lockdown and cancel a huge annual school-leavers celebration on the nearby Gold Coast.
Australia has recorded almost 26,000 cases in total and 652 deaths from the virus to date. The vast majority were detected in Victoria in recent months, after the country's initial success in containing the virus.
---
---
Covid-19 still stealthy and dangerous - WHO envoy
The World Health Organization has warned that Covid-19 remains stealthy and dangerous and must be kept at bay.
The WHO's Special Envoy on Covid-19 said restrictions have meant the virus has less opportunities to spread from person to person, but as societies open up and people mix more, there could be a big rise in the number of cases.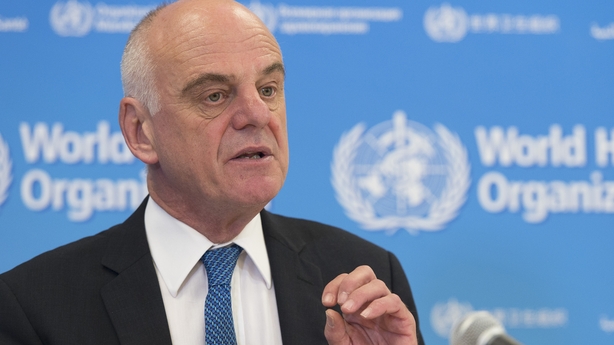 Speaking on RTÉ's Morning Ireland, Dr David Nabarro said it is good news that although cases are rising, fewer people are being admitted to hospital and fewer people are dying from the virus.
He said this could be partly because older people who are at higher risk are being very careful and because there is an increased focus on crowded settings such as factories.
Dr Nabarro said there is the "possibility that the virus is becoming less fatal, but I'm personally not yet ready to say that".
He also said he is hopeful about a vaccine and is amazed by the level of co-operation by scientists around the world, but cautioned it will take some time for everyone to be vaccinated when they have a vaccine that works.