The World Health Organization hopes the coronavirus crisis will be over in less than two years, according to WHO chief Tedros Adhanom Ghebreyesus.
The Spanish flu that affected the world back in 1918 took two years to end, he said.
"Our situation now with more technology, of course with more connectiveness, the virus has a better chance of spreading, it can move fast," added the WHO chief.
"At the same time we have the technology and knowledge to stop it."
He said that by "utilising the available tools to the maximum and hoping that we can have additional tools like vaccines, I think we can finish it in a shorter time than the 1918 flu".
The Covid-19 pandemic has to date killed nearly 800,000 people and infected close to 23 million worldwide, according to a tally from official sources compiled by AFP.
The WHO has also recommended that children over 12 should wear masks in the same contexts as adults in the bid to curb the spread of the virus.
Throughout history, outbreaks & pandemics have changed economies & societies. #COVID19 is no different, but it gives us a once-in-a-century opportunity to shape the world our children will inherit.pic.twitter.com/ojYoIgk3WG
"Children aged 12 and over should wear a mask under the same conditions as adults, in particular when they cannot guarantee at least a one-metre distance from others and there is widespread transmission in the area," the UN health agency said in fresh guidelines developed in cooperation with UNICEF.
Mr Tedros also branded the corruption around personal protective gear (PPE) for coronavirus as "murder".
In strong remarks, he said that corruption which deprives health workers of appropriate PPE threatened not only their lives, but also the lives of their patients suffering from Covid-19.
The WHO director-general was replying to a question about South Africa, which is reeling from coronavirus-linked corruption scandals that have battered President Cyril Ramaphosa's credibility.
"Any type of corruption is unacceptable," Mr Tedros told a virtual news conference.
"However, corruption related to PPE ... for me it's actually murder.
"Because if health workers work without PPE, we are risking their lives. And that also risks the lives of the people they serve.
"So it is criminal and it is murder and it has to stop."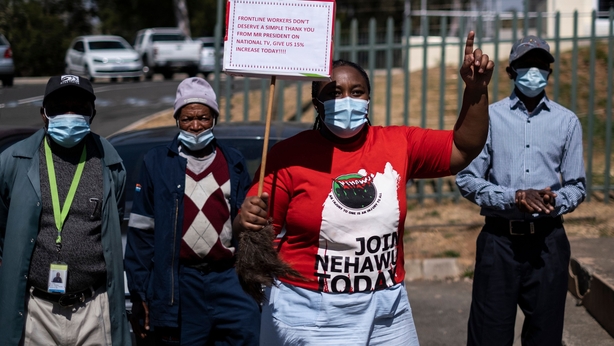 The outcry in South Africa began with reports that local government officials were hoarding and selling food donations meant for families without income during lockdown.
Then anger mounted further when some hospitals found that state purchases of masks, gowns and other PPE were not reaching staff.
South Africa's Special Investigating Unit is investigating more than 160 companies to check the legitimacy of coronavirus-related equipment and services provided.
Meanwhile, the number of reported Covid-19 deaths in Latin America has passed 250,000, as the virus afflicts the region that has become the worst hit in the world.