A theatre company is touring its play to the gardens and driveways of children with profound and multiple learning difficulties.
'Sing Me to the Sea' is a sensory play that was originally due to tour hydropools across Ireland.
Due to the Covid-19 restrictions, Anna Newell Theatre Adventures is now touring a socially-distanced 'dry-land' version instead.
The three-week 'at home' tour is the brainchild of theatre-maker Anna Newell.
"I was so aware that a lot of these families have been cocooning really hard. A lot of them had all sorts of supports and therapies that would normally be a key part of their lives and their children's lives, just weren't happening. 
"And I was really determined to find a way to make it happen. And I just thought, what if we bring it to them?" said Anna.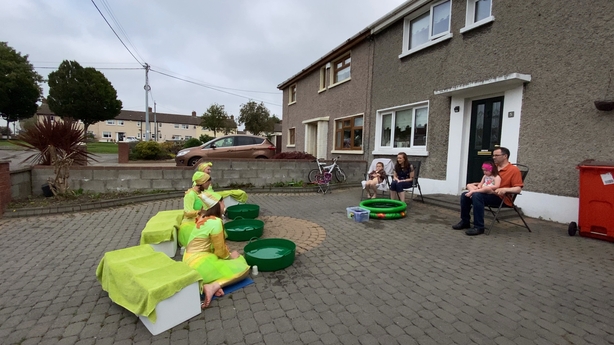 The Reid family signed up for a performance of the watery and immersive play, which was performed in their driveway.
Four-year-old Réiltín Reid was born with Down syndrome and finished her treatment for leukemia in June.
Réiltín's mother, Ciara Reid says "to have live theatre in our front garden was absolutely amazing".
"Life has been very challenging. It has taught us as a family to really appreciate the little things. Most children with Down syndrome are visual learners. Pre-school really drove her on so much.
"Being at home meant she wasn't seeing as much and she wasn't seeing what other kids were doing. So it has certainly staggered her development.
"And to see her wanting to copy and emulate what the actors were doing, and as she watches them, and a minute later she was doing exactly what they were doing - fully participating in the show," said Ciara.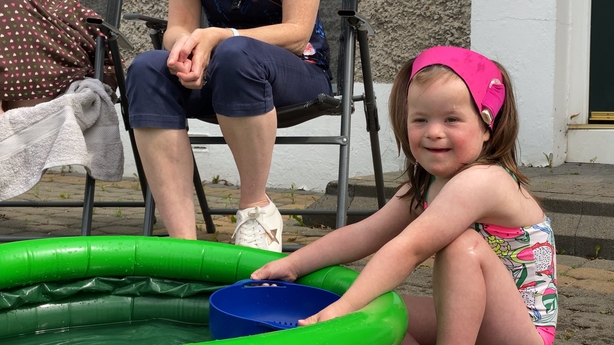 For Anna Newell, the play is a "conversation"; one that wouldn't work in an online setting.
"Human connection, live and in the moment, is absolutely everything for me. I think it's something that the arts does in a really unique way.
"The way it can bring joy and pleasure and create just a moment out of time. I think it's needed now more than ever and it's in jeopardy now more than ever," said Anna.
It is in collaboration with The Civic Theatre, Mermaid Arts Centre and Riverbank Arts Centre with funding from The Arts Council of Ireland.