There has been a call for Minister for Education Norma Foley to appear before the Oireachtas Committee on Covid-19 to answer questions about the reopening of schools.
Speaking on RTÉ's News at One, Labour's spokesperson on education Aodhán Ó Ríordáin said "it is not good enough" that the minister has not been available to further inform parents and students on "crucial matters".
"For the last number of weeks we have had statements from the Department of Education on very crucial matters," he said. 
"Last Friday week there was one on face coverings but there was no ministerial follow up, no governmental follow up. 
"Last Friday we had one on social distancing on school transport, but there was no ministerial follow up, no governmental follow up.
Mr Ó Ríordáin said: "The schools are reopening in a matter of days. We need the Minister for Education to come before the Covid-19 committee to answer questions about the reopening of schools.
"Unfortunately when it comes to issues of childcare or education they seem to be way down the priority list in terms of media comment."
Meanwhile, the increase in the number of coronavirus cases has led to concerns over the planned reopening of schools in two weeks' time.
Primary and secondary schools are currently adapting their buildings, including the installation of hand sanitising facilities and measures to ensure social distancing.
The Government has said the return of children to school at the end of the month remains its primary objective.
We need your consent to load this rte-player contentWe use rte-player to manage extra content that can set cookies on your device and collect data about your activity. Please review their details and accept them to load the content.Manage Preferences
Social distancing is a priority for a number of school principals who have been speaking on RTÉ's Today with Sarah McInerney about measures they plan to implement when schools reopen.
Principal of Coláiste Bríde in Clondalkin in Dublin Marie-Thérèse Kilmartin said physical distancing, movement breaks for pupils and staff and well-ventilated classrooms are "vital".
She said her school is considering whether to allow students to use their lockers, because if they are in use students will each be responsible for wiping down the "high-touch" surfaces.
Ms Kilmartin said the school plans to spend time re-educating students on the symptoms of Covid-19, the use of face coverings, and good hand hygiene and coughing and sneezing etiquette.  
She urged parents to support teachers in ensuring children and young people "come back to becoming aware of their physical distance with others".
---
---
Principal of Scoil Naomh Bríd in Ballyconnell, Co Cavan, Terence Reynolds explained that his school will implement staggered lunch breaks for students and staff, "where half will be on the yard and half of the staff will be in the staff room".
His school used the July provision to get used to new regimes for hand sanitising, to purchase personal protective equipment, and develop new procedures about entering and exiting school.
Cleaning contracts have been extended, he said, and new cleaning regimes are now in place.
He said "a strong line of communication" has allowed regular contact with parents in his school, who have received information and videos about how the school is preparing for the return of pupils.
Principal of Banagher College in Co Offaly Paddy Scales said parents must be relied upon to monitor their children's health before they come to school each day.
He said social distancing at locker areas, toilets and canteens will be the most problematic.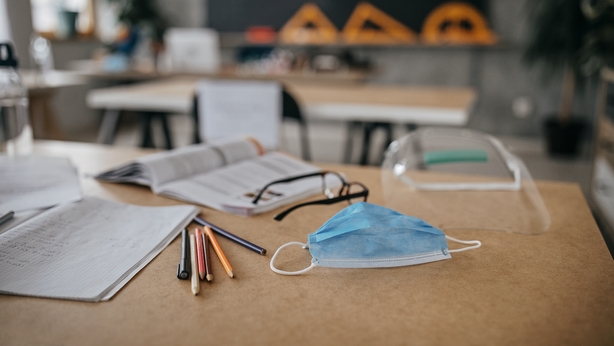 All three school principals agreed that good ventilation is critical to maintaining the health of students and staff.
While they agreed that keeping windows open during colder temperature will be more difficult, they said pupils could be encouraged to wear base layers of clothing and more heating to be used in schools.
Meanwhile, former headmaster of St Andrew's College Arthur Godsil said every school in the country needs Government support to reopen.
It has emerged that private schools will not automatically get Covid-19 funding to help with reopening costs.
The €375m funding is available to all schools in the free education system to buy hand sanitiser, cleaning services, additional supervision and physical rearrangement of classrooms.
But the 51 private schools in the country will have to apply for funding and demonstrate difficulty in providing safety measures. They will be considered on a case-by-case basis.
Mr Godsil said it is not about the amount of money from the department, it is a philosophical argument as many people feel it is not right.
He said there are schools that need support and that not all fee-paying schools are "awash with money". 
Mr Godsil said it would actually cost the Government more money to take private schools into the non-fee paying sector than it would for them to grant the schools some funding to assist reopening.
He said all schools need money when there is a crisis in the country, even some private schools. 
It comes as President of the Epidemiology and Public Health section of the Royal Society of Medicine Dr Gabriel Scally has acknowledged that everyone has concerns about Covid-19, but the priority has to be getting children back into education and safely.
He said time, effort and resources such as additional space needs to be put in place to make sure this happens.
He said windows and doors should be left open in classrooms even if it means children are wrapped up in their coats and jumpers because airflow is important.
Dr Scally suggested that local facilities such as parks, unused sporting areas and marquees should be used to make sure children get back to education, even it is in the outdoors as it will be better ventilated.