A unique conservation and renovation project is under way at one of Dublin's historic attractions. 
Many of the exhibits at the National Museum of Ireland - Natural History, or the "Dead Zoo" as it is fondly known, are being moved around for the first time in decades. 
It is in preparation for the safe de-installation of two large whale skeletons - a fin whale found at Bantry Bay in 1862 - estimated to be about 20 metres long - and a juvenile humpback whale stranded at Enniscrone, Co Sligo, in 1893.
The skeletons, suspended from the ceiling of the museum, need to be dismantled as part of a €15 million plan to renew the roof, modernise facilities and improve accessibility.
"We are definitely facing a unique challenge, with the dismantling of our whale skeletons. Only a handful of people have done this in other parts of Europe over the past decade. There are experts who we are going to be using, who have that experience," explained Nigel Monaghan, Keeper of Natural History.
"It will involve taking all of the bones off the suspended metal frames that hold the skeletons together. They've been up there for well over a century, so there's nobody to ask 'how exactly did you do it?'" Mr Monaghan added.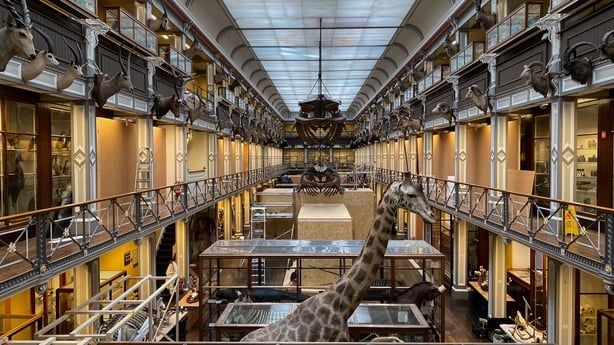 The museum was built in 1856 and houses a collection of over two million items.
The upper balcony levels have been closed to the public since a stairwell collapsed in 2007, injuring 11 people.
Over the past fortnight, staff have been moving the exhibits beneath the whale skeletons.
Some have been "caged" to protect them, while others are being placed in storage. 
"We are creating a whale dismantling building site. We have had to clear a lot of space so that we will be able to erect scaffolding. This will allow people to get up and down to the skeletons," Mr Monaghan said.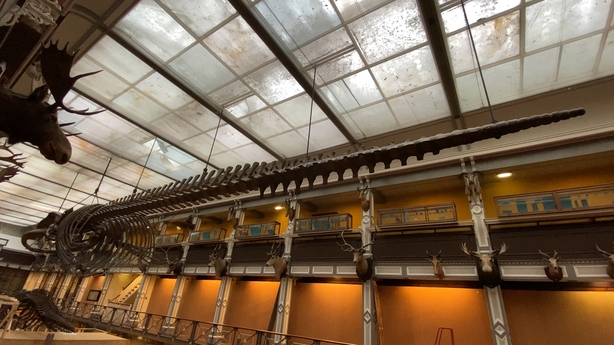 One of the larger specimens to have been moved is the skeleton of an Indian elephant, which died in Dublin Zoo in 1842.
Standing on a platform to inspect the animal's skull, curator Paolo Viscardi made an interesting discovery.
"People have clearly in the past been throwing rubbish into the back of the skull. Probably from the balconies before they were closed for health and safety reasons. There are old coins in here. Some dried out fruit. All sorts of things, some from 20-30 years ago. People have basically been using the specimen as a waste bin," Mr Viscardi said.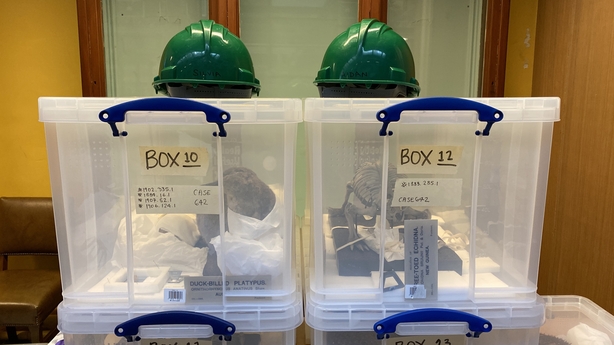 The delicate process of dismantling the whale skeletons "bone by bone" will begin next month.
The rest of the museum, which attracts around 300,000 visitors a year, remains open.