A woman who has alleged she was racially attacked by a group of youths on Dublin's Royal Canal over the weekend said she has been left nervous about going out and worried for her young son's safety.
Gardaí are investigating after Xuedan (Shelley) Xiong, who lives in Castleknock, lodged a complaint that she had been racially abused and pushed into the canal on Friday evening by a group of teenage boys.
A video appearing to show the incident was later circulated on social media by one of the group.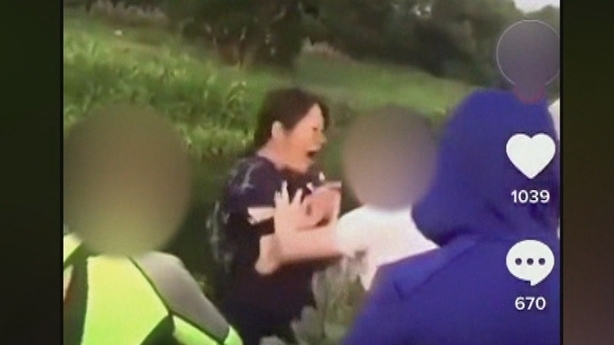 Speaking on RTÉ's This Week, Ms Xiong said that a number of the group had cycled past her as she walked along the canal and one nearly pushed her over with his bike.
She said another member in the group "looked into my eyes and said 'coronavirus'", while she was also called "Chinese noodles and fried noodles", she said.
Ms Xiong said there were lots of women walking alone along the canal and she felt they had targeted her.
She said to them "that's racial discrimination, stop it" and then ran up to the group.
She said: "I couldn't put up with this anymore ... they targeted me and there was a racial element there."
Ms Xiong said someone in the group pushed her into the water and her mind went blank.
"I did not see this coming ... I found myself in the water."
Ms Xiong said when she climbed out the water she phoned gardaí and waited, but they did not come, so at 10pm that night she went to Blanchardstown Garda Station and reported the incident.
"I was so angry and I don't know looking back if I was brave or stupid as there was 15 of them and they were bigger and stronger than me."
She said the fact they dared to put the video up online reflects their attitude to the incident.
She said she has been verbally abused and insulted in Ireland before because of her race but this is the first time she has experienced physical abuse.
There is a feeling among the Chinese community following a number of incidents in some Chinese shops and restaurants that "some people connect the virus with China and the Chinese", she said.
She is now worried for her ten-year-old son, who attends school locally.
She called for improved education of teenage children about racism to "help them to construct not destruct something".
Ms Xiong said she is quite nervous and will not go down the canal for a while.
Tánaiste Leo Varadkar said on Twitter that it should not take bravery to go for an evening walk and "we should all be ashamed this happened to Ms Xiong". 
Really upsetting to see. It shouldn't take bravery to go for an evening walk. We should all be ashamed this happened to Ms Xiong. We must do everything we can to support victims of hate crime and stamp out racismhttps://t.co/wHeytzCWXo

— Leo Varadkar (@LeoVaradkar) August 16, 2020