Over 200 people took part in a demonstration in Dublin city centre this afternoon, protesting against management at Debenhams.
The dispute centres on the terms of a redundancy package offered to the workers.

Those attending the protest are angry about how the fashion store has treated employees following the closure of its stores in Dublin, Cork and Waterford earlier this summer.
The company had been in financial trouble for some time.
Former workers at Debenhams took part in today's demonstrations which began at 2pm outside the Garden of Remembrance and then wound its way towards O'Connell Street and Henry Street.
Among the people at today's protest was People Before Profit TD, Bríd Smith.
"The way these workers have been treated is absolutely disgraceful," she said.
"The current Government and the company seem content to leave these workers on the scrapheap."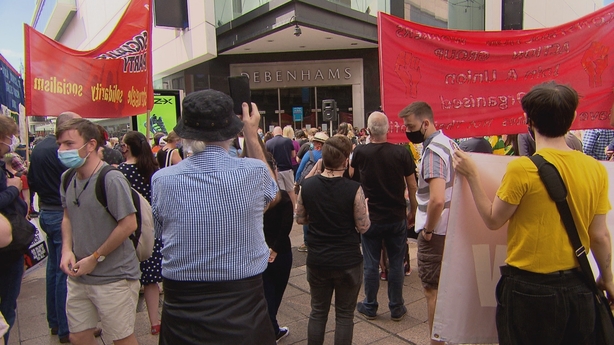 Debenhams operated 11 stores in Ireland, four in Dublin, two in Cork and stores in Newbridge, Galway, Limerick, Tralee and Waterford.
The company employed up to 2,000 people here, both directly, and indirectly through in-store concessions, according to the Mandate union.