Sixteen staff members at Beirut's port, the site of a massive explosion, have been detained over the deadly blast that devastated large parts of the city, a military prosecutor has said.
Lebanese authorities had announced an investigation into Tuesday's explosion, which they said was triggered by a fire igniting 2,750 tonnes of ammonium nitrate stored in a warehouse at Beirut's port.
Dozens of people are still missing after the blast that injured 5,000 people and left up to a quarter of a million without homes fit to live in, hitting a country already suffering from economic meltdown and a surge in coronavirus cases.
Lebanon's foreign minister said on French radio that an investigating committee had been given four days to determine responsibility for the blast, which killed more than 130 people and wounded at least 5,000.
Military prosecutor Fadi Akiki said in a statement that 18 staffers at Beirut's port had been called in for questioning, 16 of whom remain in custody pending further investigations. 
They include port and customs officials as well as maintenance workers and their managers, Mr Akiki said.
His statement came as an official confirmed to AFP that the central bank had ordered an asset freeze for seven port and customs officials, including Badri Daher, director-general of Lebanon's customs authority.
The official spoke on the condition of anonymity because he is not authorised to speak on the issue.
A banking source confirmed to AFP that all the country's commercial banks received the order, which also lifts banking secrecy from accounts owned or linked to those in question. 
Even as they counted their dead and cleared streets of debris, many Lebanese were boiling with anger over a blast they see as the most shocking expression yet of their leadership's incompetence.
Many have raised questions as to how such a huge cargo of highly explosive material could have been left unsecured for years.
Earlier, French President Emmanuel Macron has called for an international investigation into the explosion at Beirut's port on Tuesday that killed 145 people and destroyed entire neighbourhoods.
"An international, open and transparent probe is needed to prevent things from remaining hidden and doubt from creeping in," Mr Macron told reporters at the end of a snap visit to the Lebanese capital.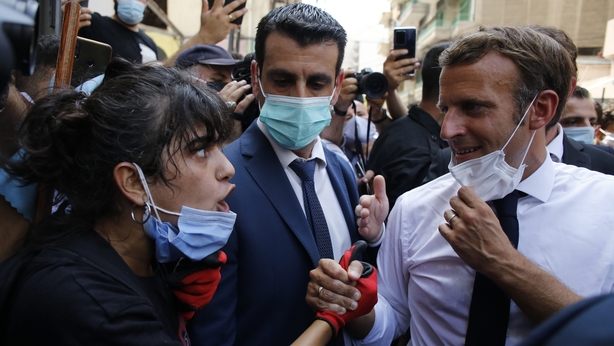 Mr Macron announced that an international aid conference for Lebanon would be held "in the coming days".
He stressed that the funds raised during the conference would go "directly to the people, the relief organisations and the teams that need it on the ground".
But Mr Macron also said that Lebanon's government must implement economic reforms and crackdown on corruption.
"If reforms are not carried out, Lebanon will continue to sink," he added.
"What is also needed here is political change. This explosion should be the start of a new era."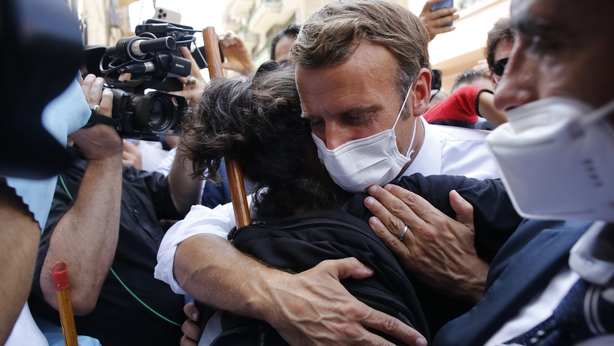 Wearing a black tie in mourning, Mr Macron toured the blast site and Beirut's shattered streets where angry crowds demanded an end to a "regime" of Lebanese politicians they blame for corruption and dragging Lebanon into disaster.
"I see the emotion on your face, the sadness, the pain. This is why I'm here," he told one group, promising to deliver "home truths" to Lebanon's leaders.
French President Emmanuel Macron has urged political change in Lebanon as the capital Beirut reels from Tuesday's deadly explosion. More than half the city was damaged and at least 145 people have died in the disaster. | Read: https://t.co/acFbfyaMj6 pic.twitter.com/xSN75ca0X0

— RTÉ News (@rtenews) August 6, 2020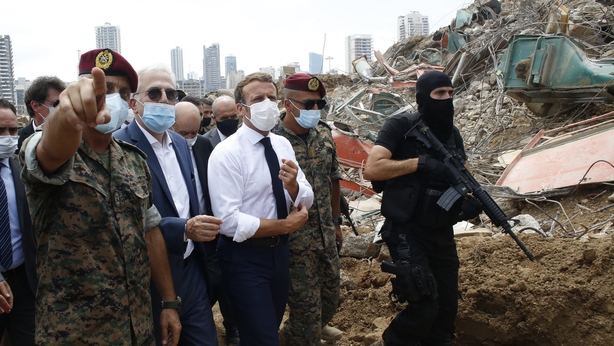 The government's failure to tackle a runaway budget, mounting debt and endemic corruption has prompted Western donors to demand reform.
Gulf Arab states who once helped Lebanon questioned why they should bail out a nation they say is increasingly influenced by their rival Iran and its local ally Hezbollah.
"We hope this aid will go to the Lebanese people not the corrupt leaders," one man on the street told Mr Macron. Another said that, while a French president had taken time to visit them, Lebanon's president had not.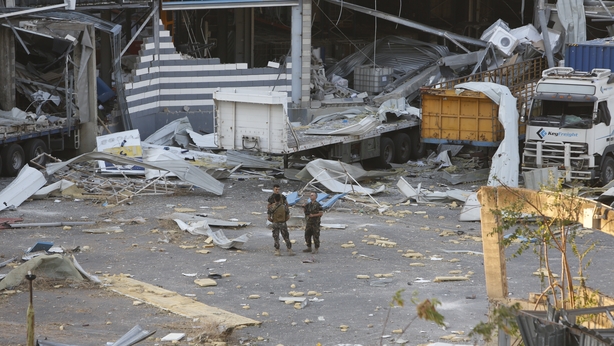 At the port, destroyed by Tuesday's blast and fireball, families sought news about the missing, amid mounting public anger at the authorities for allowing huge quantities of highly explosive ammonium nitrate, used in making fertilisers and bombs, to be stored there for years in unsafe conditions.
The government has ordered some port officials be put under house arrest and promised a full investigation.
With banks in crisis, a collapsing currency and one of the world's biggest debt burdens, Economy Minister Raoul Nehme said Lebanon had "very limited" resources to deal with the disaster.
He said the country needed foreign aid.
Offers of medical and other immediate aid have poured in, as officials have said hospitals, some heavily damaged in the blast, do not have enough beds and equipment.
Many Lebanese, who have lost jobs and watched savings evaporate in the financial crisis, say the blast is symptomatic of political cronyism and endemic corruption among the ruling elite.
---
Read more: 
What we know about the Beirut explosions
In pictures: Beirut blast aftermath
What is ammonium nitrate, the chemical that exploded in Beirut?
---
A source familiar with preliminary investigations blamed "inaction and negligence" for the explosion.
A Lebanese security source said the initial blaze that sparked the explosion was caused by welding work.
Some local media reported sightings of suspected Israeli drones or planes flying in the area shortly before the explosion and some Beirut residents said they saw missiles fired.
But officials have denied the incident was caused by any attack. Israel, which has fought several wars with Lebanon, denied any involvement.
Politician Walid Jumblatt, leader of Lebanon's Druze community, called for an international investigation, saying he had "no trust" in the government to find out the truth.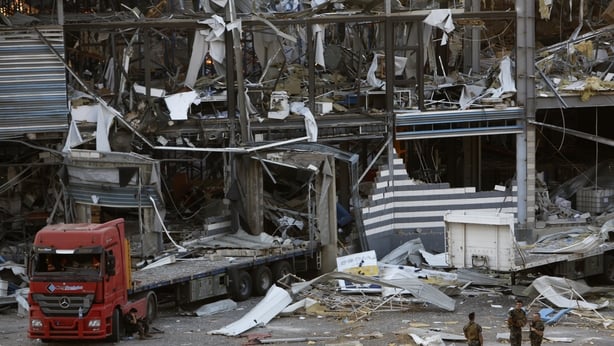 The White House said the US government had still not ruled out the possibility that Tuesday's explosion was an attack.
People who felt the explosive force said they had witnessed nothing comparable in years of conflict and upheaval in Beirut, which was devastated by the 1975-1990 civil war and since then has experienced big bomb attacks, unrest and a war with Israel.
Seismic tremors from the blast were recorded in Eilat on Israel's Red Sea coast, about 580km away.
Operations have been paralysed at Beirut port, Lebanon's main route for imports needed to feed a nation of more than six million people, forcing ships to divert to smaller ports.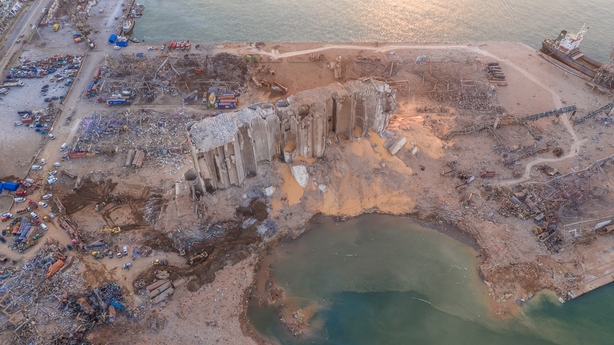 The United Nation's Food and Agriculture Organization warned yesterday that the destruction of the port and grain silos would cause critical severe flour shortages, in a country heavily reliant on imports.
Hospitals already stretched to the brink by the spike in coronavirus cases were pushed to new limits by the influx of wounded and were forced to turn many away.
Lebanon has recorded 5,417 cases of Covid-19, including 68 deaths.
Yesterday, France sent three planes to Beirut loaded with rescuers, medical equipment and a mobile clinic.
Two military planes left Charles de Gaulle airport outside Paris with 55 search and rescue personnel on board and 25 tonnes of medical supplies.
A third plane, provided by the chief executive of shipping giant CMA-CGM Rodolphe Saade who is of Lebanese origin, took off from Marseille with medical equipment and a nine-strong medical team.